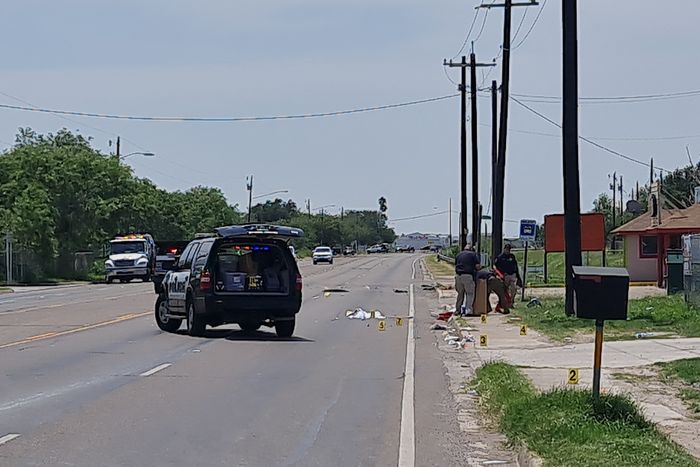 Police work at the scene after a driver crashed into a group of people in Brownsville, Texas, on Sunday.
Photo: Moises Avila/AFP via Getty Images
At least eight people were killed in Brownsville, Texas, on Sunday morning when an SUV ran into a group of migrants at a bus stop near a homeless shelter in the border city. The driver was arrested and charged with eight counts of manslaughter. Thus far, there appears to be no conclusive evidence that the crash was intentional.
At around 8:30 a.m. on Sunday, a motorist in a gray Range Rover drove into a crowd of people sitting at a bus stop across the street from the Ozanam Center homeless shelter in Brownsville. Eight people died at the scene and ten others were taken to local hospitals.
The motorist, identified by police as George Alvarez, rolled his vehicle in the crash and was detained by witnesses after he attempted to flee the scene. He was treated for his injuries at an area hospital and eventually arrested and charged with eight counts of manslaughter, ten counts of aggravated assault with a deadly weapon, and reckless driving. During a press conference on Monday, Brownsville police chief Felix Sauceda called the crash "a very tragic accident" and noted that Alvarez had previously been arrested numerous times, on charges including driving while intoxicated, assault, and burglary of a vehicle.
The shelter's director, Victor Maldonado, told the Associated Press that most of the victims were Venezuelan men. He said that, according to surveillance footage, "this SUV, a Range Rover, just ran the light that was about 100 feet away and just went through the people who were sitting there in the bus stop." The vehicle then flipped after driving up on the curb and also struck people walking on the sidewalk apart from the group sitting by the unmarked bus stop. Maldonado told the Washington Post that some witnesses said the motorist appeared to be driving under the influence. Sauceda said Monday that police were still awaiting results from Alvarez's toxicology tests.
On Sunday, Brownsville Police Department lieutenant Martin Sandoval initially told local media that it appeared likely the crash was intentional, but Brownsville mayor Juan "Trey" Mendez said later that no evidence had yet been found to support that conclusion. Sauceda said Monday that investigators hadn't yet determined if Alvarez intentionally drove into the crowd, but had received reports that he had shouted anti-immigration epithets at the group.
A video of the immediate aftermath shared on social media shows a number of severely injured people lying on the road and in the nearby grass.
According to its website, the Ozanam Center is a 200-bed homeless shelter that was originally set up by the Diocese of Brownsville to house Central American political refugees but later expanded its mission to assist anyone who needed temporary shelter. It is the only overnight shelter in Brownsville. It manages the release of migrants from federal custody and has been assisting as many as 380 people per day in the last two months amid a surge in border crossings, Maldonado told the AP.
This post has been updated throughout.