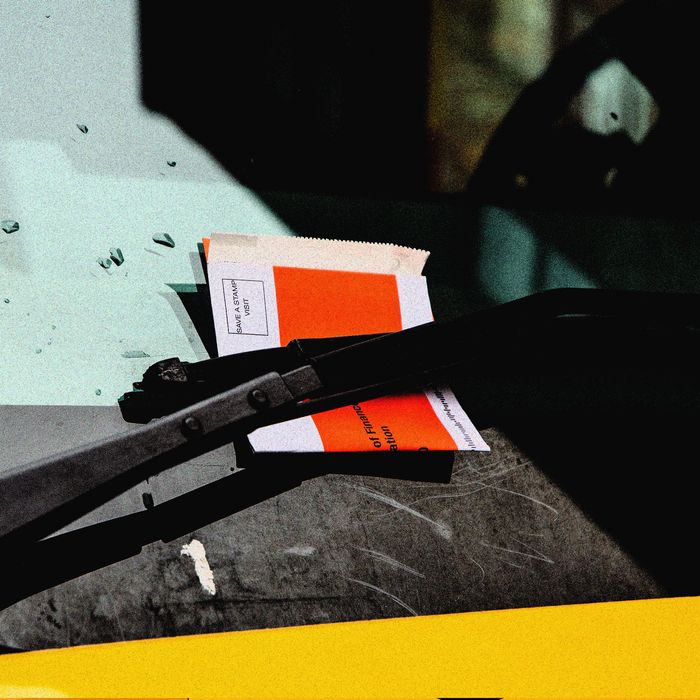 Photo-Illustration: Intelligencer; Photo: Getty Images
It's too bad that City Councilman Justin Brannan of Brooklyn is being mocked and ignored for suggesting that government change how it sets and collects fees and fines for things like double parking, leaving sidewalks dirty and other low-level offenses. With less than two months to go before the June 30 budget deadline, and finances looking tight and libraries and parks (among other key programs) facing harsh spending cuts, New York needs thoughtful, practical ideas about how to cut expenses and raise revenue. Brannan is one of the few local politicians who has attempted to deliver one.
Brannan, who chairs the council's powerful Finance Committee, has introduced a bill to create a pilot program in which, instead of charging everybody the same, exorbitant flat fees — $115 for double parking, for instance — the city would apply a sliding scale, with lower-income offenders charged less. "It's an idea that has been done in European countries for over 100 years, Brannan says, citing research that suggests people are more likely to pay fines if the amounts are small. "Right now, the city has over $2 billion in unpaid fines and fees. It's been proven that a day fines program" — as the sliding-scale punishments are known — "actually makes people pay it," he told me.
But so far, Brannan's colleagues don't seem interested in the idea — only two of his 50 fellow council members have signed on as co-sponsors — and the Daily News put Brannan on its front-page with the alarmist headline MAKE RICH PAY MORE. A wave of negative comments followed on social media, with Brannan's idea dismissed as "inane," "utter nonsense" and "beyond stupid."
"Your class warfare along with your other far left policies are what is driving families out of NYC" tweeted Vito LaBella, a Republican antagonist of Brannan's who last year came within 1% of winning a state senate race in Brooklyn and is running for a City Council seat this year.
I don't know if a day fines program would work, but Brannan should be praised, not bashed, for floating an evidence-based idea instead of repeating the dreary annual exercise in which the mayor and council spar over tiny scraps of a $106 billion budget while major needs remain unaddressed.
"What we are looking for is meaningful investment in the future, not a negotiation around the crumbs that are on the outskirts of the budget table," is how Adam Ganser, executive director of New Yorkers for Parks, puts it. Ganser, whose organization has been around for more than a century, was talking about our public green spaces, but might as well have been describing the city as a whole. We're fighting over pennies, while big bucks are being wasted, or left uncollected.
Right now, says Ganser, the city only has one Parks police officer for every 333 acres — "if you see one, it's like seeing a unicorn," he told me – a level of neglect with real implications for the city's quality of life. During the campaign, candidate Eric Adams explicitly promised to spend 1 percent of the city budget on parks, but as Mayor, his latest executive budget allocates only $610 million — about 0.59% of the budget — to an agency whose 30,000 acres cover 14% of New York City.
Another point of the back and forth at City Hall involves cuts to libraries. Earlier this year, Adams proposed a $36.2 million cut to the city's three library systems, then called for another $20.5 million for a total of $52.7 million in reductions — only to rescind the proposed second cut in his executive budget. But that still leaves the original problem in place: a $36.2 million hole that will lead to reduced hours (including weekend closures), fewer programs and a halt on opening new branches.
It's depressing to see Adams and the Council bicker over $36 million when far greater amounts of savings and/or revenue for the city almost never get discussed. Every year, the city's Independent Budget Office (IBO) compiles a detailed list of options to chop waste and find new revenue for the city. I wish more pols and advocacy organizations would push for full consideration of the most promising items.
Here's an easy place to save money: our city government currently pays fees to apartment brokers to help place low-income New Yorkers in units where the rent gets paid through government-issued vouchers. But the two most-used programs, called One Shot Deal and CityFHEPS, already employ housing navigators, which are city employees who do essentially the same work as brokers by helping program participants find apartments. The IBO estimates the city would save $22 million a year by relying on its own navigators and banning the use of brokers (and their exorbitant fees) for low income renters who get these benefits.
On the revenue side, the ongoing hollowing out of city government – an estimated 23,000 unfilled jobs — includes a shortage of auditors at the Dept. of Finance. The number of these auditors, who ensure that corporations and self-employed New Yorkers pay their correct share of taxes, has fallen to the lowest headcount since 2013. Hiring 50 new auditors would restore the office to its pre-pandemic level and bring in an estimated $165 million a year, according to the IBO.
Over at the badly-understaffed Dept. of Buildings, an estimated 50,000 complaints to 311 get closed out without resolution every year because building inspectors are denied access to a property or there's nobody around to let them in. The IBO estimates that a $500 fine for property owners who deny access — a fee that could be refunded once an inspection takes place — would bring $13 million a year to the city treasury.
Addressing an issue that should have been settled long ago, the agency estimates that doubling the number of mobile food vendor permits — which has been frozen at 5,100 since the early 1980s — would bring in $10 million a year in sales tax, and help countless immigrant entrepreneurs leave the shadow economy. And a provocative IBO proposal would dock the paychecks of NYPD officers who have three or more complaints filed against them; the estimated $45 million raised annually would help offset the $241 million a year the city pays to settle lawsuits alleging police misconduct.
Not all of the IBO's proposals are politically feasible, but the agency is asking the right questions and pointing to places where the city can tighten its belt and raise money. We could use a lot more of that kind of thinking from elected leaders — even seemingly far-out ideas like Brannan's suggestion to set city fines on a sliding scale instead of piling up $2 billion in fines that everybody knows will never get collected.
"I  think this is really a critical moment for our city. I believe that our future and our continued economic recovery really hinges on what we do with this budget," Brannan says. "A budget isn't just an itemized list of expenditures, it's a moral document. You can tell me what you care about, but if I really want to know what you care about, I want to find out what you spend your money on."