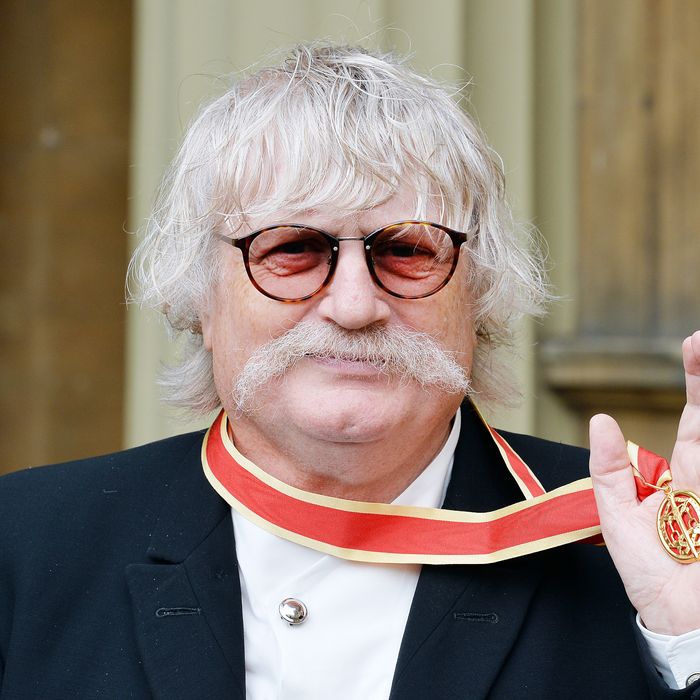 Karl Jenkins (or possibly Meghan Markle) showing off the Insignia of Knighthhood in 2015.
Photo: John Stillwell/AFP via Getty Images
I have always been a big fan of conspiracy theories, from "Paul is dead" to the U.S. government covering up the facts about UFOs. But since my youth, these theories have largely gone from a fun way to kill a few hours down a Wikipedia rabbit hole to a sinister force threatening to tear apart our democracy. Today, dumb yet harmless conspiracy theories are a rarity to be cherished. That's why I refuse to give up on the idea that Meghan Markle snuck into the coronation of King Charles III by disguising herself as 78-year-old Welsh composer Sir Karl Jenkins.
The theory was born on Twitter last Saturday, when multiple people watching the coronation joked that a man who showed up to the event with long, shaggy hair, glasses, and a giant mustache was actually Markle. The posts went viral, and the story was picked up by both British and American tabloids.
Now, obviously, this makes absolutely no sense. Why would Markle sneak into the coronation when (a) she was invited to attend with her husband, Prince Harry, (b) it conflicted with her son Archie's 4th birthday, and (c) she does not appear to like the royal institution very much?
Nevertheless, this idiotic theory got so much traction that Sir Karl Jenkins felt compelled to release a TikTok explaining that he is not a 41-year-old American woman who married into the royal family but a celebrated composer who was knighted in 2015 and was invited to the coronation because his music was played during the ceremony.
"I look this way all the time," Jenkins said. "I've had the mustache since I was 18 years old. It was very trendy then … Nothing sinister about it or surprising at all!"
Well, that should put an end to this story … but weirdly, it's only stoked my interest. Has anyone pointed out that Meghan's aviator sunglasses look just like Karl's? And why was she wearing bulky socks while hiking in California last weekend? Maybe to hide the fact that she's switched places with an elderly British man?! Forget the Meghan Markle/Kate Middleton/Rose Hanbury copycat high-heel feud — this Jenkins theory still has legs.