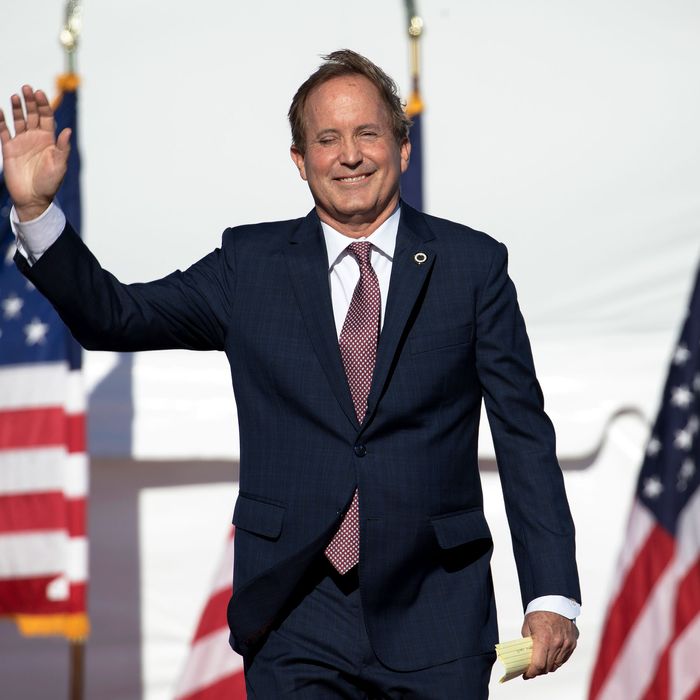 Texas attorney general Ken Paxton is facing impeachment as a Republican-led state house committee filed more than a dozen charges over allegations of workplace retaliation and misuse of his office to benefit a personal friend.
The Texas Tribune reports that a panel voted unanimously on Thursday to file articles of impeachment against Paxton to the full chamber. If charged by the House, he will be suspended from his position pending a full trial in the Senate under Texas law, which would allow the governor to appoint an interim replacement.
The 20 articles of impeachment laid out numerous charges including constitutional bribery, disregard of official duty, misapplication of public resources, obstruction of justice, and making false statements. The house committee heard three hours of testimony the day prior from investigators looking into the various claims made against Paxton.
Paxton has been accused of retaliation by four former employees who reported a series of accusations against Paxton to law enforcement, resulting in their firings. They alleged Paxton used his office to benefit his friend Nate Paul, a real-estate developer, in several legal matters. Paul, reportedly, in turn made a $25,000 donation to Paxton's political operation, helped to renovate Paxton's home, and even hired a woman that Paxton was allegedly having an affair with on his recommendation, according to the Austin American-Statesman. Paxton later agreed to a $3.3 million settlement with the four whistleblowers, a sum that will likely be paid with taxpayer dollars.
The impeachment charges also concern a securities fraud case that Paxton has been under indictment for since 2015. He has yet to stand trial for it as the case has undergone a series of appeals.
In a statement, Paxton accused the committee of asking the state house to "overturn the results of a free and fair election."
"It is a sad day for Texas as we witness the corrupt political establishment unite in this illegitimate attempt to overthrow the will of the people and disenfranchise the voters of our state," Paxton said.
Paxton served in both the state house and senate before running for attorney general in 2014 after Greg Abbott, the incumbent, sought to become governor. He's held the office for three terms, most recently beating George P. Bush in a 2022 runoff after being boosted by Donald Trump's endorsement. Paxton was also heavily involved in the push to overturn the results of the 2020 election, suing key battleground states like Michigan and Pennsylvania alleging fraud and asking the court to void their results. The Supreme Court ultimately declined to hear the case.