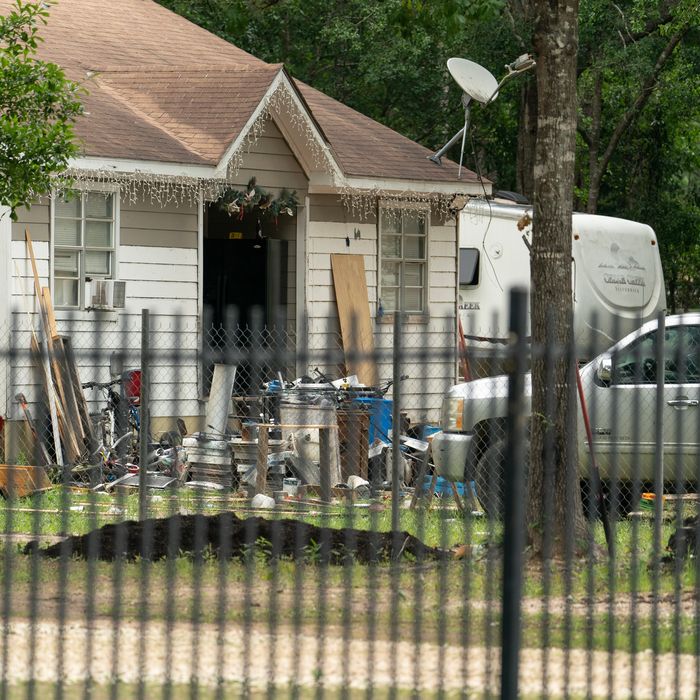 The Cleveland, Texas home where America's latest appalling incident of gun violence took place on Friday night.
Photo: Go Nakamura/Getty Images
While horrific acts of gun violence happen daily across the U.S., in recent weeks there have been a number of shocking incidents in which people were shot over what seemed to be innocuous events.
On April 13 in Kansas City, Missouri, 16-year-old Ralph Yarl was shot in the head and arm by an 84-year man after Yarl accidentally rang the doorbell of the man's home, thinking it was the house where he was supposed to pick up his siblings. Less than a week later, a 20-year-old woman in upstate New York, Kaylin Gillis, was shot and killed after she and and some friends, who were lost, inadvertently pulled into the wrong driveway and the homeowner fired on them after they began backing out. A few days later in Gastonia, North Carolina, a six-year-old girl and her father were shot by a man who was apparently upset after some kids' basketball rolled into his yard. That same day, a pair of teenage cheerleaders were shot by a driver after mistakenly attempting to get into the wrong car in a supermarket parking lot in Elgin, Texas. This week in Antioch, Illinois, 59-year-old William Martys was shot in the head and killed by his 79-year-old next-door neighbor after they got into an argument over the noise of Martys's leafblower.
What happened in Cleveland, Texas on Friday night was far more terrifying. According to Texas authorities, a man armed with an AR-15 style rife allegedly shot and killed five of his neighbors, including an 8-year-old boy, after the family asked him to stop firing his gun outside at 11 p.m., because it was keeping their baby awake.
San Jacinto County Sheriff Greg Capers said the victims "came over to the fence, said, 'Hey, could you mind not shooting out in the yard. We have a young baby that is trying to go sleep.'" Capers said the neighbor, identified as 38-year-old Francisco Oropeza, had been drinking, and replied, "I'll do what I want to in my front yard." But that wasn't the end of it. Soon after, Capers said, Oropeza approached his neighbors' house and opened fire — killing five of the at least ten people inside. Police arrived at the house around 11:30 p.m. in response to a harassment report. Capers said that all of the victims — Sonia Argentina Gúzman, 25; Diana Velázquez Alvarado, 21; Julisa Molina Rivera, 31; José Jonathan Cásarez, 18; and Daniel Enrique Laso-Guzman, 8. — were shot in the head, "almost execution style," and that two of the women were found lying on top of young children, who they were shielding from the gunman. The children survived. A statewide manhunt for Oropeza, who has already been charged with the five murders, was still underway as of Monday morning. Law enforcement officials consider Oropeza to be a threat and though more than 200 officers are looking for him, the FBI stated on Sunday that they have "zero leads." An award of $80,000 has been offered for information that would lead to his arrest.
The member of the family who asked Oropeza to stop firing his gun outside, Wilson Garcia, survived. He told the New York Times that he "never had any problems" with their neighbor, who had once helped them take down a tree. He gave his account of what happened after Oropeza dismissed his request late Friday night:
Mr. Garcia, 30, warned that he would call the police. But after [Oropeza] walked back to his house, he re-emerged with an AR-15.

He walked toward Mr. Garcia's cream-colored home, where he shot and killed Mr. Garcia's wife, who had called the police and was standing near the entrance. …




Mr. Garcia said that after Mr. Oropeza shot his wife, the gunman chased him. Mr. Garcia escaped through a window and ran outside.

"I thought he was going to follow me," he said. "But after he couldn't catch me, he went back to the house to finish them off." Mr. Garcia said he went to a family member's house to hide. But then he returned to his home. "I came back for my two children," he said. "They were hiding in the closet. The two women protecting them when they died — they were hugging them."
All the victims were from Honduras, law enforcement officials said. The Washington Post spoke with a woman who lives across the street from the family:
[Vianey Balderas] said she first heard gunshots that night when a few people were outside. About 20 minutes later, Balderas heard about five more gunshots, then another 10, she told The Post. "When I heard those gunshots, I didn't think anything of it because in this neighborhood everyone has guns. Every weekend you hear gunshots," she said in an interview in Spanish. "People shoot in their backyards, after they drink alcohol, men take out guns at house parties and shoot the ground." Minutes later, Balderas, 27, heard a truck pulling away. She then saw one of her neighbors — the father of the children, she said — outside, begging for someone to call an ambulance.
Local police had received previous reports about Oropeza firing his AR-15 in his yard, which he apparently did "frequently," according to Sheriff Capers. Authorities found three weapons in a search of Oropeza's home.
A week before this latest shooting, Associated Press reported that the U.S. was setting a record pace for mass killings in 2023, with one — classified as a shooting in which at least four victims are killed — happening once every 6.53 days.
This post has been updated.