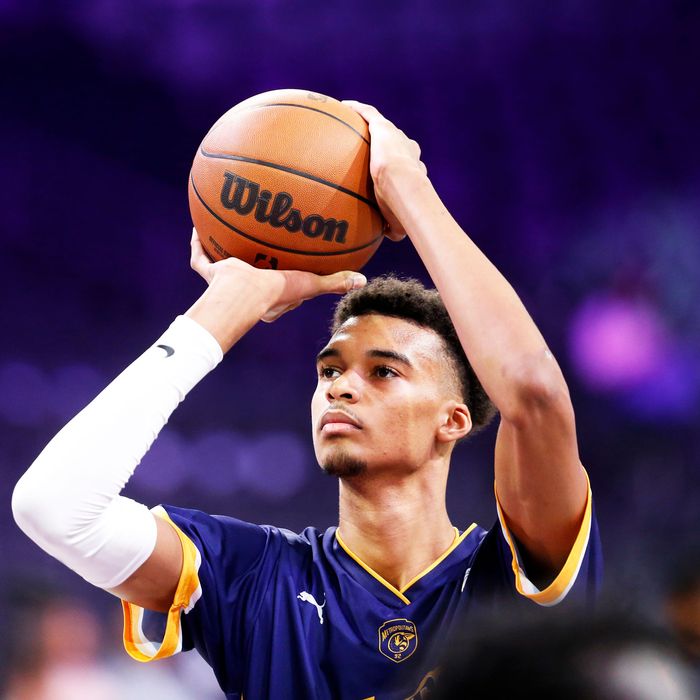 No pressure.
Photo: Steve Marcus/Getty Images
Before May 22, 2003, the Cleveland Cavaliers were noteworthy to me for the following reasons: Michael Jordan hit "The Shot" against them, The West Wing had an ongoing joke about them, and their old logo looked like the sign for a shady sandwich shop off the Jersey shore. That's it. The Cavaliers were one of those irrelevant franchises in sports, existing solely to act as the foils to the real contenders — the NBA's extras, essentially. In any sports league, there are perpetual champions and perpetual losers. The Cavaliers, before May 22, 2003, were perpetual losers. They consistently served their role well.
And then, on May 22, 2003, everything finally came up Milhouse. After yet another miserable season, the Cavaliers secured the first pick at the 2003 NBA Draft Lottery, allowing them to select home-state hero and can't-miss teenage phenom LeBron James. Because the right Ping-Pong ball came up at just the right time, the Cavaliers' next two decades were completely different from anything before. They went from supporting players to stars, anonymous nobodies to the team with the best player and best-selling jersey on the planet, ultimately reaching five NBA Finals and winning their first-ever championship in 2016. It all happened because of that lottery. And it easily could have turned out differently. The Detroit Pistons (who notoriously picked all-time flop Darko Milicic) and the Denver Nuggets (who picked Carmelo Anthony, a likely Hall of Famer who will nevertheless be known forever as Not LeBron James) had just as strong of odds to get that No. 1 pick. But the Cavs lucked out. Nothing about them, or the NBA, has been the same since.
Tuesday night, the most important NBA Draft Lottery since 2003 will take place in Chicago, shortly before game one of the Western Conference Finals between the Denver Nuggets and LeBron's Los Angeles Lakers. Sports history may change again thanks to the placement of Ping-Pong balls, but really thanks to this man:
There has never been a draft prospect, or maybe even human being, like 19-year-old Frenchman Victor Wembanyama. First off, he's seven-foot-five (seven-foot-five!) but not oafish or hulking like Shaq or Yao Ming: He's lithe, fast, and smooth like a point guard. He possesses incredible ball-handling skills and an ability to hit the open man on a fast break. In the French professional league where he's been dominating players who have been playing for a decade, he's known for court awareness above anything else, and that's saying a lot, considering he has the wingspan of a supersize condor. Also, he can shoot. It seems sort of unfair that he can shoot.
How good is he? Giannis Antetokounmpo, one of the best players in the NBA and the sort of physical specimen the league has never seen before, said, "He has a chance to be the best to ever play this game. You have to get ready for this kid." This kind of talk wasn't the universal norm for LeBron, by the way: Then-Lakers coach Phil Jackson famously said James "didn't belong in the NBA," leading to a 15-year feud between the two. No one is saying Wembanyama doesn't belong. Quite the opposite: Giannis worries the league won't be able to handle him.
Again, check out what this person — whose games nba.com has been streaming for months now — can do:
Suffice it to say, he's going to change the league. But more to the point: He's going to change one benighted team's future for the next several decades. And Tuesday night, we'll find out which one will be rewarded handsomely for being terrible.
There are six teams with 9 percent or better odds of landing Wembanyama:
Detroit Pistons (14 percent)
Houston Rockets (14 percent)
San Antonio Spurs (14 percent)
Charlotte Hornets (12.5 percent)
Portland Trail Blazers (10.5 percent)
Orlando Magic (9.0 percent)

There are other teams with smaller chances: Indiana (6.8 percent), Washington (6.7), Utah (4.5), Dallas (3.0), and so on.
But even a one-percent chance (Toronto!) feels like a big deal. Whoever wins this lottery will immediately become one of the most valuable franchises in all of American sports. If history tells us anything, the lucky team is likely to win a championship in the next decade; the unlucky ones will remain the lousy, boring franchises they are right now — this generation's NBA extras.
And it's not just the teams; it's the cities themselves. You don't think Detroit, or Portland, will be electrified to have someone like Wembanyama for the next decade? Giannis has changed the city of Milwaukee forever just by his presence — you can't walk through that town without seeing his face on every corner. Wembanyama could do the same thing.
There is an extremely important basketball game on Tuesday night, pitting two-time MVP Nikola Jokic and his Nuggets against LeBron James and the Lakers. But even though that matchup will take place after the draft, it feels like the undercard. The entire sporting universe, and beyond, is going to change at 8 p.m. ET on Tuesday. Hundreds of millions of dollars will go to one franchise, and city, rather than another. All because of something that has nothing to do with sports at all. You can enjoy all the dunks you want; it'll be Ping-Pong balls that provide the real drama on Tuesday night.