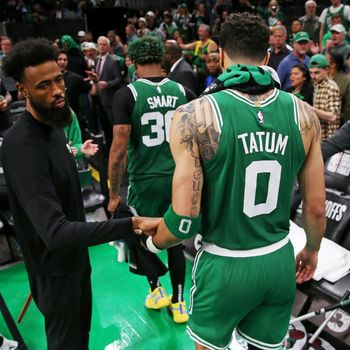 Photo: Matt Stone/Boston Herald via Getty Images
Even if you're able to talk yourself into believing that any Boston team could be termed an "underdog" — the city has won 12 championships in the four major North American professional men's sports this century — there is definitely nothing "underdog" about the Boston Celtics. It was a little bizarre, watching the Celtics come back from a 3-0 deficit against the Miami Heat in the NBA Eastern Conference Finals, to witness them trying to claim the nobody-believed-in-us mantle. The Celtics even watched a documentary about the 2004 Red Sox (still the only team in baseball or basketball to rally from a 3-0 deficit in a playoff series), and star Marcus Smart said, "It was beautiful. It was definitely special to watch, special to witness and to be able to have an opportunity to go out there and have our own 2004 ride."
All due respect to a player who disappeared for much of this series, but, well, you can be forgiven for your eyes rolling so far back in your head that they're now in your throat. A reminder: The Boston Celtics had the second-best record in the NBA this year, reached the NBA Finals last year, and are widely considered the most deep and talented team in the NBA. They were wobbly against the Hawks (a team they should beat by 20 every night) in the first round, barely edged the 76ers (who were missing their MVP for some of the series) in the second round and then fell behind 3-0 against a Heat team that barely sneaked into the playoffs at all. Never mind that these are the Boston Celtics, a team that has won a record 17 NBA titles. Underdogs? This freakishly talented team has fallen short so often over the past few years that we've started to try to talk ourselves into them overcoming their inherent underperformance as somehow "beating the odds." And on Monday night, they couldn't even do that.
The team firmly established themselves as the failsons of this NBA era on Monday, getting blasted 103-84 by an outmanned, outgunned, and outnumbered Miami Heat team who have made you cheer for them simply by not being their lethargic, consistently outcoached opponents. The Heat are everything the Celtics aren't: They're passionate, they're resilient, they run basic recognizable basketball plays, and they have a superstar in Jimmy Butler who wants to win so badly he's practically vibrating. The Heat are the very definition of an underdog team, even if they almost blew that 3-0 lead. Put it this way: The Celtics might have been an even-money matchup with the Denver Nuggets — a team that has been resting for a week, surely watching this weird-ass series with a bemused smirk — in the NBA Finals. Experts will be surprised if the Heat can win more than one game. That's an underdog. That's a team that can have its own 2004 ride.
The NBA Finals, which begin on Thursday, pit the Heat against the Denver Nuggets, a non-California/non-Northeast Corridor team led by a Serbian dude who can't run or jump and who pretty much lack any crossover appeal to the casual NBA fan. This might not be a ratings bonanza for ESPN, in other words. But even if this is the case —and it's certainly not something any fan should care about — it's difficult to look at the Finals and think they're somehow less compelling because they lack a listless Celtics team that only generated any drama by continuing to find ways to fall short of its potential (another failson specialty). The Nuggets and Heat have two players — Butler and Nikola Jokic — who are so much more compelling than anything the Celtics could possibly offer, two men who are dramatically different from each other in every imaginable way but will be scooping out every ounce of their entrails to win their first NBA titles over the next two weeks. No one but bitter Celtics fans could think the Finals are missing anything essential without Boston's presence. And all told: Deep down, I suspect even Celtics fans know this team didn't have it. Again.
In the end, the TD Garden in Boston — a building Bostonians are always claiming is striking terror in the souls of opposing teams but sure seems like it ends up finishing every series with TV close-ups of pasty red-headed guys looking forlorn — was silent one last time. The Celtics had everything set up for them: Easy first-round series, a hobbled Joel Embiid in the second round, a thin No. 8 seed in the third. And they found a way to fall flat on their faces, first by getting behind 3-0 and then by collapsing after stumbling their way back to 3-3. They will claim this is a learning experience that will push them harder in the future, just as they claimed last year and the year before. It's always something with those guys. The Heat and Nuggets played like teams willing to claw their own eyes out to get to the NBA Finals. That's why they made it. And that's why they're going to be so much fun to watch. It's fun, after all, to watch underdogs. Real underdogs.