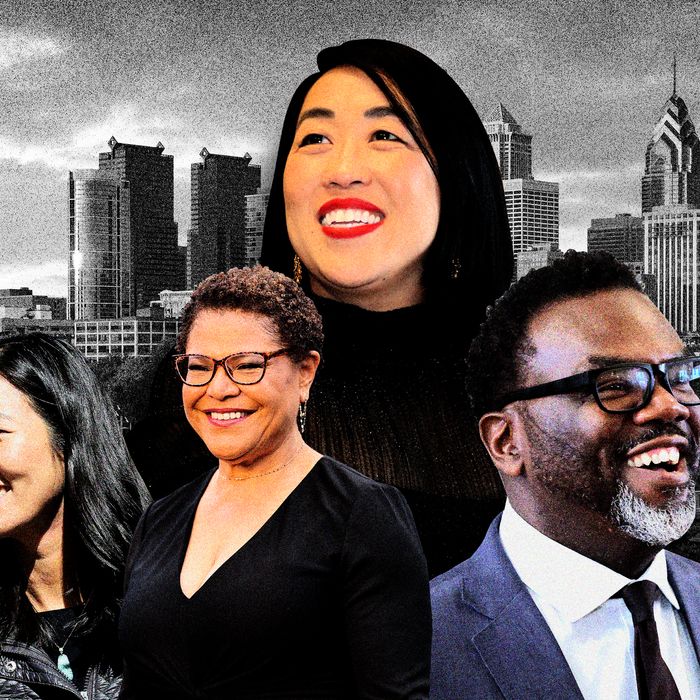 Photo-Illustration: Intelligencer; Photos: Getty
Just over a month after Brandon Johnson was elected mayor of Chicago, another Democrat endorsed by Bernie Sanders has a chance to govern a major U.S. city. Philadelphia's Helen Gym, a former City Council member who has secured the support of Alexandria Ocasio-Cortez and Jamaal Bowman, is a top contender in Tuesday's Democratic primary. If Gym prevails — and this is no guarantee given the number of viable contenders — progressives will have capped a remarkable run of victories in mayoral races that were once the domain of machine-backed moderates. Eric Adams, who once declared himself the "face" of the Democratic Party, would find himself strangely alone in New York, sandwiched between progressives in Philadelphia and Boston, where Michelle Wu, a 38-year-old Elizabeth Warren protégé, has been mayor since 2021.
A year ago, big-city progressives appeared to be struggling mightily. Chesa Boudin, a proud proponent of criminal-justice reform, was driven out of the San Francisco District Attorney's Office in a brutal recall election. Los Angeles was gearing up for a recall of its own left-leaning district attorney, George Gascón, and the future mayor there appeared to be Rick Caruso, a billionaire real-estate developer and former Republican. Adams, in New York, was still riding relatively high. Surges in crime and homelessness, coming on the heels of a pandemic that ravaged many downtowns, were supposed to bolster the prospects of Democrats explicitly opposed to the progressives and leftists who rose to prominence in the late 2010s. Many of these progressives were derided as Pollyannaish and unserious about "public disorder."
Boudin's defeat, in retrospect, may have been when the urban left bottomed out. Los Angeles did not recall Gascón. Caruso lost to Karen Bass, a member of the Congressional Progressive Caucus. Adams saw his approval ratings tumble. Wu has made progress on an ambitious rent-control proposal. And Johnson, after finishing ahead of the incumbent mayor, Lori Lightfoot, edged out Paul Vallas, a former Chicago Public Schools CEO and tough-on-crime moderate.
Gym, like Wu, would be her city's first female and Asian American mayor. She has a crucial link to Johnson through Vallas, who, in addition to running the Chicago schools, spent a half-decade as the executive in charge of Philadelphia's public schools. Johnson found success in savaging Vallas's record as schools chief, which came with notable triumphs and headline-grabbing controversies that never quite faded. An enthusiastic proponent of charter schools, Vallas clashed with teachers unions and public-school parents in multiple cities and found himself running against one particularly fierce activist in Philadelphia: Gym.
A decade before Gym was elected to the City Council, she was tangling with Vallas while she was leader of Parents United for Public Education, an organization she'd founded to fight for more public-school funding. As Vallas allowed the takeover of some public schools by for-profit companies and private nonprofits — and enacted a polarizing punishment regime for "problematic" students — he found himself pitted against Gym, a former teacher and newspaper reporter.
As an activist and politician, Gym has never been shy about her ideology. She has called capitalism an "immoral system" that "rejects organized labor, housing as a human right, and healthcare for all." In the 2000s, she became known for her activism around Philadelphia's Chinatown, opposing the construction of a baseball stadium there — locals decried the use of public funds and the potential to displace residents — and helping Asian American students at South Philadelphia High School win a federal civil-rights case after they were bullied and harassed.
Victory on Tuesday, though, is far from assured. Rebecca Rhynhart, a former city controller and supporter of charter schools, has been effectively tied in the polls with Gym and Cherelle Parker, a former City Council member running to Gym's right. The primary is already the most expensive in Philadelphia's history — thanks in part to Allan Domb, a real-estate developer who has pumped at least $5 million of his own cash into his campaign. Jeff Brown, a wealthy owner of a chain of supermarkets, rounds out the upper echelon of contenders.
The challenges for the next Philadelphia mayor, regardless of ideology, are sobering. More than 500 people were murdered in both 2021 and 2022, making Philadelphia, per capita, one of the deadliest U.S. cities. A canvasser for a progressive group supporting Gym fatally shot another canvasser over what police suggest may have been an old "beef." The poorest residents struggle with persistent gun violence, joblessness, substandard housing, and the lingering opioid epidemic. Jim Kenney, the term-limited Democratic mayor, has drawn outrage for expressing his own dissatisfaction with the job, and every candidate in the field, to varying degrees, has distanced themself from him.
There will be no election past May 16 that matters. Philadelphia lacks a runoff system, so the victor with a plurality in the Democratic primary will head to the general election. In every sense, that race will be a formality: a Republican has not led Philadelphia since the 1940s. But business-friendly centrists and revanchist Democrats — in the 1970s, Frank Rizzo, an incendiary police commissioner, rode a wave of white backlash to two mayoral terms — have found plenty of success in Philadelphia. Ed Rendell, a former mayor who went on to become governor of Pennsylvania and chairman of the Democratic National Committee, and Michael Nutter, a recent two-term mayor who backed Michael Bloomberg for president and defended his implementation of "stop and frisk," have coalesced around Rhynhart.
In Philadelphia, as in Chicago, crime has emerged as the top-tier campaign issue. None of the candidates is an explicit supporter, anymore, of defunding the police, though Gym, Domb, and Parker joined most of the City Council in 2020 to redirect a portion of police funding to other city services — only to reverse course later. Parker, vying to become Philadelphia's fourth Black mayor, wants to hire 300 new police officers and implement a version of "stop and frisk," even though Philadelphia voted to ban the tactic in a ballot measure she supported. Rhynhart, who is white, has tried to split the difference on reform and tougher policing strategies, giving officers greater arrest power while supporting job-training and violence-interruption initiatives. Gym is proposing aggressive social-safety-net investments to reduce crime. She wants to pump cash into mental-health crisis-response units, violence interrupters, a bolstered 911 response system, and more detectives to improve homicide clearance rates — initiatives similar to what Johnson campaigned on in Chicago.
The primary, forecasted to have a low turnout, will test Philadelphia's burgeoning progressive and leftist campaign infrastructure and whether it can replicate the get-out-the-vote power of the city's atrophied Democratic machine. Larry Krasner, the unabashedly left-wing district attorney, has won citywide twice despite deep opposition from the local police union and conservatives. Philadelphia's Democratic Socialists of America chapter, one of the nation's most active, has not formally endorsed her — citing a need to send volunteers to socialist City Council candidates — but released a statement in April urging members to cast their votes for Gym. Sanders, along with Ocasio-Cortez, joined a rally for Gym on Sunday. The Working Families Party, meanwhile, has channeled significant resources into Gym's campaign.
For Adams, a Gym victory might be unnerving. In two years, he'll face his own reelection, and the many left-of-center Democrats who failed to rally around a potent candidate to halt his ascent will have a chance to learn from their 2021 missteps. Adams's many strengths — his tremendous fundraising ability, his close ties to the Black working class and organized labor — may be fully tested. New York progressives will be on the hunt for their own Brandon Johnson. Or maybe their own Helen Gym.