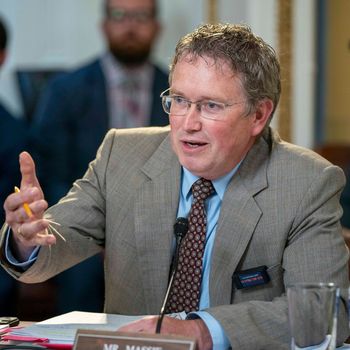 Representative Thomas Massie speaks during a House Rules Committee hearing on the Fiscal Responsibility Act.
Photo: Bonnie Cash/UPI/Shutterstock
Thomas Massie drives a Tesla with a "friends of coal" vanity plate and walks around Capitol Hill wearing an electronic debt clock on his lapel that constantly updates the sum owed by the federal government. And, on Tuesday, the fate of the entire global economy was in his hands.
The Kentucky Republican had long been an idiosyncratic gadfly among the House GOP but, because of the deal required to finally make Kevin McCarthy speaker, he was put on the powerful Rules Committee along with two members of the Freedom Caucus, Ralph Norman of South Carolina and Chip Roy of Texas. The committee has absolute authority to determine what legislation goes to the House floor and whether it can be amended. Traditionally it works as an extension of the Speaker himself and is packed with its allies. However nothing about the current Congress has been traditional.
The committee was deciding whether to allow the bill to raise the debt ceiling advance to the floor of the House. If Massie voted no, there was almost unlimited potential for economic catastrophe. The reason it was a tough decision was that conservative Republicans have viewed the debt ceiling as a potential hostage for over a decade. After a showdown in 2011 that resulted in spending caps, Senator Mitch McConnell infamously said Republicans had realized "it's a hostage that's worth ransoming." He added a significant caveat however: Most of his members didn't think it was a hostage worth shooting. The issue this time was whether McCarthy was getting enough out of the bluff with both the Senate and the White House controlled by Democrats.
Norman and Roy thought not. They were not just opposed to the bill but spoke to the press shortly before the hearing to express their opposition. They did not do this faintly or with caveats. Roy proclaimed to the crowd of reporters that "the Republican conference has been torn asunder" by the agreement reached by McCarthy and President Biden to raise the debt ceiling for the next two years in exchange for spending cuts far smaller than what House Republicans proposed in a bill last month. He darkly predicted that there will be "a reckoning." Norman called the proposed legislation "un-American." They were among the most moderate in their tone there. Andy Biggs of Arizona channeled Don King of Ohio by calling the legislation "malodorous," and Lauren Boebert of Colorado called it "fake news." The assembled right wingers were all framing the vote as "career defining" in order to try and strike fear of a primary challenge into those squishy on the legislation. In every big vote on Capitol Hill, there is a contingent of members who "vote no and hope yes."
This meant that, for once, the committee's hearing was suspenseful. With four Democrats and two Freedom Caucus members on the 13 member committee, Massie's vote would determine whether the debt ceiling deal would advance or if it would all fall apart less than a week before a potential default. Massie was not unaware of the stakes. In a room roughly the size of a one-bedroom apartment, nearly 20 photographers were intently focused on him. If he talked to his colleagues, they'd take pictures. If he was typing on his phone, they'd take pictures. If he was taking notes with his number-two pencil, they'd take pictures.
When it finally came time for him to speak, Massie announced, "I'm reluctant to say how I might vote on this rule because then all the cameras leave" to chuckles. He then took a dramatic pause which he narrated by saying "dramatic pause" before announcing, "I anticipate voting for the rule."
With that the photographers left, the room emptied, and the drama for the moment left. After all, Massie may be quirky, but he's definitely not squishy. Later that night, he told me that, after careful deliberation, he simply saw the bill as a net positive from his point of view. "The engineer and problem-solver in me wanted to vote for it and the politician did not. By engineering, I'm thinking of calculus and linear algebra. When I look at this logically and mathematically, the derivative is in the right direction." First elected to Congress in 2012, he said, "I'm just pretty binary on this. It cuts spending. It's the first bill that's going to become law that I've ever voted for that does that."
With the bill headed to the full House, the question of passing it is really about how painful it will be for McCarthy. After all, he had only been elected after 15 ballots and already Matt Gaetz, a longtime McCarthy critic, was on television warning that if a majority of Republicans voted against the deal that it would be time for a new vote for Speaker. A significant number of Republicans breaking with McCarthy and, in particular, while criticizing him in the process, would be a grievous blow.
But, that just wasn't the vibe. Dusty Johnson of South Dakota, a McCarthy ally, said that "a majority of the people who have concerns with the deal that they're working through will admit they have tremendous respect for Speaker McCarthy and for his negotiating." In his view, all the chaos to get McCarthy the gavel had somehow made this easier. "I am loath to say anything good about the Speaker's fight, which at the time, I thought was wholly unnecessary and wholly harmful to conservative governance," Johnson said. "I will now admit that the week that we had to breathe one another's air, and talk about what Republican governance would look like, ultimately did foster some pretty meaningful bond."
Even the critics of the deal were praising the Speaker. Andy Ogles, a freshman from Tennessee who was one of the holdouts during the 15 ballots and who will oppose the deal, took pains to praise him when asked. "I've been very pleased with Speaker McCarthy, quite frankly." Eric Burlison of Missouri went even further and said, "He's been fantastic." He then added that he just "can't stomach" the deal.
This didn't mean that the usual suspects weren't doing the usual complaining. Boebert described leadership after a meeting of the House GOP Conference as being unresponsive to her concerns. In her view, their attitude was "sit down, little girl, we got this."
But that was a reckoning that Kevin McCarthy could face. After all, Boebert never voted for him to be Speaker once.
More on the Debt-Ceiling Crisis
See All