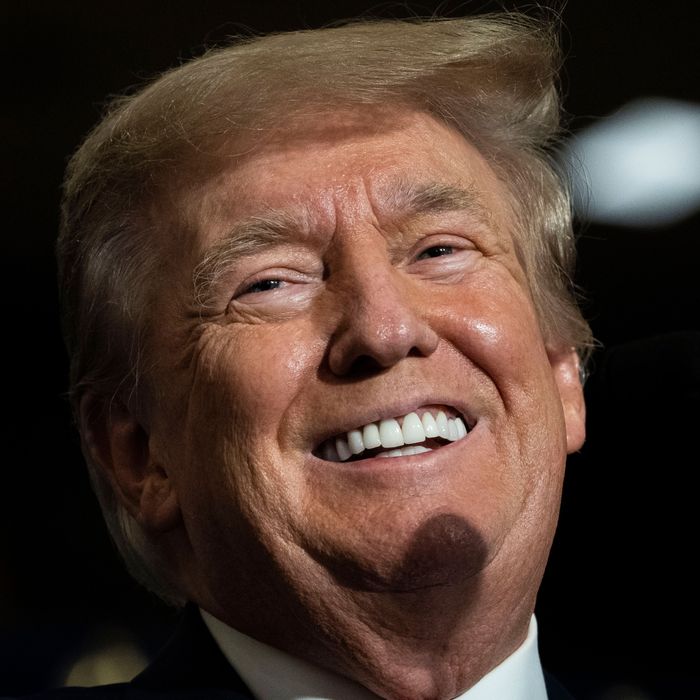 Photo: Drew Angerer/Getty Images
Donald Trump has been practicing his Ron DeSantis attacks for months: He's hit the Florida governor for his policy positions (like threatening Social Security and signing a six-week abortion ban) and for completely absurd reasons (like eating pudding with his fingers and having a name that sounds a bit like "DeSanctimonious"). So when the Florida governor did something that was actually hilariously inept on Wednesday — bungling the rollout of his 2024 presidential campaign — Trump was ready. Here's how Trump, who's never been one to take the high road, reveled in this Republican rival's misfortune.
1.

Trump relentlessly attacked DeSantis on Truth Social.
Trump complains about DeSantis frequently on Truth Social, but he really went all out in the lead-up to the governor's campaign announcement with Elon Musk. Trump posted more than two dozen anti-DeSantis "truths" on Wednesday, including retweeted memes, videos, polls, articles, and original rants like this:
Following the Twitter Spaces meltdown, Trump remarked, "Wow! The DeSanctus TWITTER launch is a DISASTER! His whole campaign will be a disaster. WATCH!" He then gleefully shared various videos mocking DeSantis and on-again, off-again nemesis Elon Musk:
2.

Trump posted a weird taunt about his "red button."
This one Trump jab stood out, as it is almost completely incomprehensible unless you're fluent in MAGA.
Here's a translation: "Rob" is Ron DeSantis, "My Red Button" is Truth Social, and "yours" is Twitter Spaces. So the post says, in effect, "Hey, DeSantis, Truth Social is bigger, better, stronger, and it works, while Twitter Spaces does not." The Kim Jong-un bit is kind of an unhinged footnote, which refers to the time Trump almost started a nuclear war over Twitter.
The Trump campaign thought this incoherent post was so amusing that they later shared it in a fundraising email.
3.

He launched a new DeSantis nickname.
No, "Rob" wasn't a typo. Other recent "truths" make it clear that it's the newest addition to Trump's collection of rude DeSantis monikers.
4.

He had allies go after DeSantis, too.
In addition to Trump's Truth Social antics, there was plenty of gloating behind the scenes among his allies, as NBC News reported:
Schadenfreude — the German word for taking pleasure in another's failure — might understate the glee Trump and his team felt as DeSantis' glitch-ridden Twitter audio-chat with billionaire SpaceX founder Elon Musk failed to lift off for about 20 minutes.




As hundreds of thousands of listeners logged off, Trump allies shared images to represent their excitement: a glass of wine and a laughing-to-tears emoji among them. 
Several Trump allies also attacked DeSantis in the press. "Glitchy. Tech issues. Uncomfortable silences. A complete failure to launch," Trump campaign spokesman Steven Cheung said. "And that's just the candidate."
5.

He released a campaign ad that's actually good.
Trump attacking DeSantis for incompetence is a bit rich; lest we forget, the Trump administration was so inept that their failure to actually have an "infrastructure week" became a meme.
But insults are one area where Team Trump has always excelled, so it's no surprise that they've already dropped a solid ad attacking DeSantis 2024. "There's only one Donald Trump," says the narrator. Thankfully, that's probably right.