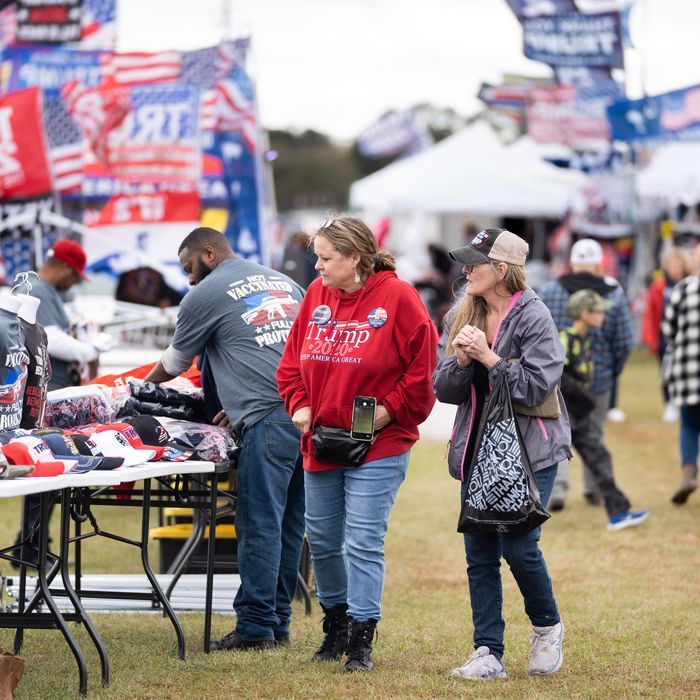 "Trump Bucks" can't be used to buy Trump merch or anything else.
Photo: Sean Rayford/Getty Images
Did you know that when Donald Trump retakes the White House in 2024, he'll unveil a new monetary system? And that anyone who's already invested in the Trump Rebate Banking System (or TRB) is going to get filthy rich as a reward for their loyalty?
I'm guessing you don't believe me. But what if you weren't hearing this information from a member of the so-called "Fake News," but via a TikTok featuring an unconvincing AI-generated Trump voiceover?
@trb_product_shop

#fyp #tiktokmademebuylt #trump #wealth #finance #following 📣 SOUND ON: Trump was a guest on Fox News where he confirms the TRB HANDBOOK verification and cash out system as 100% functioning! "It was a long and hardworking process, to make the TRB Handbook system functioning properly," he said, " but I would do anything for my loyal supporters." Donald Trump additionally confirmed that this is the ONLY CERTIFIED WAY to authenticate, verify and cash out your Trump products! 🧩This is the last piece of the puzzle! ⚠️IMPORTANT⚠️ All TRB HANDBOOKS come with two UV protected pages! Bankers scan the UV protected pages to check the validity of the Handbooks upon cash outs! Only 400 Handbooks available! Get yours now 👇🏻 Link:https://www.digistore24.com/redir/477955/Trump0/ ✅ Approved by: Donald Trump

♬ original sound - TRB Handbook Online Shop
The vast majority of Americans still wouldn't invest in "Trump Bucks," but NBC News reports that at least a dozen people have been duped by the many ads and social-media posts promoting it. And while the fine print usually notes these items are just memorabilia, that's often not apparent to conspiracy-minded consumers on MAGA-y corners of the internet.
One of the alleged victims, John Amann, invested $2,200 in the faux currency — which takes the form of coins, checks, and cards emblazoned with the former president's image — only to discover when he took his Trump Bucks to the local bank that they were worthless. Now he's warning other Trump followers online and sharing his story with NBC News, which found that he's not alone:
NBC News has identified the Colorado-based companies behind the Trump Bucks as Patriots Dynasty, Patriots Future and USA Patriots and reviewed dozens of social posts, online complaints and hundreds of misleading ads for the products. Additionally, NBC News has found at least a dozen people like Amann who say they invested thousands of dollars after watching the pitches on Telegram and other websites that strongly suggested that Trump himself was endorsing these products.




… Invest in a TRB membership card "issued by Donald Trump," the ads from Patriots Dynasty, Patriots Future and USA Patriots claim, and the purchaser who spent, say, $99.99 on a "$10,000 Diamond Trump Bucks" bill will be able to cash it in for $10,000 at major banks and retailers like Walmart, Costco and Home Depot.
Of course, no banks or major retailers accept Trump memorabilia as payment. And the cards are not "issued by Donald Trump." There is no evidence that the former president is connected to these products in any way — though it's easy to see why his supporters might be confused.
Trump promotes a variety of products that are perfectly legal, but still have a whiff of scam about them. For example, when hawking series two of his NFT collection, Trump claimed the value of the original cards was skyrocketing and congratulated himself for not jacking up the price; but the value of series-one NFTs actually plummeted following the new release. And one of Trump's more successful post-presidential fundraising ventures is a gold-lettered Official Trump Card sold by the Save America leadership PAC.
The plastic cards, which originally sold for $20 to $50, don't actually do anything, but as Bloomberg explained, you can wave them around at a MAGA rally:
It was the future president himself, a consummate salesman, who imbued the plastic with value (at least to die-hards). Trump would go to rallies and instruct the crowd, "If you have your Trump Card, hold it up" — and then he'd give a big thumbs-up. Presumably, throngs of crestfallen Trump fans, embarrassed to discover they'd been left out of the fun and burning with envy at their card-waving neighbors, rushed to the campaign's website to rectify the indignity.
It's hard to muster much sympathy for folks who are eagerly awaiting the day Trump tears down our financial system. But in their defense, sorting out the "official" fake Trump credit cards meant for waving at rallies from the "fake" fake Trump credit cards meant to morph into legal tender is a fairly complex task.