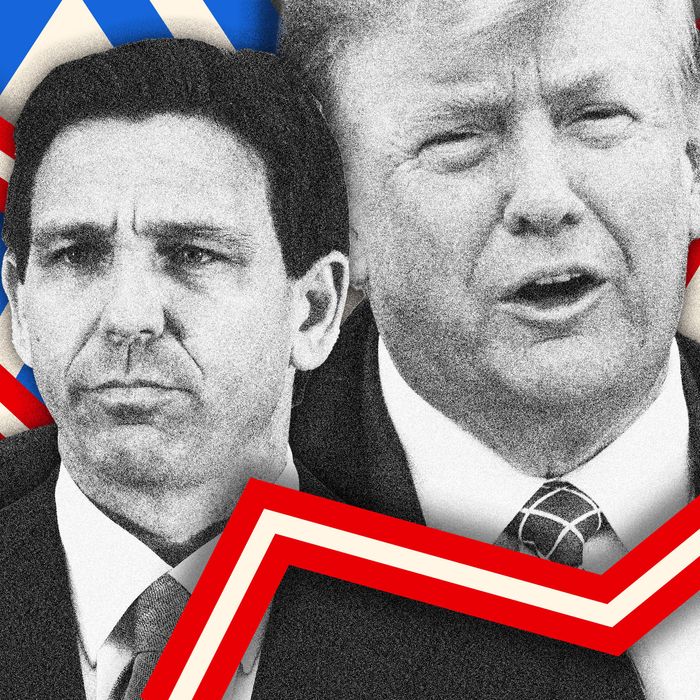 The front-runner is running stronger every day.
Photo-Illustration: Intelligencer; Photos: Getty Images
We are told that Ron DeSantis will finally announce his presidential candidacy by the end of May, boosting his name ID and potentially attracting new supporters with a cascade of money-driven messaging and frenetic activity. If that's the plan, he would be wise to get a move on. At present, Donald Trump is beginning to build the kind of polling lead over DeSantis that may begin to convince the Republican elites who have been the Florida governor's biggest fans that they need to make their peace with the 45th president's comeback bid.
In the RealClearPolitics polling averages, Trump now leads DeSantis by 36.1 percent (56.0 to 19.9), his biggest margin over his rival since the 2022 midterms made RDS a Republican megastar (in the FiveThirtyEight averages, which use a somewhat different mix of polls and weight the results for partisan bias and reliability, Trump leads by 31.8 percent). The former president's RCP lead has more than doubled since March 31.
Some of the most recent surveys ought to alarm Team DeSantis: A late April Emerson poll gave Trump a 62 percent to 16 percent lead, and a mid-May Rasmussen poll showed Trump leading DeSantis a nearly identical 62 percent to 17 percent. This really is a trend: There were no public polls between November 2022 and late March that showed DeSantis performing as poorly as his polling average measures him today. And it's always a sign of trouble for rivals when a front-runner in a large primary field is regularly polling over 50 percent. The 2024 rules for Republican primaries allowing winner-take-all and winner-take-most delegate awards after the first few contests will enable anyone with anything close to that level of support to pile up big delegate majorities.
It's true that it's still early, with lots of campaigning and a series of high-visibility candidate debates ahead. It's even possible that Trump's legal problems may at some point begin to hurt rather than help him. But so far it's been tough for DeSantis to get a break. He had a very good weekend in Iowa just the other day in which he was able to announce a lot of endorsements and even punk Trump for canceling an event due to bad weather that never arrived. But then he immediately lost face when Democrats won a Jacksonville mayoral race in a major upset, and then DeSantis's candidate for governor of Kentucky was trounced by Trump's candidate in a Republican primary. The latter outcome will draw renewed attention to a May 14 Emerson poll of Kentucky showing Trump leading DeSantis there by a 70 percent to 14 percent margin. And on another front, there really isn't any empirical evidence to support the very important DeSantis argument that he's a lot more electable than the man Joe Biden beat in 2020. In the RCP averages of general-election trial heats, Trump leads Biden by one point and DeSantis leads the incumbent by a half-point.
DeSantis has probably screwed around enough as a proto-candidate. He needs to become the real thing and perhaps develop his own comeback narrative.