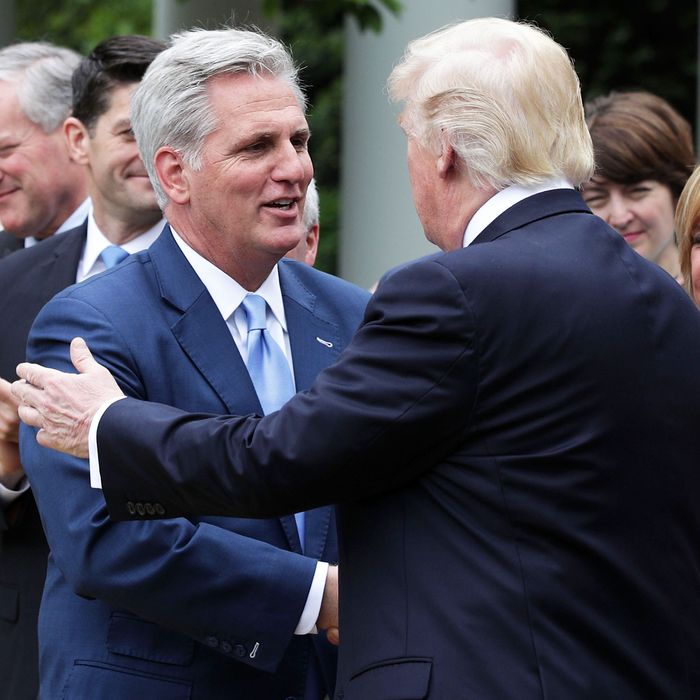 Can Kevin McCarthy find a way to ignore Trump's instructions?
Photo: Alex Wong/Getty Images
Most congressional Republicans seem to have shrugged off Donald Trump's wildly irresponsible suggestion, at Wednesday night's CNN town hall, that a U.S. debt default would be an acceptable (if not desirable) outcome of the fraught negotiations underway between Kevin McCarthy and the White House. But that doesn't mean Trump's comments won't have an impact.
House GOP leaders continue to pretend that it's Biden and his Democrats who are risking a default and the baleful economic consequences. McCarthy himself made this disingenuous ploy on Thursday, per The Hill:
"The only thing I see right now is that the Republicans made sure default is not on the table. We've raised the debt limit," he said, referring to the bill House Republicans passed last month to raise the debt ceiling to $1.5 trillion and cut spending by $4.8 trillion. "The only person talking about default right now is President Biden. His actions, he's ignored this problem, just like he's ignored the border."
But congressional Republicans varied in how annoyed they sounded in brushing off Trump's "political advice" (as his close Senate ally J.D. Vance chose to put it). Even some House Freedom Caucus members were clearly irritated, according to Axios:
Rep. Clay Higgins (R-La.) suggested Trump's comments aren't having a major impact on how Republican lawmakers approach the debt ceiling, noting that the ex-president is "on the periphery of these things …"




"We're not going to default on anything," Higgins added.
Here's the problem: With McCarthy white-knuckling it over his narrow control of the House (his own debt-limit/spending-cut proposal only passed by two votes), it wouldn't take much of a rebellion by hard-core HFC types to blow up his negotiating position and/or to threaten his slippery grip on the Speaker's gavel. And Axios did find some echoes of Trump's position in the House:
Rep. Byron Donalds (R-Fla.) leapt to Trump's defense, telling Axios that "if we enter a default situation, it might actually help us clarify some of our spending problems because a future default, if we don't get our spending in order, is going to be much worse."




Rep. Ralph Norman (R-N.C.) said "everything is on the table" as leverage, adding, "Either they agree to cuts, which are modest, or they take responsibility for whatever happens."




"I agree with [Trump]," Rep. Kevin Hern (R-Okla.), the chair of the conservative Republican Study Committee, told Axios.
It's unclear whether Trump's inflammatory comments on the debt situation were a one-off outrage designed to please his howling audience of fans at the CNN event, or a theme he intends to hit regularly as his buddy Kevin McCarthy struggles to get through the crisis without tanking the economy or his own Speakership. If the 45th president isn't done with trying to blow up the economy that the 46th president is trying to manage, it could get very scary in Washington very soon.