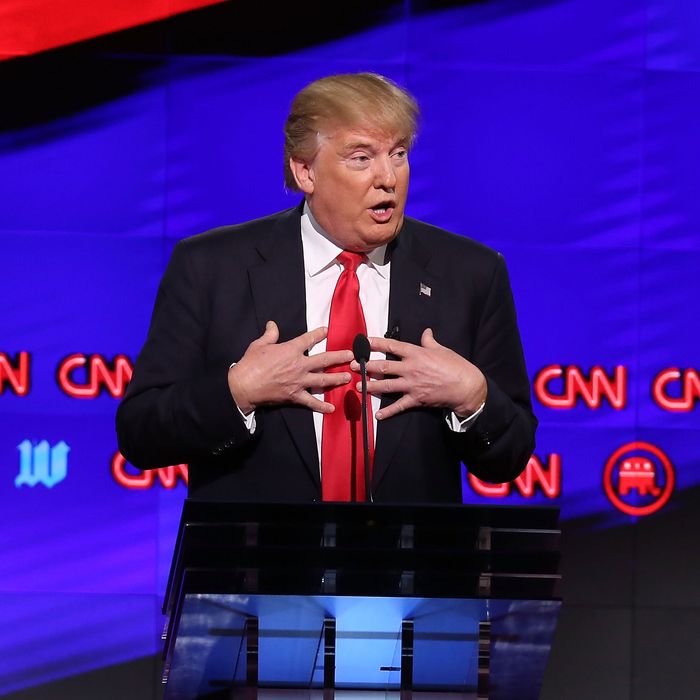 Photo: Joe Raedle/Getty Images
Tonight, Donald Trump will participate in a CNN town hall in his first appearance on the network since his 2016 campaign. CNN is treating this like business as usual, though the network has been ripped for giving Trump a platform after he instigated the Capitol riot, became the first former president placed under arrest, and was found liable for sexual abuse and defamation against writer E. Jean Carroll.
"There is no change to our format because of the unique nature of Donald Trump's candidacy," David Chalian, CNN's political director, told the New York Times. "CNN's role of bringing a candidate into direct touch with voters in this town hall format has been and continues to be a staple of our presidential campaign coverage."
Trump has largely been relegated to podcasts and conservative media outlets since the end of his presidency, so his return to a mainstream media outlet is notable. But a CNN report previewing the town hall described it, boringly, as a sign that Trump is "pursuing a strategy of expanding his appeal by reaching out to audiences beyond friendly conservative media outlets."
Good thing Trump, ever the showman, knows how to promote this thing properly. In a video posted to his Truth Social account on Wednesday afternoon (and quickly recirculated by his fans on larger social-media platforms), Trump preemptively lashed out at CNN and turned the high possibility that the town hall will be a train wreck into a selling point.
"I'll be doing CNN tonight live from the great state of New Hampshire because CNN is rightfully desperate to get those fantastic Trump ratings back," Trump said. "They were ratings like none other, and they want them back."
Trump then made his return to mainstream media sound like some kind of cease-fire brokered by Vito Corleone, saying, "They made me a deal I couldn't refuse."
And finally, he teased that this could be the start of a beautiful new friendship — or a must-watch TV disaster! "Could be the beginning of a new and vibrant CNN with no more fake news or it could be a total disaster for all — including me! Let's see what happens, tonight at eight o'clock," he said.
Of course, this won't be a new chapter for Trump and the so-called "fake news." Trump has played this game before, like when he complained before a 2020 presidential debate that moderator Kristen Welker was "terrible and unfair."
CNN's Kaitlan Collins will certainly ask some question that Trump doesn't like, and tomorrow he'll call her "fake news." While Trump made a compelling pitch, there's actually no way that the town hall can be a "total disaster" for him, at least in the eyes of his supporters.