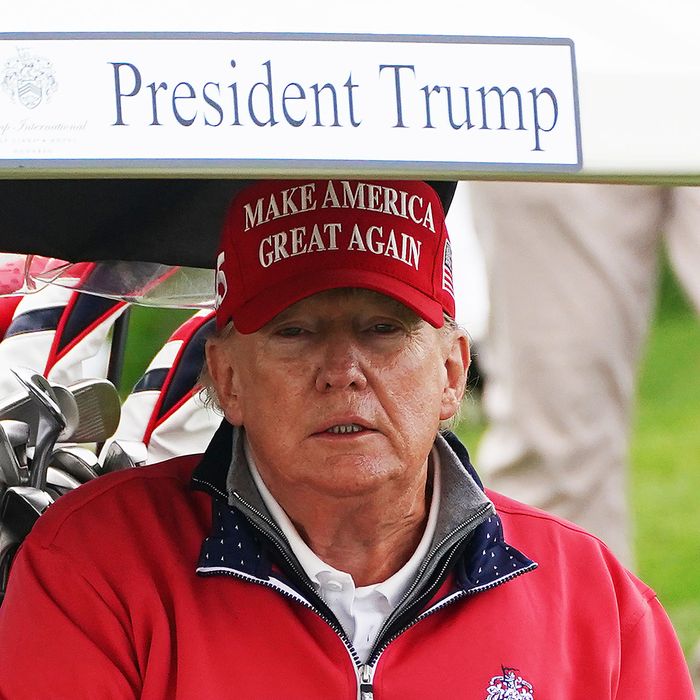 Photo: Brian Lawless - PA Images/PA Images via Getty Images
On Tuesday, a Manhattan judge set March 25, 2024 as the trial date for Donald Trump's alleged falsification of business records — meaning that the former president and current GOP front-runner will go on trial in the middle of the 2024 primary.
In a virtual court appearance, Trump frowned when Judge Juan Merchan announced the date. There's lots for him to be upset about. That Monday in March comes just six days after the Florida GOP primary — a huge opportunity to embarrass Governor Ron DeSantis his home state. (DeSantis is expected to announce his nomination tomorrow.)
It's not easy to keep Trump's legal troubles straight. This is the case in which he was accused of paying porn star Stormy Daniels $130,000 to keep their affair quiet, then altering records to hide the matter. He appeared in a Manhattan court last month — amid a media frenzy — where he was formally hit with 34 felony counts of tampering with business records, thus becoming the first ex-president to face a criminal charge.
Trump may face other interruptions between now and next March. There's the investigation in Georgia over his campaign's alleged tampering in the state's election in 2020; the Department of Justice inquiry into his alleged habit of taking top-secret documents home from the White House; the DOJ inquiry into Trump's involvement in the events leading up to the Capitol riot; the business-fraud case filed by the New York State attorney general that is expected to go to trial in October; and another potential defamation case, thanks to Trump's disparaging comments on television after a jury found him liable for defaming and sexually abusing E. Jean Carroll.
That's a lot of legal fees and exposure, but there may be an upside for Trump's March 2024 court date. After he was indicted by the Manhattan district attorney in March, his poll numbers shot up. If that trend holds, an appearance at 100 Centre Street in the middle of the primaries could be just what he needs.