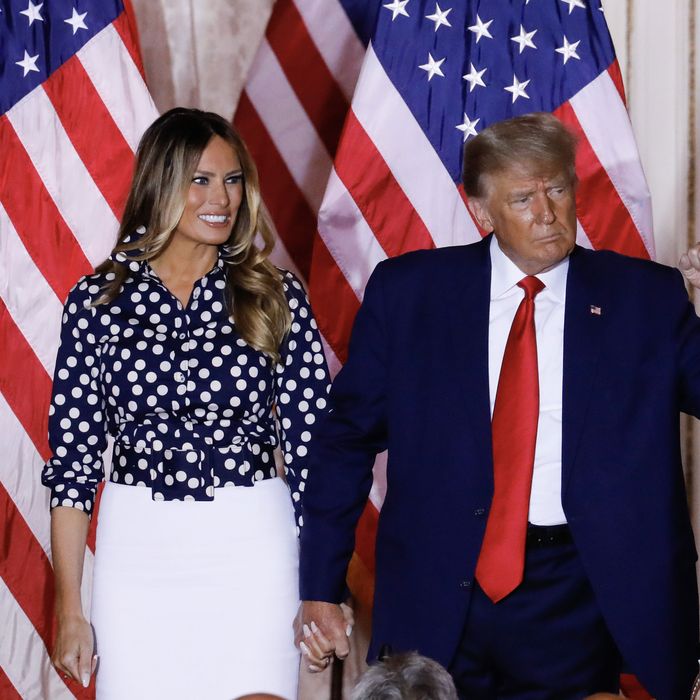 Photo: Eva Marie Uzcategui/Bloomberg via Getty Images
Back in 2013, Donald Trump sent a tweet wishing a "Happy Father's Day to all, even the haters and losers!" Thus, a new holiday tradition was born. The mogul clearly thought this backhanded greeting was very clever; over the next few years, he posted similar messages on Veterans Day, Thanksgiving, New Year's Eve, Easter, Memorial Day, the Fourth of July, and even September 11.
Trump's weird holiday habit went largely unnoticed until he started running for president. Many did not consider his 2015 tweet wishing "everyone, including all haters and losers (of which, sadly, there are many) a truly happy and enjoyable Memorial Day!" very presidential. Yet throughout his time in the White House, Trump kept using major holidays as an opportunity to lash out at his enemies with faux magnanimity.
Trump's holiday missives continued to evolve after he was exiled to Truth Social, and the latest incarnation is truly bizarre. On Sunday, the former president issued a Mother's Day plea to the moms of America's "Radical Left Fascists, Marxists, and Communists," asking them to make their "lunatic" progeny simmer down.
In other "truths" posted on Sunday, Trump remembered to plug his book Letters to Trump, compliment Lou Dobbs's podcast, make fun of "Ron DeSanctimonious," and repeatedly attack E. Jean Carroll. But he never said a word about Melania, his wife and the mother of his son Barron, or his daughter Ivanka, mother to three of his grandchildren.
The weirdness of Trump specifically addressing only his enemies' mothers on Sunday was underscored by posts from his wife and daughter. Ivanka, who doesn't use her father's social-media site, wrote an Instagram tribute to Ivana Trump "on the first Mother's Day following my mother's passing." And Melania posted this generic greeting on Truth Social.
Just last month, Donald failed to publicly wish Melania a happy birthday, too. And she has been keeping her distance from her legally troubled husband in recent weeks.
But don't worry about the former First Couple. Melania recently confirmed in an online-only Fox News interview that the Trump 2024 campaign "has my support." And when asked about his wife's involvement in his reelection bid, Donald convincingly told The Messenger, "She's very enthused — very, very enthused about it."