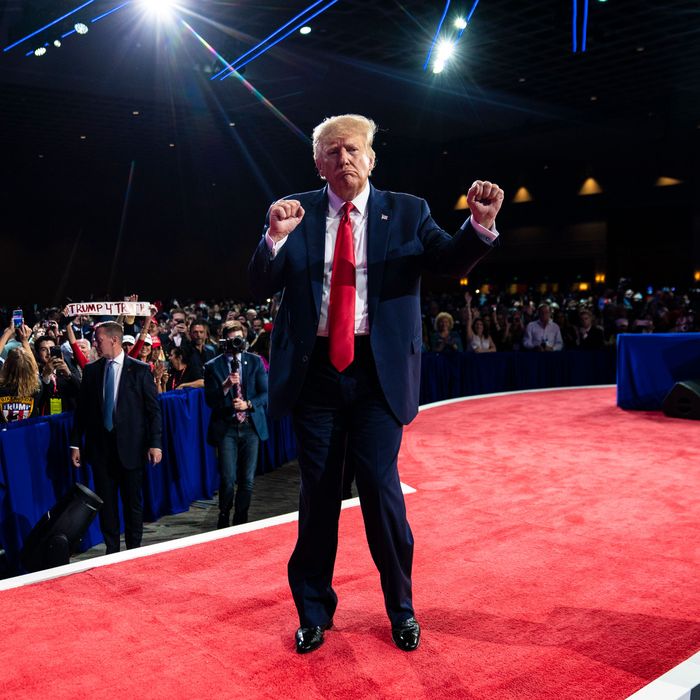 He'll learn to spell "Y.M.C.A." someday.
Photo: Jabin Botsford/The Washington Post via Getty Images
Donald Trump has been in quite a few court battles recently, but the latest legal threat must really hurt. This week, the Village People sent the former president a cease and desist letter demanding that he stop using their images and music without their consent. Now Trump has two options: Stop telling the world about his desire to be a "Macho Man" or wage a downright un-American legal battle with a cop, a Native American, a cowboy, and a U.S. Navy sailor.
Trump's passion for the '70s disco group is legendary. He chose "Y.M.C.A." as the song to close out his presidency. Village People hits remain a staple at MAGA rallies, and his "dad dance" — which does not resemble the actual "Y.M.C.A." dance at all — has become a meme. Trump also loves to play the group's music during his sporadic DJ sessions at Mar-a-Lago, and last year he gushed about "Y.M.C.A." on the Nelk Boys' podcast.
"They call it the gay national anthem," Trump said (fact check: false). He added, "'Y.M.C.A.' gets people up and it gets them moving" (fact check: true).
But it seems Trump went too far when he hired Village People impersonators to perform poolside at Mar-a-Lago recently. Video of Trump bopping to the song went viral:
The band was not amused. TMZ reported that Karen Willis, the wife of Village People lead singer Victor Willis, sent a cease and desist letter claiming that people are beginning to think the band has endorsed Trump due to his rampant use of their music. The letter said that Victor Willis has "tolerated" Trump's use of Village people songs for years, but that if he doesn't stop now, the band will sue.
Trump's attorney, Joe Tacopina, brushed off their concerns.
"I will only deal with the attorney of the Village People, if they have one, not the wife of one of the members," he told TMZ. "But they should be thankful that President Trump allowed them to get their name back in the press. I haven't heard their name in decades. Glad to hear they are still around."
This sounds like bad news for the Village People, but good news for those of us waiting to see if Trump ever learns to perform the actual "Y.M.C.A." dance.