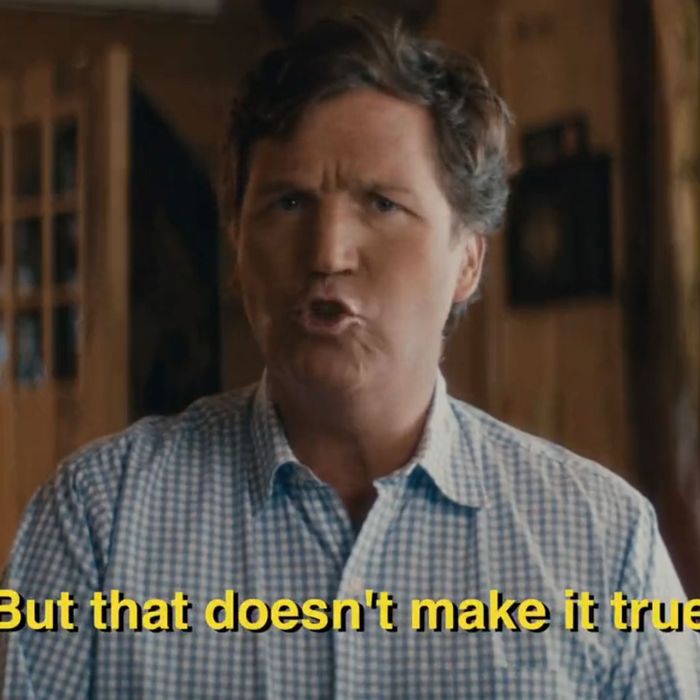 Photo: @TuckerCarlson/Twitter
The most fired man in television is going solo. A little over two weeks after his surprise ouster from Fox News, Tucker Carlson announced that he would begin broadcasting directly to the people on Twitter. "Starting soon, we'll be bringing a new version of the show we've been doing for the last six and a half years to Twitter," Carlson said in a video recorded in an exquisitely wood-paneled home.
Carlson's eagerness to get back in the game may be a costly decision: Puck News reports that he will give up at least $25 million to break the noncompete clause in his exit package from Fox News. The show will reportedly be run by former Fox News staff.
The announcement video suggests that the focus of Carlson's programming on Twitter won't stray too far from his primetime cable slot — with an emphasis on elite circles controlling life in America. "You are being manipulated," Carlson says, explaining how news networks control what can and cannot be said. "And you know that if you bump up against those limits often enough, you will be fired for it. That's not a guess. It's a guarantee."
An open question remains, however, on how Carlson will operate without the confines of a publicly traded company. Reporting on Carlson's ouster suggests that one of several reasons for his firing was that News Corp. executives were concerned with Carlson's racist statements off the air and with his TV segments endorsing false claims of election fraud.