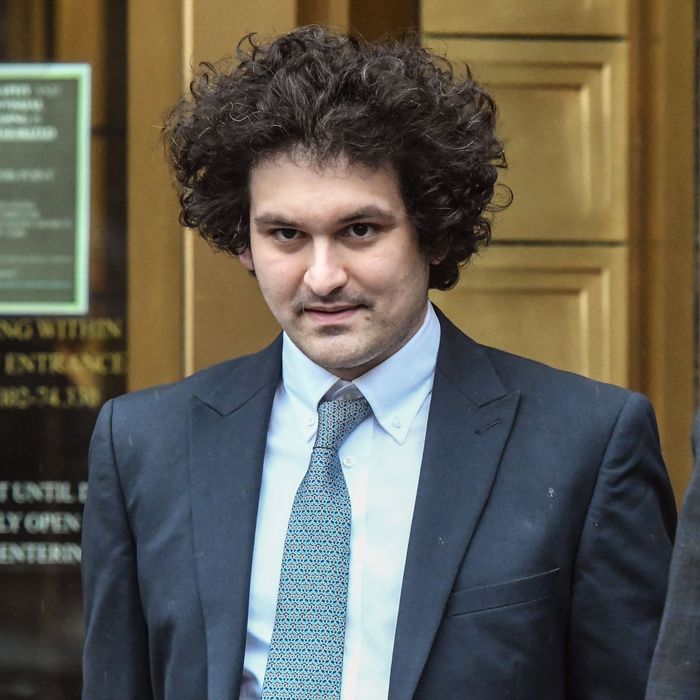 Photo: Stephanie Keith/Bloomberg via Getty Images
Sam Bankman-Fried hasn't been a great ex-boyfriend. During the monthlong period between the November collapse of his cryptocurrency exchange FTX and his arrest in the Bahamas on fraud and conspiracy charges, the unkempt former crypto billionaire made more than a few subtle digs at Caroline Ellison, his former girlfriend and employee, hinting that she was the one really responsible for everything going wrong. "Caroline and I had been together for a while. I don't control her. I never did," he said during one of his many talks with the media in December. Ellison was the former CEO of Alameda Research, Bankman-Fried's hedge fund, which allegedly took customer funds off the FTX exchange and gambled them away. It is, of course, fair to say that Ellison had responsibility — she's already pleaded guilty to charges of wire fraud, securities fraud, and money laundering — but it also muddies the water around accusations that Bankman-Fried guided a criminal operation.
But now comes news that Ellison kept a personal diary that federal prosecutors are combing through — as well as a "series of electronic documents" — that details the personal side of her relationship with Bankman-Fried, according to the New York Times. There are few details in the report about the diary, except that it has a black cover, or about whether the electronic documents are emails, a secret blog, or just a digital version of her own handwritten observations. What we do know is that these documents contain her raw reflections on SBF, including her "personal and professional resentment" toward him, according to the Times.
Is this a surprise? Ellison has always been bookish, describing herself as a lifelong Harry Potter fan — a Ravenclaw, even — so it's not too much of a surprise that she would put pen to her thoughts and feelings. And she kept a notorious Tumblr that revealed someone who, in her love of fictional girlboss characters or her interest in polyamory, had a deep interest in people and power, even if she was ultimately too inexperienced to really know what she was doing.
Bankman-Fried's criminal trial is set for October, and there are millions of pages of documents as potential evidence, according to the Times. James Bromley, an attorney in private practice at Sullivan & Cromwell who's representing FTX debtors in the related bankruptcy proceedings, said in February that the kind of digital evidence they have has made understanding how FTX all worked exceedingly complicated. "There are no wallets," Bromley said in court. "There are no keys. There are no buildings. Everything we have is a series of zeros and ones and any time that environment is accessed, it creates risk that damage will occur." Data, of course, is just raw information, and doesn't betray any motive or state of mind behind any action. Whatever it is that Ellison wrote just might cut right through that ambiguity.