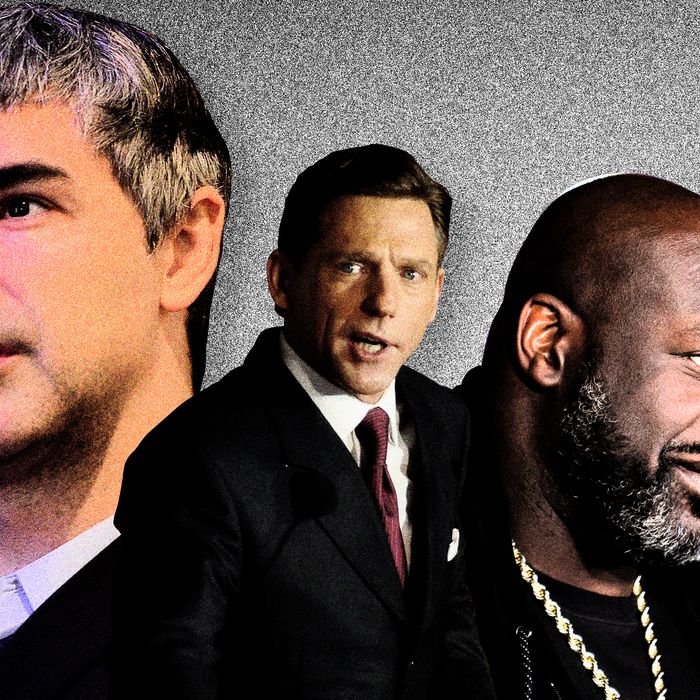 Photo-Illustration: Intelligencer; Photos: Getty
Where have all the rich men gone? It's a question not only for Bonnie Tyler to consider as a variant of her famous one but for the legal system, as a few very wealthy and famous people have lately displayed a talent for dodging notice that they've been sued. Getting served isn't just a time-filling plot point on Law & Order — it's a key part of the legal process. But tell that to Google co-founder Larry Page, retired NBA superstar (and current TV analyst) Shaquille O'Neal, and Scientology overlord David Miscavige. Admittedly, it's an eclectic trio, but all three have lately been impossible to locate by people trying to serve them with embarrassing lawsuits.
Page, who with co-founder Sergey Brin still controls a majority of voting shares in Alphabet (né Google), is currently the eighth-richest man in the world — worth about $100 billion. But even that much money can't make a federal case disappear. Prosecutors in the U.S. Virgin Islands, who are suing JPMorgan Chase and Deutsche Bank for allegedly facilitating Jeffrey Epstein's criminal activities, are trying to talk to Page about his relationship with the deceased sex trafficker. But they cannot find the guy. Maybe he's on his superyacht? Or flying a fighter jet? Or hiding out in New Zealand? Or the Caribbean? Or Fiji?
There is no indication that Page was involved in sex trafficking. The Virgin Islands case is going after the banks for essentially turning a blind eye to red flags about Epstein's crimes, and the extent of the inquiry is fairly narrow. According to the Justice Department, Page is "a high-net-worth individual who Epstein may have referred or attempted to refer to JPMorgan." Still, efforts to contact him have captured the media's attention. Surely, Page has someone sending him relevant CNBC links? He probably has well-compensated public-relations specialists working for him — but, even as a crisis-PR amateur, I can't help wonder whether it isn't just a very bad look to be seen running away from this kind of thing.
Then there's Shaq. He is seven-foot-one. His likeness is probably being broadcast on a television commercial for Gold Bond or Frosted Flakes right now. But he cannot be found by the people who want to serve him in a case alleging that he fraudulently shilled for FTX before its collapse last year. The closest anyone got was when a process server tossed court papers at his car's windshield as Shaq sped away from his gated compound. (Lawyers for the plaintiff make it seem like it was a touch less dramatic).
Shaq and his legal team maintain that it didn't count, that he was not properly served, and that the case should be dismissed against him for missing a legal deadline. (He was also sent a link through Instagram, an alternate means of serving a defendant that some courts accept, but the judge said it didn't count.) "Mr. O'Neal has not evaded service by failing to be at the residences where plaintiffs belatedly attempted service or by driving past strangers who approached his car," his lawyers wrote.
But the weirdest of the missing rich guys is David Miscavige, the grand potentate of the Church of Scientology. Last year, a group of former Scientologists sued him, as well as a bunch of other church organizers, for human trafficking. (It's an issue that keeps dogging Scientologists). The suit was filed last year, but whenever process servers went to Scientology compounds, they were told that Miscavige wasn't there, according to court documents. And when plaintiffs' lawyers mailed the documents, the papers either got lost or were returned without acknowledgement. This happened 27 times. In February, almost ten months after the suit's initial filing, the judge in the case ruled that Miscavige had been "actively concealing his whereabouts or evading service." (The church denied this.)
The judge declared Miscavige served after all of that, but it's not clear if it matters. Because it's a religious case, and the plaintiffs signed a contract when joining the church that lasts for a billion years, the court said that it's essentially a matter for Scientology to decide. In essence, this means that it's now up to Miscavige to decide whether he was involved in human trafficking. Plaintiffs are looking to appeal, but it could take years, and the case could potentially reach the Supreme Court. By then, who knows where Miscavige will be.