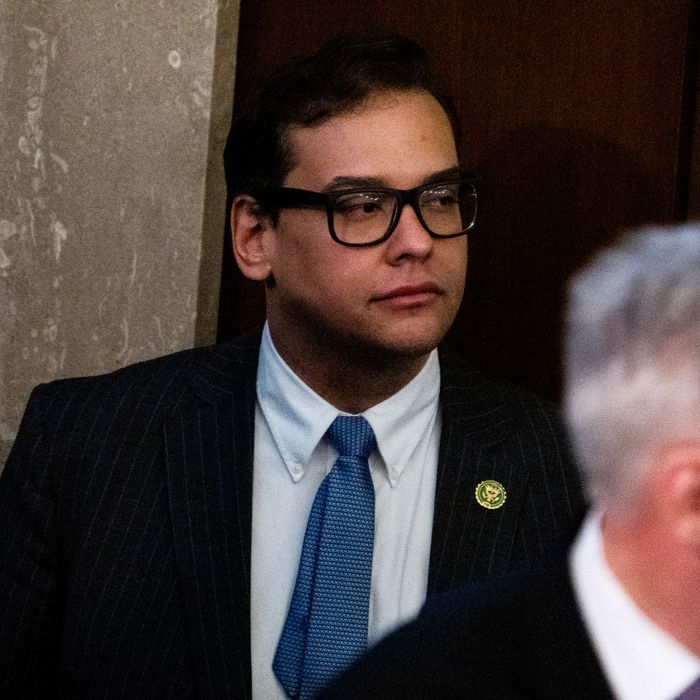 As Kevin McCarthy negotiates a difficult year, George Santos lurks in the background.
Photo: Tom Williams/CQ-Roll Call, Inc via Getty Images
Republican congressman George Santos of New York getting indicted on 13 federal charges is obviously not a good look for House Speaker Kevin McCarthy or his party. The serial fabulist is both a cartoon villain and a laughingstock, and though it's hard to believe he has left a lie untold, there's always the possibility he will generate fresh shame for himself, his district, and the GOP.
But there are two major reasons McCarthy has (so far) chosen not to drop the hammer on Santos, either by publicly demanding his resignation or taking the rarer and more drastic step of countenancing an effort to expel him from the House.
The first is the rather antiseptic matter of due process and precedent. While Santos has been indicted, tried, convicted, and sent off to the gallows in the court of public opinion, he has been indicted only in the real-life justice system. House Republican leaders are in lockstep in saying that any formal action against him must await the outcome of future legal proceedings, as the Associated Press reports:
"In America, there's a presumption of innocence. But they're serious charges. He's going to have to go through the legal process," said House Majority Leader Steve Scalise of Louisiana.




Scalise was seconded by Republican Rep. Elise Stefanik of New York, the No. 3 House Republican, who sidestepped the question of whether Santos should resign.




"As I've said from the very beginning on questions on this subject, this legal process is going to play itself out," she said.
The only two members of the U.S. House expelled since the Civil War (Ozzie Myers in 1980 and James Traficant in 2002) were both convicted of crimes associated with bribery. You could argue that mere bribery is child's play compared with the systematic deception Santos engaged in to reach Congress, but there's really no precedent against which to compare the dodgy dude. Expulsions and coerced resignations typically follow a recommendation from the House Ethics Committee, which is investigating Santos but likely won't move against him publicly without a high sign from McCarthy.
That brings us to the second reason McCarthy is taking his time in dealing with Santos: pure politics. McCarthy famously had a hard time winning the gavel after his party won a close 222-213 margin in the 2022 elections. He still has only four votes to spare (he recently passed a crucial debt-limit measure by just two), a situation that tempts all sorts of shakedown artists and blackmailers, particularly in the ultra-MAGA House Freedom Caucus. Whatever else he is, Santos is a sure vote for whatever McCarthy wants. Throwing him over the side before the debt crisis (and probably an appropriations crisis in the autumn) is resolved would be dangerous.
After all, if Santos resigns or is expelled, his seat will be vacant until a special election can be held, which Democrats are in a very good position to win (Santos's narrow 2022 victory, part of a big wave of Republican wins in New York, was an upset). Despite the unique nature of this situation, you can be sure an off-year Republican loss would be hyped to high heaven by Democrats as an alleged harbinger for 2024 while reducing McCarthy's operating margin in the House to very near the bare minimum.
But McCarthy has to play a longer game, too. The Democratic strategy for winning back the House in 2024 is very Gotham-centric. The authoritative Cook Political Report is rating Santos's seat as "Lean Democratic" for next year, but it rates four other Republican-held House seats in New York as toss-ups. As Larry Sabato's Crystal Ball observed, New York had weird pro-Republican turnout patterns in 2022 that probably won't recur:
The Albany Times Union recently reported that Republican turnout in New York far outpaced Democratic turnout, with GOP turnout reaching presidential levels on Long Island — where Republican House candidates performed exceptionally well, including flipping NY-3 [Santos's district] and NY-4. In a presidential year with more normalized turnout, Democrats very well could have a good opportunity to grab these districts back.
It certainly won't help the GOP if Santos is the face of their party on Long Island or in New York generally. Getting rid of him earlier rather than later may be a good idea.
So McCarthy is very much between a rock and a hard place in dealing with this strange congressional interloper, and that's assuming Santos doesn't hunker down and force the drastic step of expulsion after a lengthy trial instead of going quietly with a plea deal and a resignation. McCarthy is not the most sympathetic figure in Washington, and he may soon become a globally despised figure if he forces a U.S. debt default. But he has no good options with Santos, who must feel to Republicans like an especially painful bit of punishment for their party's sins.