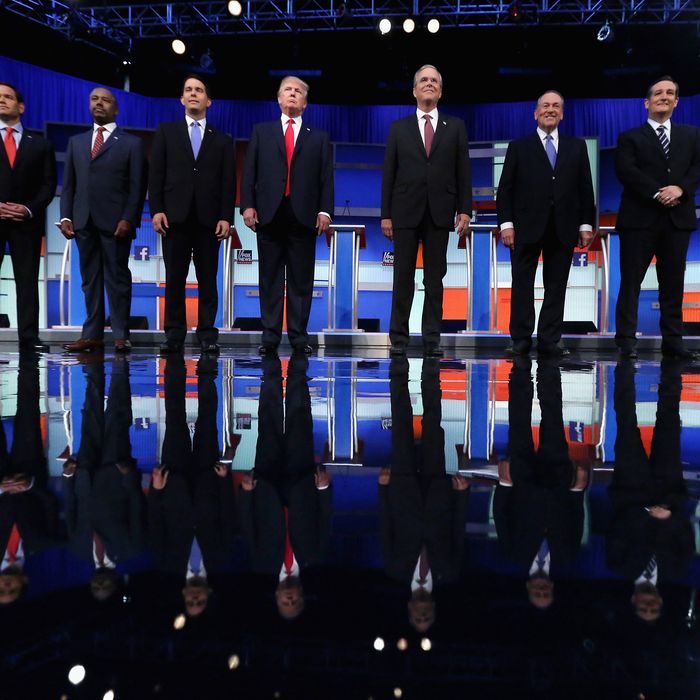 The 2024 field will be smaller than the group of candidates who crowded onto a debate stage in 2015 and spilled over into a "kid's table."
Photo: Chip Somodevilla/Getty Images
This week three candidates (Chris Christie, Mike Pence, and Doug Burgum) joined the 2024 Republican presidential race, while one potential aspirant (Chris Sununu) took himself out. With only one prospective candidate, Virginia Governor Glenn Youngkin, still undeclared it looked like the 2024 GOP field was finally settled. Then the race's frontrunner, Donald Trump, was hit with a federal criminal indictment and suddenly no one was talking about all these campaign launches. So the 2024 GOP race has truly begun, and as always, it's under the vast shadow cast by the 45th president.
Of the 12 declared Republican candidates, two (Perry Johnson and Ryan Binkley) are unlikely to make any debate stage or stay in the race for long. Another candidate, Larry Elder, is marginal: Beyond his longtime talk-show audience, he's mostly known as the very unsuccessful candidate to replace Gavin Newsom as governor of California in the failed 2021 recall election. So that leaves nine more or less serious candidates in a field dominated by the runaway polling front-runners, Trump and Ron DeSantis. The others who are at least theoretically credible as candidates are Nikki Haley, Tim Scott, Asa Hutchinson, Vivek Ramaswamy and the aforementioned Christie, Pence and Burgum).
The first scheduled joint appearance by the 2024 candidates is a party-sanctioned debate on August 23 in Milwaukee. Trump, professing anger at Fox News (the media sponsor of the debate) has equivocated about participating, casting a pall over the event, which he might dominate more in his absence than in his presence. The one thing we know for sure is that unlike the initial debates in 2016, all the candidates will fit on a single stage. And in fact, it may be roomy; at least four candidates (Christie, Elder, Hutchinson, and Burgum) may struggle to meet the RNC's polling and donor criteria for participating (a one percent showing in three large-sample national polls or two national polls and one early-state poll, plus 40,000 unique donors in 20 states). The RNC will probably ratchet up participation requirements for later debates, particularly after voting commences in 2024.
What we cannot know right now is how many criminal indictments the front-runner might be facing by August 23, and how his legal perils are affecting the race. His initial indictment in Manhattan back in March only seemed to improve his standing among Republicans accustomed to dismissing impeachments and almost endless allegations of misconduct as politically motivated "witch hunts." His position in the polls improved and his rivals were placed in the uncomfortable position of defending him against his supposed persecutors while challenging his leadership of the party. Reflexive Republican solidarity with Trump appears to be recurring in the immediate wake of the second indictment on federal charges involving mishandling of classified documents. Will that persist through subsequent criminal legal proceedings, or will the "Trump fatigue" his rivals have counted on finally materialize? We don't know, but we do know that much of this dynamic in the race is far beyond the control of the candidates challenging Trump.
So it's an open question how many candidates will still be around when the Iowa caucuses formally launch the nomination contest next January. In 2016, five announced candidates dropped out before voters voted.
Once voting does begin, candidate strategies should be relatively simple this time around. The field can be conveniently divided between the two front-runners and everyone else. At this early juncture, Trump is in a reasonably good position to nail down the nomination with victories in all four early states (Iowa, New Hampshire, South Carolina, and Nevada, with Michigan — whose tentative primary date violates current RNC rules — being a possibility). DeSantis needs a strong showing in Iowa and a win or two before the calendar arrives at his and Trump's home state of Florida in mid-March. With the possible exception of the questionably viable Christie, all the dark-horse candidates are expected to make a play for survival in Iowa, where they are hoping for three developments: (1) a major stumble by either Trump or DeSantis; (2) a "murder-suicide" scenario where Trump and DeSantis seriously damage each other and create a craving for a more "positive" candidate; and (3) a high placement among the remaining candidates. Each of the dark horses will need to decide whether to concentrate on Iowa's large and very conservative evangelical vote, where Trump, DeSantis, Pence, and Scott already have established appeal, or to seek a separate "lane" among more moderate caucusgoers.
How much winnowing of the field happens in the Hawkeye State is another big question. The conventional wisdom for years has been that there are "three tickets out of Iowa." But how many candidacies effectively die in the caucuses depends on a lot of variables, including performance against expectations and the possible emergence of a non-Trump, non-DeSantis dark horse who becomes an activist or media favorite. Two very wealthy self-funding candidates, Ramaswamy and Burgum, can probably stay in the race as long as they are willing to keep spending. Two others, Haley and Scott, have a strong incentive to try to stay alive until their own state of South Carolina votes (it's third on the calendar), particularly if either can croak the candidacy of the other.
If multiple candidates do stick it out, delegate-selection rules could help finish off the dark horses before long. Unlike Democrats, Republicans do not have strict proportionality requirements for delegate rewards. In fact, after March 15, states can elect to hold winner-take-all or winner-take-most contests (usually by congressional district), and even before mid-March minimum-vote requirements for winning delegates (often as high as 20 percent) will really hurt lagging candidates.
But it's entirely possible that the race will be over very early — or at least that it will be reduced to two or three candidates running actual campaigns. The most common pattern in recent nomination contests in both parties has been a heavy early front-runner being pursued by a single viable rival until the nomination has been definitively decided (Mitt Romney versus Rick Santorum in 2012; Trump versus Ted Cruz and Hillary Clinton versus Bernie Sanders in 2016; Joe Biden versus Bernie Sanders in 2020). So if you had to guess right now, you'd have to figure Ron DeSantis will be chasing Donald Trump around the country until his money runs out or Trump's legal troubles pull him from the campaign trail.