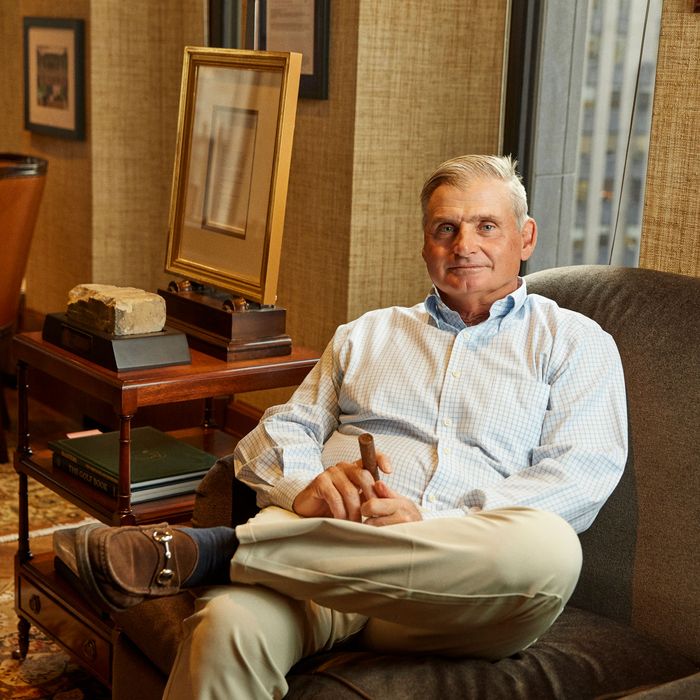 This article was featured in One Great Story, New York's reading recommendation newsletter. Sign up here to get it nightly.
Though an early-morning chill delayed his tee time, Jimmy Dunne had high hopes for his golf outing on Tuesday, September 11, 2001. A co-founder of the financial firm Sandler O'Neill & Partners, he was maniacal about golf and had trekked to Westchester with the goal of qualifying for the U.S. Mid-Amateur Championship. He never finished. Sometime after 9 a.m., a course attendant approached Dunne somewhere around the sixth hole and told him a plane had hit the World Trade Center, where his firm was headquartered.
Ten miles away, in Briarcliff Manor, at 9:12 a.m., Alison Crowther's cell phone rang, but she didn't hear it. "Mom … this is Welles. I … I want you to know that I'm okay," her son, Welles, a 24-year-old trader at Sandler O'Neill, said in a voice-mail. Eight minutes earlier, hijackers had crashed United Airlines Flight 175 below his office. Welles had recently been promoted from the research desk. "He was active. His eyes were active. He was moving," Dunne would later say about him. "I can tell if a guy's going to make it or not, just the way they walk on the trading floor."
What Welles did over the next 56 minutes became one of the most celebrated portraits of heroism on 9/11. At least 10 survivors recall a young man with a red bandana tied around his mouth coming to their aid, guiding them as they struggled down an intact stairwell. As soon as they were on their way, Welles turned around and went back upstairs to help others. Of the 83 Sandler O'Neill employees working in the South Tower's 104th floor that morning, 66 were killed, including Welles. Months later, Crowther and her late husband read about the man and knew instantly that he was Welles — their son never left the house without a red bandana in his back pocket.
The story of the "man in the red bandana" made international headlines. President Obama honored Welles at the 9/11 Memorial & Museum dedication ceremony, the FDNY made him an honorary member, and a charitable trust was established in his name. "I was proud, I was proud of him, I was proud of his family," Dunne would later say of Welles. "We had a methodology to get really good people. And Welles was a class-A, example No. 1 of that."
While Crowther and her husband were mourning their son, Dunne went to work rebuilding Sandler O'Neill. Unlike Welles, many of the firm's employees killed on 9/11 left spouses and children behind, and Dunne made sure the firm paid the families their loved ones' salaries, in addition to generous bonuses and extended health-insurance benefits for years. He also established a foundation to pay college tuition for any child who lost a parent. A handful of the 69 children the foundation sent to college have gone on to work for Piper Sandler, which succeeded Sandler O'Neill after a merger with Piper Jaffray in 2020.
Which is why, two decades later, Crowther and some 9/11 families were baffled to learn in early June that Dunne had brokered a deal between the PGA Tour and LIV Golf, an upstart tournament funded almost entirely by Saudi Arabia's Public Investment Fund. "It was like a gut punch," said Crowther, who is one of many 9/11 victims' family members suing Saudi Arabia over its alleged involvement in 9/11. "I cannot wrap my head around why Jimmy Dunne would do this."
Jimmy Dunne wasn't supposed to golf on 9/11. He'd planned to try to qualify on a course in Greenwich on Monday, September 10, but Dunne's co-founder and best friend since childhood, Chris Quackenbush, had encouraged him to play Bedford Golf & Tennis Club instead, thinking Dunne had a better chance of shooting below par on the Westchester course to qualify for the U.S. Mid-Amateur Championship. After Quackenbush and another managing partner were killed, Dunne became Sandler O'Neill's most senior executive. He immediately relocated the firm to a temporary midtown office where, friends and associates say, Dunne was obsessed with rebuilding. A titan of mergers and acquisitions, he announced Sandler O'Neill's first big M&A deal a mere two weeks after the attack. According to people who worked with him at the time and contemporary interviews he gave, Dunne saw Sandler O'Neill's rebound as both a way to exact revenge against Osama bin Laden and a means of supporting families of employees who were killed.
"Jimmy during that period was unbelievably focused," said Terry Maltese, who ran a sister firm, Sandler O'Neill Asset Management, and worked closely with Dunne back then. "Every decision that was made began and ended with one question that Jimmy kept asking, which was, 'What's the right thing to do?'"
In the new offices, Dunne set up a spreadsheet with the names of the dead to make sure a partner was at each memorial — few people attended as many as Dunne, according to friends and associates. "He was with us 110 percent. I don't know if a lot of firms would do what Jimmy did. He was right there; he set the standard," said Jamie Connor, whose husband was a partner before he was killed. The work was exhausting, but Dunne felt it was his mission. "How we conducted ourselves would define who we were and what we stood for," he said during a commencement address at his alma mater, Notre Dame, in 2021. "If we were not honorable, then we stood for nothing."
Dunne's story resonated in the sports community — ESPN, NBC Golf, and Sports Illustrated all touchingly recounted the story of the would-be 9/11 victim saved by golf. As a tribute to his fallen best friend, Dunne began hitting golf balls stamped "Q" for Quackenbush. Dunne's devotion to the sport seemed only to grow after 9/11, with memberships to some of the most exclusive clubs in the world and Rory McIlroy and Tom Brady among his golf buddies. And, years later, as president of the Seminole Golf Club in Juno Beach, Florida, he would have a front-row seat to the PGA Tour's existential crisis.
Early last year, LIV Golf started poaching star PGA golfers with eye-watering individual contracts, like the one for Phil Mickelson reportedly worth as much as $200 million, thanks to the Saudi Public Investment Fund, which manages more than $700 billion. By the time LIV hosted its first event in London in June 2022, PGA executives and boosters were in an all-out publicity war with their nascent rivals. Commissioner Jay Monahan even invoked 9/11. "I have two families that are close to me that lost loved ones," he said. "My heart goes out to them and I would ask that any player that has left, or that would ever consider leaving, have you ever had to apologize for being a member of the PGA Tour?" When asked about Saudi Arabia's involvement in the tour, Dunne told Sports Illustrated he "would not be the fairest judge of Saudi involvement" because so many of his friends were killed at the World Trade Center. "My son gets mad at me," Dunne told the Fire Pit Collective. "He'll say, 'I've never heard you say one negative thing about the Saudis, even after all you've gone through.' But the fact is, I would not want to work for them." As president of Seminole, Dunne enforced the PGA's ban on LIV players by excluding them from the club's pro-member tournament.
More than two decades after 9/11, the extent of Saudi Arabia's role in the attack remains an open question. The Saudi government has denied any involvement, and a 2005 report from the FBI and CIA concluded neither Riyadh nor the royal family "knowingly provided support" for the hijackers. There are irrefutable connections, though: 15 of the 19 hijackers were Saudi and Osama bin Laden was a member of one of the kingdom's richest families, though he was stripped of citizenship years earlier. In 2017, dozens of lawsuits against Saudi Arabia, including those brought by 9/11 victims' families, were consolidated into one megasuit that alleges the kingdom funded and directed organizations that helped Al Qaeda. More specifically, the lawsuits allege that a Saudi student in California, who was revealed in FBI documents declassified last year to be an intelligence asset reporting to the kingdom's ambassador in Washington, D.C., helped two hijackers settle in San Diego, finding them apartments, setting up a bank account, and lending them money. "Saudi government officials and intelligence officers were directly operating and supporting the entities involved with this network," the FBI document stated.
In late July 2022, 35 miles from Ground Zero, LIV hosted its first East Coast event at Trump National Golf Club Bedminster, in New Jersey. Before it teed off, Crowther joined members of 9/11 Families United outside of the club to protest. "My husband was a banker, so [golf] is what they did. Welles loved golf, too," Crowther said, clutching a red bandana, according to the New York Post. "That [LIV golfers] could be morally compromised by money from a source such as this, I find it appalling. I find it a testament to their own character, which is unsatisfactory."
Meanwhile, the competing tours fought in court. When the PGA threatened golfers who signed with LIV with suspension or bans from future tournaments, LIV pursued an antitrust lawsuit, originally filed by a group of players, against the PGA. In response, the PGA filed a countersuit that accused LIV of using "the game of golf to sports-wash the recent history of Saudi atrocities."
Three months after Bedminster, Dunne joined the Tour's board of directors at the invitation of Ed Herlihy, chair of the PGA Tour's board and a partner at powerhouse law firm Wachtell, Lipton, Rosen & Katz. Dunne called his appointment "a wartime deal," referring to the Tour's fight with LIV. But five months later, according to Sports Illustrated, Dunne did what he'd done to kick-start so many big financial M&As: He reached out to the other side. In April, he sent a WhatsApp message to Yasir al-Rumayyan, whom crown prince Mohammed bin Salman tapped to head the Saudi Public Investment Fund, to see if he might be up for making peace. Dunne had previously groused about al-Rumayyan, saying, "This is the guy that's running the event? I mean, come on. This is the head guy? That's like something you'd see on Saturday Night Live." But soon after introducing himself, Dunne and Herlihy flew to England and got to know al-Rumayyan over dinner, cigars, and, of course, golf. Seven weeks of secret meetings between a select few PGA and LIV executives ensued, and the result shocked the sports world.
In early June, Monahan announced a merger between the PGA Tour and LIV Golf that would be financed exclusively by the Saudi fund, give LIV board seats, and install al-Rumayyan as chair of the new board. The PGA Tour would have the majority of board seats, including one for Dunne, and Monahan would be the new tour's chief executive. The news was so astonishing that even PGA executives had to acknowledge their reversal. "I recognize that people are going to call me a hypocrite," Monahan conceded shortly after the merger was announced.
Monahan's concession did little to assuage critics, who accused the PGA of aiding a guileless effort by Saudi Arabia to "sports-wash" its horrific human-rights record, including the dismembering of journalist Jamal Khashoggi, its repression of women and LGBTQ people at home, and its alleged involvement in 9/11. Even worse, according to Terry Strada, whose husband was killed in the attacks and who is the national chair of 9/11 Families United, members of Monahan's staff had met with her organization to discuss their lawsuit against Saudi Arabia. "We were aligned at one point and Jay Monahan used our stories, used our pain and suffering, to malign the kingdom," Strada said.
The sense of betrayal was especially personal for Crowther, who said she had trusted Dunne after all he had done for her son's memory. She'd met him at Sandler O'Neill's offices, spoke to him at a signing for Tom Rinaldi's biography of Welles, and saw him praising Welles in filmmaker Matthew Weiss's documentary. "If he wants to do good, it's not by getting the PGA taken over by LIV Golf, it's by getting the Saudis to acknowledge, to take responsibility. We have to hold people accountable," Crowther said.
Dunne, through a spokesperson, declined to be interviewed for this story, but, in the days after the PGA-LIV merger, he gave a lengthy interview to the Golf Channel describing his involvement in the deal while also addressing the furor over Saudi Arabia's alleged connection to 9/11. "I am quite certain, and I have had conversations with a lot of very knowledgeable people, that the people I'm dealing with had nothing to do with it," Dunne said. "And if someone can find someone that unequivocally was involved with it, I'll kill them myself." While Dunne has said he wasn't paid a fee for his work, Dunne's involvement in the deal nonetheless proves the kind of influence Saudi Arabia's Public Investment Fund can buy. "It's not about the money for Jimmy. It's about ego and power," Crowther said. "And I feel so powerless. I just feel so powerless."
Dunne may simply have a different view than Crowther on Saudi Arabia's culpability, perhaps softened by time, but he and the PGA were presented with an unenviable choice: fight a spending war against a tournament backed by one of the world's largest piggy banks, or else cut a deal. Jamie Connor said there was no better person to weigh those choices. "I can understand that some families, whenever they hear the name Saudi Arabia, it's a very difficult thing to hear. And they're here, doing a lot of business in the United States. We all know they're invested in Citigroup, Bank of America, Disney, and Meta. And I understand that will always be a tough idea for a lot of people," she said. Ultimately, though, Connor trusts Dunne. "I've always admired Jimmy as someone who can make tough decisions in less-than-ideal situations."
Maltese, who worked with Dunne after 9/11 and who still talks to him on every anniversary of the attacks, wouldn't say if he and Dunne have discussed the moral calculation implicit in the deal. "I don't have enough knowledge to tell you that this was the right thing," Maltese said. "But I have enough to tell you that if Jimmy did it, he thought it was the right thing."