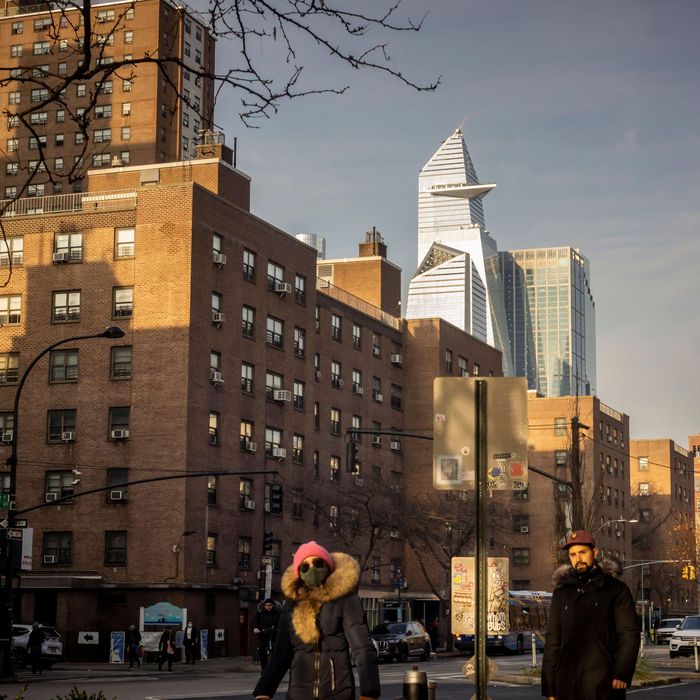 The Fulton Houses in Chelsea.
Photo: Richard Levine/Alamy Stock Photo
New York's troubled 88-year-old experiment in public housing is about to face one of its most important tests. The New York City Housing Authority has announced plans to demolish 2,055 aging units at the Fulton and Chelsea-Elliott Houses, replacing them with brand-new buildings to house all existing tenants plus another 3,500 apartments to be built on the same campuses, most of which will be rented at market rates.
If the plan succeeds, it will give hope and decent housing to thousands of working-class New Yorkers and point the way forward for a system in desperate need of an overhaul. But if our city's leaders fail, choosing the safe politics of inertia over the risky but necessary need for bold change, NYCHA will continue to literally crumble into ruin — an outcome that would be tragic and unnecessary.
It would be only the third time NYCHA units have been torn down and the first time new, market-rate apartments have been built on Housing Authority property. While the land will remain owned by NYCHA, much of the design and rebuilding will be done in partnership with the giant real-estate firm Related Companies and Essence Development. Tenants will continue to pay rents capped at no more than 30 percent of gross income with automatic lease renewals and the right to add relatives to the household.
For some tenants, the change can't happen fast enough.
"We literally every winter lose heat and hot water, for weeks at a time, in some of the high-rise buildings," Miguel Acevedo, president of the Fulton Houses Tenants Association, told me. "And the elevators are so outdated, literally stuck every single day. We've got a lot of residents that are in wheelchairs that have to make it to doctor's appointments. They miss their doctor's appointment because there's no elevator service."
"Residents have been ignored for too long, and they've spoken. And they said they want brand-new homes on the campus. They don't want to continue to live in dilapidated buildings," Manhattan Borough President Mark Levine told me on the day of the announcement, noting that NYCHA conducted years of outreach and discussion with tenants that culminated in a vote in which about 30 percent of adult residents participated, of which a solid majority of 60 percent chose the demolish-rebuild plan.
"What they're going to get at the end of the day is brand-new construction. And on this campus, we'll have over a thousand additional units of affordable housing," he said. "So this is going to be a major step forward in developments that need over $1 billion in repairs. It's very hard to pull that off. This plan would do that."
The underlying math of the $1.5 billion proposal is simple and grim. Chelsea-Elliott, parts of which opened in 1947, and the Fulton Houses, which opened in 1965, are so run-down that it's cheaper to rebuild from scratch than to keep patching and replacing windows, floors, kitchens, bathrooms, and heating systems in buildings that have asbestos and other hidden challenges. Earlier this year, planners realized that repairs would cost more than double an estimated $366 million. "It could easily be closer to $1 billion," a senior NYCHA official told Politico. "You never know what the cost is until you actually start opening up walls and seeing what's behind the walls."
That tough financial reality is a microcosm of the $40 billion-plus needed to renovate NYCHA's thousands of aging apartments. In 2018, the Citizens Budget Commission estimated that replacement will be cheaper than repair in 90 percent of Housing Authority apartments by 2027.
Behind the numbers lie thousands of New Yorkers who have been forced to cope with danger, death, disease, and indignity year after year under conditions that in many instances amount to demolition by neglect. People like the elderly residents of Brooklyn's Brevoort Houses, where 2,000 residents were forced to go without water for weeks during the summer of 2018 after a NYCHA pumping system failed. Cameras showed senior citizens hauling water in buckets from an outside faucet in order to bathe and flush their toilets.
The scene infuriated Eric Adams, Brooklyn's borough president at the time. "It should not take public pressure to increase the goddamn water pressure!" he shouted at a press conference.
We need more of that impatient, in-your-face Eric Adams, who has yet to name a permanent CEO of the Housing Authority and whose chief housing officer, Jessica Katz, recently announced her resignation. "I am excited that the residents of Fulton and Elliott-Chelsea Houses have seized their opportunity to plan their own future," the mayor said in a statement. "They were smart to recognize the potential benefits of completely rebuilding their campus."
It's great to see that Adams, Levine, Representative Jerry Nadler, State Senator Brad Hoylman-Sigal, Assemblyman Tony Simone, and the presidents of the relevant tenant associations are all in support of the project. The danger is that political calculations, unlike real-estate math, can change. The NYCHA plan is expected to go through the city's Uniform Land Use Review Procedure, a complex process that can easily span two years and often allows dedicated opponents to organize protests, lawsuits, and other delaying tactics to kill development projects.
That's enough time for a worthy idea to get ensnared in the 2025 municipal elections, the 2026 statewide races, and other places where ambitious office-seekers will be counting votes and staking out positions. That democratic reality means Adams, Levine, and other key stakeholders should expect blowback from skeptics and critics. This is New York City, after all, where even a proposal to literally build the Garden of Eden would probably lead to protests about the need for snakeproof barriers or some other complaint.
To believe in the promise of public housing means pressing forward with the urgency the situation demands. New York's stock of public housing, our main source of permanently affordable dwellings and home to 5 percent of the city's population, is on the verge of collapse and needs new dollars and fresh thinking before more people are harmed by failing elevators, toxic mold, lead poisoning and other threats to health and safety. Delay, in this case, can literally be deadly.
Acevedo, whose 92-year-old mother was an original tenant when the Fulton Houses opened in the 1960s, has a message for the skeptics. "I challenge anybody who's saying that there's ways to preserve it, 'Come live with us.' I'll give you one of my bedrooms, so you can see how we're living."