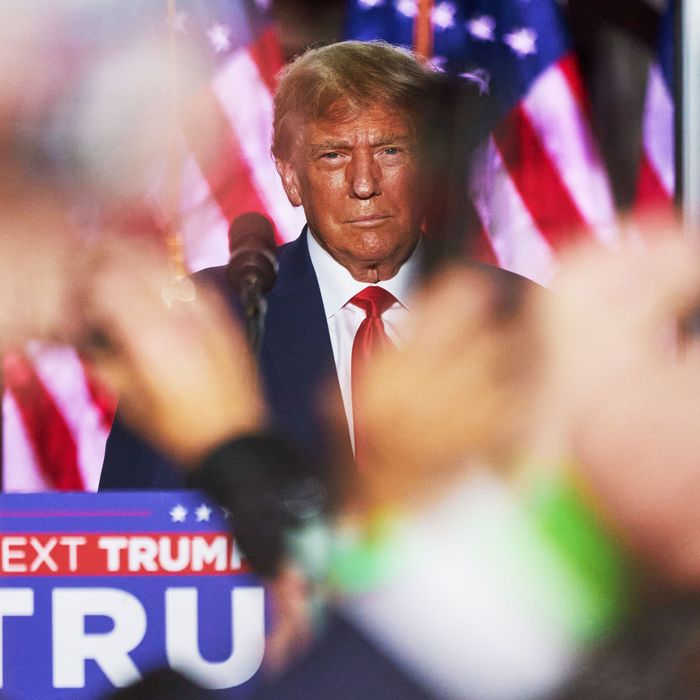 Photo: Bing Guan/Bloomberg via Getty Images
Donald Trump's case concerning his handling of classified documents might be heading to trial sooner than anticipated.
On Tuesday, District Judge Aileen Cannon set August 14 as the day when she issued a preliminary schedule for next steps in the case. That date requires that all pretrial motions to be filed by July 24. The government said it expects the trial would last 21 days.
When Cannon was selected, apparently at random, to handle the Trump case, it led many to speculate that the Trump-appointed judge may slow the proceedings in order to benefit him after she previously approved of his request for a special master to review the documents seized by the FBI at Mar-a-Lago last year. But so far, Cannon's actions have appeared to conform to Special Counsel Jack Smith's wish for a "speedy trial," with the judge already issuing orders in the case, including a request for the attorneys in the matter to provide their information to her office in order to expedite the security clearance process needed for them to participate.
With the 2024 election cycle already in full swing, it could be in Trump's best interest to delay the trial for as long as possible as he attempts another bid for the White House to shield voters from a potentially damaging guilty verdict. (Not to mention the prospect he could stop the case or pardon himself in office.)
Still, the timeline is likely tentative and subject to change. Cannon's order allows for the possibility of a postponement based on the process of Trump's attorneys obtaining security clearances to review the evidence against him, the "complexity of the case" or "any anticipated impact" of a federal law governing the use of classified materials in court.
"More often than not, the dates set for trial and for pretrial motions are moved," said Brandon Van Grack, the former lead prosecutor in the Mueller investigation, said in an interview. "It is really early to predict how long this will take — I think we're all trying to assess the motives and strategies of the parties here. But what I do think, at least with respect to the Department of Justice, is that they will try to bring it as quickly as possible."