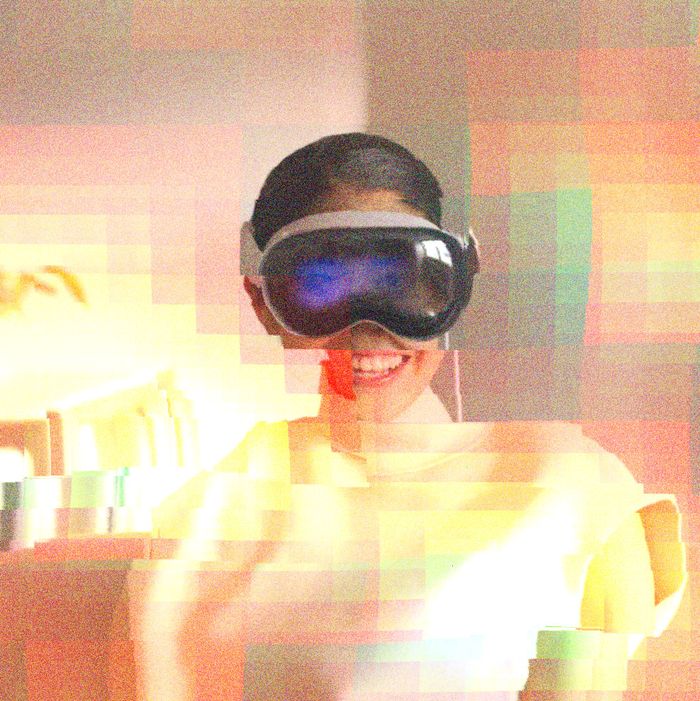 Photo-Illustration: Intelligencer
On Monday, Apple revealed its long-rumored headset, the Apple Vision Pro. It's a ski-goggle-like "augmented reality" device with an external battery pack, a starting price of $3,500, and a release scheduled for "early next year."
New Apple products are always hotly anticipated and immediately divisive, but the Vision Pro is a strange one, technically and conceptually. It's a product that's both immensely ambitious and immediately, undeniably weird. It's a bundle of interesting new hardware and software technologies, sure, but more than that, it's a bundle of fairly wild predictions and assumptions about how people are going to interact with the machines they use to work, communicate, and relax.
Apple's promo video above gets the basic idea across, but the Vision Pro is an unusual Apple product in that it requires … quite a bit of explanation. Inside the goggles are high-resolution screens and eye-tracking sensors. On the outside of the headset, there are numerous sensors, cameras, and another big screen. Wearers can see the outside world via a camera-mediated image, immerse themselves entirely in the headset's software, or — and this is core to Apple's pitch and what it means by "augmented reality" — mix the two together. Users control the device with their eyes, finger gestures, or external accessories. The battery lasts about two hours, and the sound comes from inside the headband. Apple is referring to the resulting effect as "spatial computing": Interfaces float in front of the wearer in three-dimensional space. A little dial on the side moves users between virtual and "real" views.
Apple teased a variety of straightforward uses for the headset — watching movies, playing games, browsing the web, videoconferencing, taking photos and videos — suggesting with its familiar software interface that, in narrow sense, the Vision Pro is basically an iPhone, or maybe a Mac, strapped to your face. The most surreal and offputting demonstrations in Apple's presentation were often the ones that probably sound the most obvious on paper: taking pictures of your kids (with your goggles on); sitting on your couch to watch a movie (alone, upright, with your goggles on); reviewing said pictures of your kids (sitting in a chair, in a dark room, with your goggles on).
Apple's presentation, like its product, featured numerous concessions to — and inadvertent hints at — aspects of this new computing vision that many people will find a bit dystopian. The Vision Pro's exterior screen, for example, can either signal to other people that you can't see them, or, with a set of digitally reproduced eyes, as in the image at the top of this post, signal that you can see them, albeit through the headset's cameras. After showing off an impressive immersive-video-chat feature, Apple revealed that people on the other side of Vision Pro video calls would have to settle for digitally re-created avatars made from facial scans and cued by the headset's sensors.
The presentation was full of odd, bracing moments like this, scenes of profound fleeting gloom, scattered throughout a sunny pitch delivered by a seemingly endless parade of Apple executives and employees in perfectly modulated and impressively consistent keynote-ese. The presenters stood or paced alone in a series of unsettling environments around the massive depopulated Apple spaceship campus, like a race of aliens visiting from planet NorCal, gesturing occasionally at human-use cases unfolding in diorama-like stages. One moment, you're watching someone interact with a familiar iPhone-style interface with their eyes and fingers; the next, you see a woman sitting in a room, engaging in a Vision Pro "mindfulness session," represented by a floating rainbow orb. It can be easy to lose track of just how odd and particular the aesthetic, culture, and outlook of the world's leading consumer-electronics company has become over the last ten years, and these big events are always a useful reminder.
Anyway, to be fair, Apple was faced with an impossible task here. If this is what the future looks like, it won't be because the general public became preemptively comfortable with the strangeness of wearing AR goggles all the time. It will be because people tried them, liked using them, and then gradually got used to the strangeness, as they so often do. And to that end, Apple did manage to convey a plausible pitch, assuming, of course, that its hardware and software turns out to be up to the task: The Apple Vision Pro is a workstation; a screen of screens; a device that's less about doing new things that it is about combining all your screen-related tasks into one unit. You can pace around your room, take it outside, or wear it on a plane, sure, but you can also just use it to replace what's on your desk, in front of your couch, or in your pocket. It's a face computer in the deflating sense: your apps, closer to your eyes.
Is that a nightmare? Maybe. It's certainly a total concession to the screens, which have already come closer to conquering our fields of vision than most sane people anticipated. If this doesn't give people headaches, or make them motion-sick or claustrophobic, and if the screens are as sharp and vivid as Apple says they are — the WSJ's tester came away both impressed and slightly nauseated — and if people can get over the whole fake eye thing, I think there's something here that at least makes sense: virtual versions of the various screens that already take up time and space in our daily lives.
For now, Apple seems to be imagining lots of windows, apps, and computer-or-phone-like interfaces. We didn't see much in the way of real-world overlays, or a very deep engagement with the more sci-fi aspects of "augmented reality" that have tripped up other wearable companies. Whether you find this convincing or compelling might depend on how you feel about the prospect of a headset fully mediating two of your five senses. Either way, it's a pitch for something almost familiar, no desperate "metaverse" required.