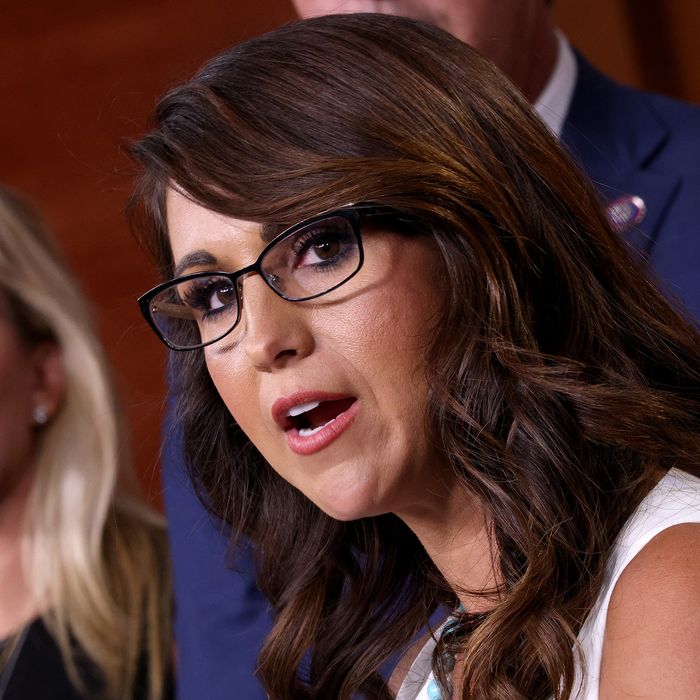 Boebert moves to impeach Biden immediately; MTG complains she's being a "copycat."
Photo: Win McNamee/Getty Images
The Republican-controlled U.S. House is hardly a well-oiled machine. At a time when Speaker Kevin McCarthy is trying to build a case for voters to eject Joe Biden and other Democrats at the ballot box next year, his excitable troops keep breaking ranks and cutting wild capers publicly. The latest incident involves a subject so inflammatory that it has drawn an embarrassing amount of attention: Lauren Boebert's resolution to impeach Biden, without hearings, over his handling of immigration policy and the situation at the southern border.
On the evening of June 20, the fiery gun-rights absolutist, Christian nationalist, and House Freedom Caucus stalwart from Colorado tried to force a vote on her bid to impeach Biden by using a parliamentary tactic that allows any House member to bring "privileged resolutions" to the floor immediately. This was embarrassing for McCarthy, as Boebert's resolution (1) had no chance of passage given the House GOP's extremely narrow margin of control and (2) circumvented the "regular order" that Republicans are supposed to revere and that Democrats observed when impeaching Donald Trump twice. Boebert's resolution dispensed with formalities like Judiciary Committee hearings with witnesses, debates, and solemn votes, and just cut to the chase with a floor vote to send Biden to a Senate trial.
When McCarthy called Boebert to the carpet (a closed-door House GOP conference meeting, to be more specific), she didn't bother to show, as The Hill reported:
Boebert instead appeared on former Trump adviser Steve Bannon's show on Wednesday morning, defending her move to force a vote on impeachment despite leadership encouraging her not to.




"I would love for committees to do the work, but I haven't seen the work be done on this particular subject," Boebert said. She later said that there are not enough GOP votes to pass impeachment articles out of committee.




"This, I'm hoping, generates enthusiasm with the base to contact their members of Congress and say, 'We want something done while you have the majority,'" Boebert said.
In other words, she was disregarding party discipline in order to encourage MAGA yahoos to flood McCarthy and other colleagues with nasty messages about their failure to avenge the Trump impeachments and ongoing criminal indictments.
So McCarthy took the extraordinary position of publicly calling on House Republicans to join Democrats in voting down the Boebert impeachment resolution. Instead of accepting a humiliating defeat on the floor, Boebert agreed to merge her resolution with a border-related impeachment resolution aimed at Homeland Security secretary Alejandro Mayorkas. The House will now almost certainly refer both resolutions to the Homeland Security Committee, ending the immediate crisis. But the MAGA yahoos will still take notice of the House GOP's failure to go after "Crooked Joe" right away, so from Boebert's point of view, it's still mission accomplished.
The high drama of this first serious effort to impeach Biden may be overshadowed by the low comedy of current House GOP dynamics. Representative Marjorie Taylor Greene announced she would support Boebert's impeachment bid. The Georgia Republican has been lining up her own resolutions to impeach four different Biden appointees, along with the president himself:
MTG, once a close Boebert ally who has been feuding with her lately, added some snark to her support for the Coloradan's move, as The Hill reports:
"I had already introduced articles of impeachment on Joe Biden for the border, asked her to co-sponsor mine, she didn't. She basically copied my articles and then introduced them and then changed them to a privileged resolution," Greene said. "So of course I support 'em because they're identical to mine."




"They're basically a copycat," she added.
The two MAGA frenemies had words on the House floor as the impeachment debate simmered, according to the Daily Beast. Greene called Boebert a "little bitch" for preempting MTG's role as Biden's tormenter-in-chief:
"I've donated to you, I've defended you. But you've been nothing but a little bitch to me," Greene told Boebert, according to a source who witnessed the exchange. "And you copied my articles of impeachment after I asked you to cosponsor them."




The name-calling was confirmed by another GOP lawmaker and another source who witnessed the exchange.




"I heard Marjorie call Boebert a bitch right to her face," one GOP lawmaker said, granted anonymity by The Daily Beast to speak freely about the argument.




"OK, Marjorie, we're through," Boebert then said, shrugging her shoulders.
Kevin McCarthy really needs to get a grip on his conference without provoking the right-wing zealots who could take away his gavel if they wished. Meanwhile, the president and his appointees are looking safer by the day.