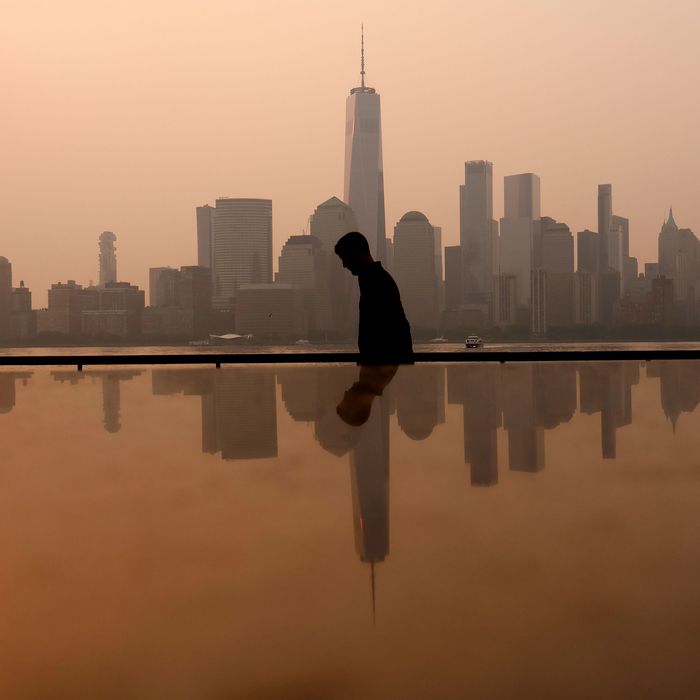 Smoke continues to shroud the sun as it rises behind the skyline of lower Manhattan and One World Trade Center in New York City on June 7, 2023, as seen from Jersey City, New Jersey.
Photo: Gary Hershorn/Corbis News via Getty Images
Smoke from out-of-control Canadian wildfires has continued to roll into New York City, blanketing the five boroughs and much of the northeast for a third straight day. Though conditions are slightly improved on Thursday compared to Wednesday's thick haze, the city is still under an air-quality advisory through midnight, grinding many activities to a halt.
New Yorkers are being advised to stay indoors whenever possible and to wear a high-quality mask if they must go outside. Free N-95 masks are being distributed at various MTA, LIRR, and MetroNorth stations as well as by the FDNY at several locations across the five boroughs.
Wildfire smoke poses a health risk because it contains fine particles that can affect the heart and lungs if inhaled. At points on Tuesday and Wednesday, the city had the worst air quality in the world, according to IQAir, which monitors pollution around the globe.
The New York Times reports that around 437 fires were still burning in Canada, per the Canadian Interagency Forest Fire Centre. 248 of those fires remain out of control.
During a briefing Wednesday evening, Mayor Eric Adams advised New Yorkers that though conditions will improve Thursday morning, they are expected to "deteriorate further" in the afternoon and evening.
"Our city is strong and resilient. We have faced crises before, and we will get through this together. Stay indoors, stay safe, and mask up if you are outside," he said.
The unhealthy air-quality has forced the cancellations of several events across the city. All outdoor activities sponsored by the city's Parks and Recreation Department have been cancelled for Thursday. Local beaches will also be closed to swimmers. The Central Park Zoo, the Bronx Zoo, the Prospect Park Zoo, Queens Zoo, and the New York Aquarium will all be closed to guests on Thursday. Major League Baseball postponed Wednesday's scheduled Yankees game with the intention of it being made up on Thursday as part of a double-header. But it's unclear if that'll happen as the air-quality continues to stay at an unhealthy level.