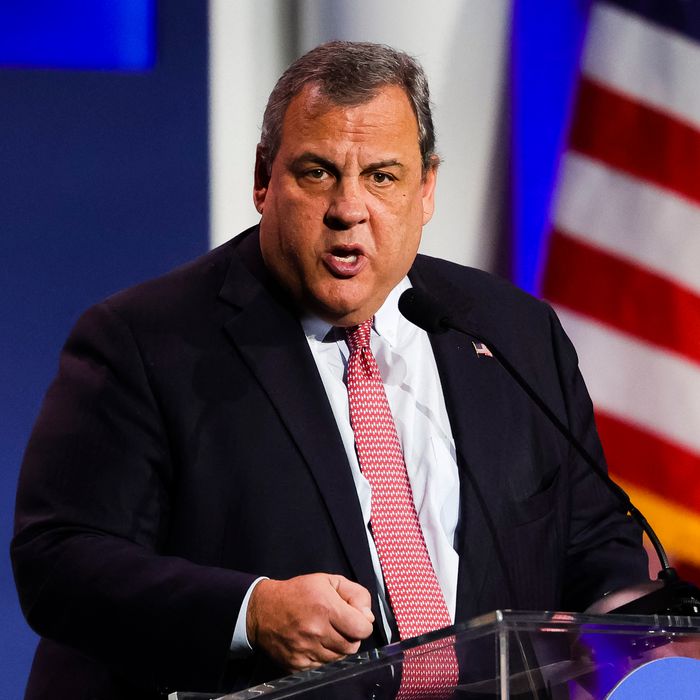 Photo: Wade Vandervort/AFP via Getty Images
Former New Jersey governor Chris Christie is set to announce his presidential candidacy on Tuesday night in New Hampshire, making him the seventh official candidate for the 2024 Republican nomination (not counting a few obscure aspirants). There is, to put it mildly, a thunderous lack of demand for a Christie bid among Republican voters.
Despite robust name ID, Christie is tied for a distant seventh in the RealClearPolitics polling averages for 2024, coming in at one percent. Worse yet, in a much-discussed CBS/YouGov survey in early May, an incredible 70 percent of Republicans said they would not even consider voting for Christie, by far the worst showing in the field.
In Christie's case, familiarity really does breed contempt: As the New Jersey Globe reported, an even more recent Fairleigh Dickinson poll showed 70 percent of Garden State Republicans "wouldn't vote for him no matter who was running against him." Things do not seem to have improved for Christie since he left the New Jersey governorship in 2018 with a 19 percent to 74 percent favorable/unfavorable job-approval ratio among New Jersey adults, according to a Rutgers poll. That didn't happen overnight; his job-approval ratio has been underwater from 2014 on, fed by the Bridgegate scandal, in which his aides were accused of serious abuses of power.
Even as his popularity was eroding in New Jersey, Christie ran for president in 2016 and promptly bombed. He finished ninth in Iowa and peaked at sixth in New Hampshire before dropping out.
So what could he be thinking? Christie clearly wants to stand out as an explicitly anti-Trump candidate, despite his own past support for the 45th president. But even among Republicans who would prefer to move on from Donald Trump, the ex-president remains very popular. And to the extent that careful criticism of the man is accepted in the GOP, it's already being offered by Ron DeSantis, Mike Pence, and Nikki Haley. Indeed, if there's an "anti-Trump lane," it's already occupied by Asa Hutchinson.
Every time someone doomed for defeat runs for president, you hear people say: "Maybe the idea is to snag a book deal." But Christie published a book just 18 months ago, with a title that sounds a lot like what he's still saying today (Republican Rescue: Saving the Party From Truth Deniers, Conspiracy Theorists, and the Dangerous Policies of Joe Biden). Does he want to see himself on the Sunday shows? Maybe, but he's more likely to get media gigs as an outspoken Trump critic speaking from the peanut gallery than as a soon-to-be-crushed presidential candidate.
Perhaps a clue to Christie's motives can be found in the argument he keeps making for his 2024 viability — his mettle as a debater, as Politico reported:
Christie challenged Republicans to find someone who can do to Trump "what I did to Marco" Rubio — a callback to his 2016 debate-stage evisceration of the Republican senator from Florida — "because that's the only thing that's going to defeat" Trump.




"You have to be fearless, because he will come back — and right at you," Christie said. "And that means you need to think about who's got the skill to do that, and who's got the guts to do that, because it's not going to end nicely."
Sure, Christie was in the vicinity when Marco Rubio chose to self-destruct at a 2016 debate in New Hampshire via a robotic performance in which he kept repeating the same anti-Obama talking point. But he hardly destroyed Rubio, who ultimately did better in New Hampshire and stayed in the race longer than Christie did. And Christie — or for that matter any other candidate — hardly laid a glove on Trump himself in the debates. Why should this cycle be any different?
Christie may see himself as someone in the mold of Gary Hart in 1988 or Newt Gingrich in 2012 — failed presidential candidates who won grudging respect and audience applause for strong debate performances in which they raised and answered questions no truly serious candidate would touch with a ten-foot pole. Christie is glib enough and hopeless enough as a candidate to pull off that limited kind of objective.
There's a threshold problem for Christie, however: He may struggle to meet the newly released criteria for participation in the first party-sanctioned debate on August 23. The Republican National Committee has stipulated that each participant must hit at least one percent in a number of high-quality national or early-state polls, and also 40,000 unique donors located in 20 states. Christie could struggle with both criteria and will surely have to focus his campaign on meeting them. And even if Christie qualifies, his prime objective of dominating a debate with Trump could fail if the 45th president decides to skip the events (he's already hinted that he might skip the August 23 debate), or if the RNC decides to separate an overgrown field into two separate events. (It's unclear how that would work out, but in 2016 Republicans held so-called "kiddie table" debates for lower-ranking candidates, and in 2020 Democrats used a lottery to sort out their debate contestants.)
Making the debate stage is a condition precedent to any kind of serious Chris Christie presidential bid. It might have no effect on the actual outcome of the actual contest, but it could help salvage the former governor's pride, which has certainly taken a beating as his political career descended into futility year after year.