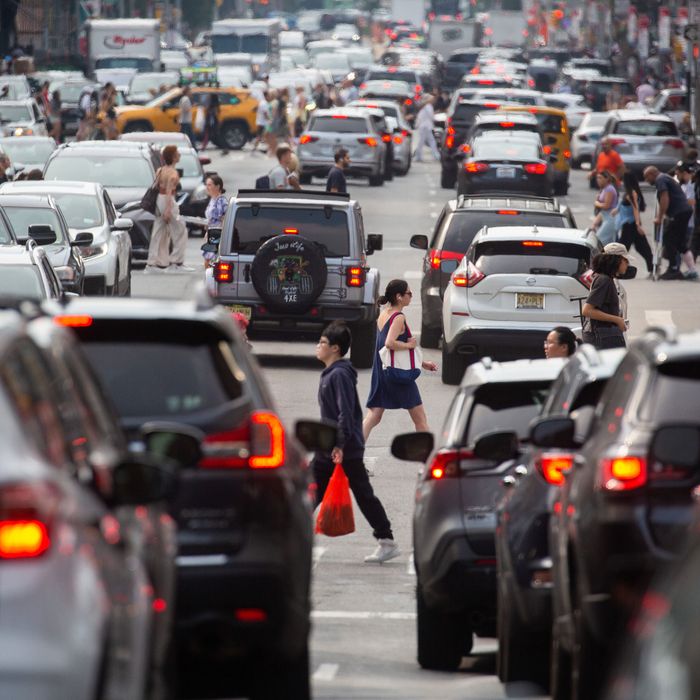 Photo: Michael Nagle/Bloomberg via Getty Images
Congestion pricing is coming to Manhattan at long last.
The Federal Highway Administration gave its final approval to the plan on Monday, allowing implementation to move forward after years of hearings and reviews. The Central Business District Tolling Program, as it's officially known, will require drivers to pay a toll when traveling south of 60th Street in Manhattan. The proposed toll zone includes exceptions on FDR Drive and the West Side Highway.
Governor Kathy Hochul confirmed the news during a press conference on Tuesday, noting that the city will be the first in the U.S. to establish a congestion-pricing program.
According to the governor, 700,000 vehicles enter that portion of Manhattan every day of the week — a fact Hochul said was "almost impossible to comprehend." She said the city loses $20 billion every year as a result of congestion. The toll, the pricing of which is still to be determined, is expected to generate $1 billion for the MTA yearly, which will go toward transit upgrades.
"We have to keep public transportation strong and vibrant and clean and on time. Otherwise, we're not offering people a better alternative," Hochul said.
The path to congestion pricing has been a long one. Back in 2007, then-Mayor Michael Bloomberg proposed requiring a fee to drive through Manhattan during peak hours, but the plan ultimately fell flat with lawmakers. The State Legislature finally passed a congestion-pricing plan in 2019.
With the federal government's approval, the Traffic Mobility Review Board can now begin to determine pricing for the tolls (and potential exemptions). Past proposals have ranged from $9 to $23 for peak weekday hours.
The plan has received a fair amount of pushback from politicians and some segments of the public. Taxi and rideshare drivers have expressed concerns about the tolls forcing an increase in fare prices, though the MTA has previously indicated that there could be special allowances for them.
Political leaders in New Jersey have been especially critical of the idea, arguing that it could unfairly affect residents of their state who regularly commute to Manhattan. Governor Phil Murphy has retained representation as he considers potential legal action, per NorthJersey.com. Meanwhile, Senator Bob Menendez and Representatives Bill Pascrell and Josh Gottheimer issued a joint statement on Monday expressing their "outrage" at the move, calling it "a cash grab to fund the MTA." They are calling for drivers traveling from New Jersey to Manhattan via the George Washington Bridge and Holland and Lincoln Tunnels to be exempted from the toll.