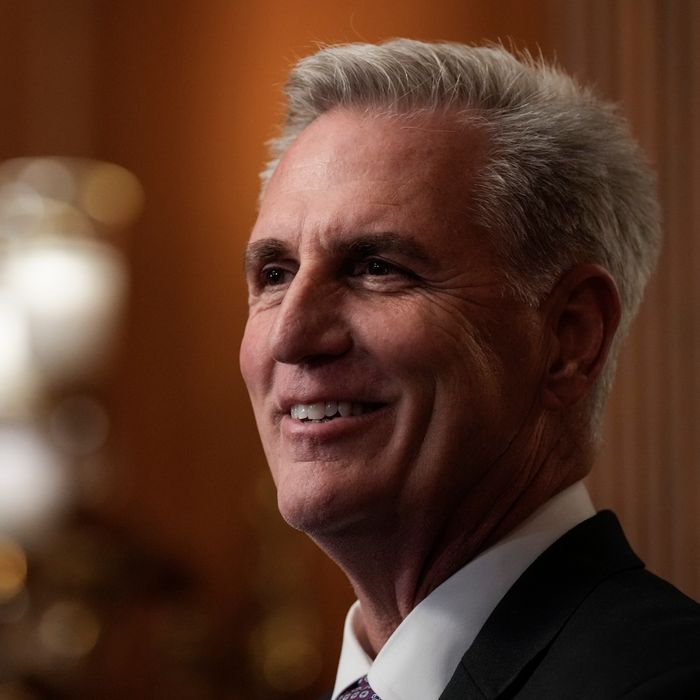 Kevin McCarthy finally did it. On Wednesday, by an overwhelming bipartisan vote including the vast majority of Republicans, the House finally passed an increase to the debt ceiling and did so as a part of a package that included some Republican goals to limit spending. It was the end of the arduous journey for McCarthy that had started only moments after he finally won election to be Speaker after midnight on the 15th ballot in January. Yet, addressing reporters in a press conference only minutes after the vote was gaveled to a close, he made clear that while the weight of the world might now be off his back, the chip on his shoulder remained.
It didn't matter that it was his moment of triumph or even that he was roundly praised by his fellow Republicans at the press conference. Garret Graves of Louisiana, who had been one of McCarthy's chief negotiators with the White House, went out of his way to praise the Speaker as "one of the best strategists I've seen in my life." (This was a mild demotion though from when he had told reporters before that McCarthy was "the best strategist I've worked with in my life.") McCarthy used the press conference to dwell on minor slights, repeating that Biden had not met with him for 97 days to reach an agreement to raise the debt limit while also noting that the president had never invited him to lunch or dinner yet. He even ended by noting all the questions he got from reporters standing outside his office were always skeptical. "You still ask the same questions each week. 'Do you still think you can pass the bill this week?' 'Do you still think you can pass the bill next week?'" McCarthy then added before walking off: "Keep underestimating us and we'll keep proving" to "the American public that we've never given up on you."
There was plenty of reason to underestimate McCarthy throughout. Even during the day, there was a near-death experience. After he needed a single vote from the idiosyncratic libertarian Thomas Massie of Kentucky to get the deal through the gatekeeping Rules Committee on Tuesday, that still needed to be ratified on the floor of the House Wednesday afternoon. The committee's role was to set the terms under which a bill would be debated. Normally, this was simply a partisan exercise. No matter how an individual member feels about the underlying bill, they follow their party's lead on the rule to debate it. The majority all votes yes. The minority all votes no. That wasn't the case on Wednesday: 29 Republicans voted against the rule. This meant that if Democrats all followed the traditional norms of the House, the bill would have gone down, the debt limit would almost certainly be breached, and economic chaos would ensue.
But a number of Democrats hadn't voted as the clock ticked down for the vote. They stood, milling about the Speaker's dais, gossiping and kibitzing until Mike Rogers of Alabama, the Republican presiding over the House, asked, "Have all members voted?" House Minority Leader Hakeem Jeffries then held up a green card, symbolizing a yes vote, and a veritable stampede started.
At the moment the question was asked, only 187 yea votes were cast, none of which were from Democrats. Almost immediately, Brad Schneider of Illinois and Josh Gottheimer of New Jersey put down green cards at the clerk's table to show they were voting yes. Calls had gone out from Jeffries's office to prime members for this and a mix of moderate and swing-district Democrats were just waiting for the signal. Eventually, 52 Democrats voted for the rule including Pelosi's longtime number two, Steny Hoyer, and Arizona Senate candidate Ruben Gallego, who switched from an initial no vote to back the rule.
Greg Landsman, a freshman Democrat who had knocked off an entrenched Republican in a Cincinnati district, had been on the floor since the rule was being debated and lingered before finally voting after Jeffries gave the signal. As he described it, it was just a waiting game. "I think there were enough of us that knew that it might be necessary. So you just just wait and see. And if they can't, the majority can't pass a rule, their own rule and when the global economy is at stake. You wait and you know that you did everything you could to ensure that we didn't default on the country." But it didn't come as a surprise to anyone. As Tim Burchett from Tennessee, one of the Republican rebels mournfully noted afterward, "We knew it was going to happen … it's just the game."
This meant that the final vote was a foregone conclusion, but the final tally surpassed all expectations. Jeffries had long insisted that McCarthy had promised him roughly 150 Republican votes, two-thirds of the GOP conference, on the deal. He got 149 Republicans, and 165 Democrats, sending the deal to the Senate. This was a thumping bipartisan majority that surpassed all expectations. It was an achievement worth a victory lap for McCarthy. As he celebrated sarcastically afterward, Democrats had voted for spending cuts and increased work requirements for government aid.
But, it didn't come without a cost. As resentful as McCarthy was of his doubters, the question moving forward is how resentful the losing rump of hard right conservatives, most of whom opposed McCarthy to be speaker, would be moving forward. Eli Crane, a freshman from Arizona, said in an interview that the vote on the rule was "a perfect illustration of how the swamp works." But he wasn't angry, he wasn't out for blood, he was just bummed out. "I'm just disappointed for a lot of different reasons. I felt like we had some pretty good unity going. But you know, it is what it is."