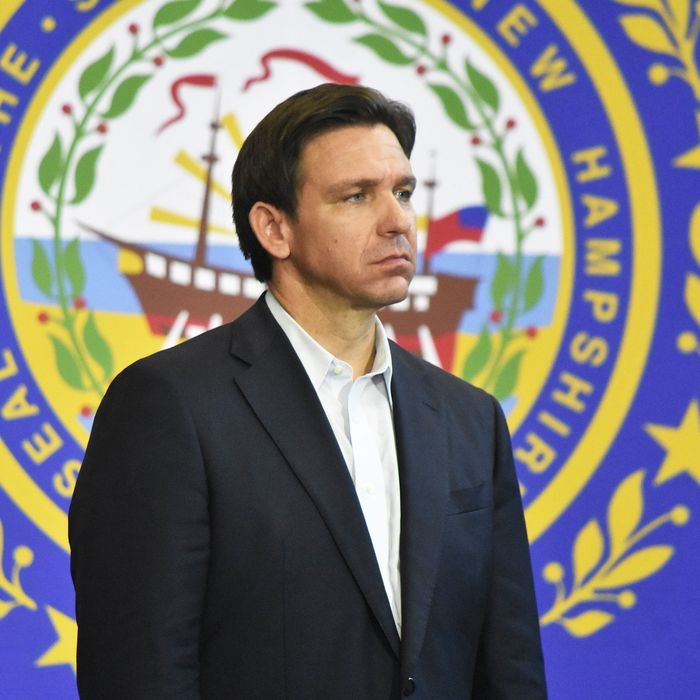 Photo: Kyle Mazza/NurPhoto/Shutterstock
This week, Donald Trump and Ron DeSantis were both campaigning in New Hampshire, a state that could ultimately decide which of the two men will be the 2024 Republican presidential nominee. While Democrats have downgraded Iowa's and New Hampshire's importance in their 2024 calendar, Republicans are sticking with the two traditional starting points in the presidential nominating contest. So if DeSantis wants to knock Trump out of the front-runner position, he really has no choice but to go all out in both Iowa and New Hampshire — and so far, things aren't looking so good for the Florida governor.
For decades, the first-in-the-nation Iowa caucuses and New Hampshire primaries have quickly culled the presidential field of pretenders. Since 1980, when the Iowa caucuses became a major event, no Republican has lost both early states and gone on to secure the nomination. But they're hardly a package deal; during that time no GOP nominee has won both Iowa and New Hampshire either. That's right: Iowa winners George H.W. Bush (1980), Bob Dole (1988 and 1996), George W. Bush (2000), Mike Huckabee (2008), Rick Santorum (2012), and Ted Cruz (2016) all lost New Hampshire. Conversely, Iowa losers Ronald Reagan (1980), George H.W. Bush (1988), John McCain (2008), Mitt Romney (2012), and Donald Trump (2016) began their drives to the nomination with a bounce-back win in New Hampshire.
So an out-of-the-starting-gate DeSantis upset win in Iowa would instantly put Trump on the ropes. But if the Florida governor can't pull that off, he must win New Hampshire, lest conservative media, donors, and other party elites crown Trump or leap to another alternative candidate.
On paper, New Hampshire should be relatively hospitable to DeSantis. A majority of its 2016 primary voters were college educated, a group in which DeSantis has polled very well. A sizable independent bloc voting in the GOP primary there could attest to DeSantis's alleged appeal beyond his party's MAGA base. And compared to Iowa, New Hampshire's Republican Party is far less dominated by conservative Evangelicals, so candidates focusing on very religious voters, like Mike Pence and Tim Scott, could turn their attention to other states.
But New Hampshire's campaign environment is even more unsparing than Iowa's, making small mistakes seem enormous. Team DeSantis learned that this week when it came under intense criticism for scheduling its candidate for an event coinciding with a New Hampshire Federation of Republican Women fundraiser featuring Trump. The repercussions extended well beyond the offended federation members: The counter-scheduling move was variously described in the media as "stupid," a "stumble," and a "rookie error." It's the sort of thing that should and maybe will fade from memory in a week. Yet it reinforces the impression left by DeSantis's clumsy campaign launch that he's not quite the lean, mean, liberal-destroying machine he professes to be.
It's not like DeSantis is in much of a position in New Hampshire to roll with the punches. A new poll from St. Anselm's College this week showed his position eroding since its last survey in late March:
As new entrants have emerged since our last survey, Trump has gained 5 points of support and now sits just shy of a majority with 47%. Meanwhile, Florida Governor Ron DeSantis has seen his support erode 10 points to 19%. Former New Jersey Governor Chris Christie is now in third place in the state, followed by former United Nations Ambassador Nikki Haley and South Carolina Governor Tim Scott.
Chris Christie is a small but potentially significant problem for DeSantis. He will probably all but skip Iowa and try to rebuild his 2016 base in the Granite State, feeding on anti-Trump voters that DeSantis dare not openly pursue. But more importantly, everything DeSantis does to put himself stolidly to Trump's right on cultural issues — essential to his Iowa strategy — could undermine him in New Hampshire. At some point he may just have to pick which state to prioritize.
Trump, of course, is not troubled much by such strategic considerations. He is who he is, and his persona and record guarantee him a sizable vote in every early state. If he underperforms in Iowa, he likely keeps aloft marginal rivals who will cut into the anti-Trump vote in New Hampshire (in 2016, Trump won New Hampshire with 35 percent of the vote; four rivals won double-digit support).
DeSantis needs to start picking up the pace in both Iowa and New Hampshire. If he loses both, his candidacy could be over before the end of January 2024.