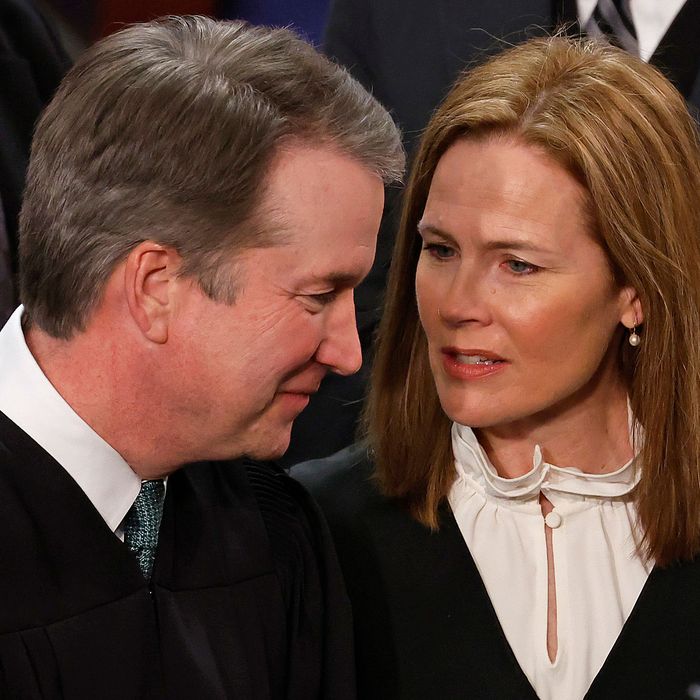 Are these justices judicial RINOs?
Photo: Chip Somodevilla/Getty Images
In an effort to overtake front-runner Donald Trump in the 2024 Republican presidential primaries, Ron DeSantis has decided to run to Trump's right as often as possible. So far he's suggested the notoriously reactionary 45th president was or is squishy on COVID-19 measures, abortion, criminal-justice policy, and fiscal policy. But now in an interview with conservative opinion leader Hugh Hewitt, DeSantis has taken the extraordinary step of dissing one of Trump's proudest conservative accomplishments — his radical reshaping of the U.S. Supreme Court:
[Hewitt]: Now in terms of the judges that you will bring to bear on this, former President Trump hit three home runs with his Supreme Court appointments. Are you going to make the same kind of pledge to the Republicans as you go around the country that your judges will be like the Trump judges?




RD: Well, actually, I would say we'll do better than that. I mean, I respect the three appointees he did, but none of those three are at the same level of Justices Thomas and Justice Alito. I think they are the gold standard, and so my justices will be along the lines of a Sam Alito and a Clarence Thomas. 
By just about any available measure, it's true that Justice Samuel Alito and especially Justice Clarence Thomas are the most systematically right-wing members of the Court in many years, often concurring with conservative decisions while expressing dismay that they do not go much further. These survivors of the more liberal Courts of the past (Thomas joined the bench in 1991 and Alito in 2006) are now highly conscious of guiding the new conservative majority from a perspective of uncompromising principle. But there is a Supreme Court conservative majority to begin with because of Trump's three nominees, who were all but handpicked by the conservative Federalist Society.
Yes, you can find isolated decisions in which Amy Coney Barrett, Neil Gorsuch, and particularly Brett Kavanaugh have defected from solidarity with the rest of the conservative majority (most recently when Kavanaugh joined Chief Justice John Roberts in declining to completely gut what was left of the Voting Rights Act). But all three justices participated fully in the Court's recent revolutionary turn to the right in the reversal of Roe v. Wade, the most important conservative judicial activist initiative since the early days of the New Deal. They've also voted to demolish state gun-control efforts and vastly expand "religious liberty" rights at the expense of discrimination laws and church-state separation principles. Barrett and Gorsuch helped roll back the Clean Water Act. And upcoming decisions of the conservative majority will likely all but kill off affirmative action in education admissions and could sharply contract the power of federal agencies to do the work delegated to them by Congress.
The ideological impact of Trump's three Supreme Court appointees is especially clear when compared to that of past Republican presidents. George W. Bush was responsible for Roberts, who is definitely mistrusted by conservatives. George H.W. Bush appointed the notorious stealth liberal Justice David Souter. And the conservative saint Ronald Reagan gave the Court Justices Anthony Kennedy and Sandra Day O'Connor, who together saved abortion rights in 1992.
So DeSantis's carping about Trump's justices is a bit ridiculous. But it's no surprise, either. The hard-core conservative voters he is currently pursuing probably do think Clarence Thomas is the beau ideal of jurists, corruption and all. It will be interesting to see whether more moderate Republicans and prospective general-election voters become annoyed with the Florida governor's incessant pandering to extremists.