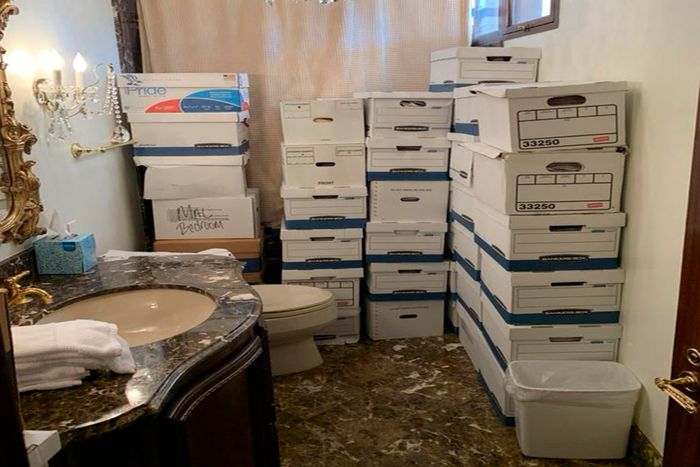 Photo: Justice Department via AP
For the first time in American history, a former president has been charged with a federal crime. On Friday afternoon, Special Counsel Jack Smith's team moved to unseal the indictment charging Donald Trump with a staggering 37 felony counts for allegedly mishandling classified documents after leaving the White House.
The charges against Trump include 31 counts of willful retention of national defense information; one count of conspiracy to obstruct justice; one count of withholding a document or record; one count of corruptly concealing a document or record; one count of corruptly concealing a document or record; one count of concealing a document in a federal investigation; one count of scheming to conceal; and one count of false statements and representations. (You can read the indictment here.)
Below are the latest updates on the case.
.

Jack Smith to seek 'speedy trial'
Jack Smith gave a brief statement to the media Friday afternoon, his first public comments since being appointed as special counsel over Trump matters by Attorney General Merrick Garland in November.
"We have one set of laws in this country and they apply to everyone. Applying those laws, collecting facts, that's what determines the outcome of an investigation. Nothing more and nothing less," Smith said, urging the public to to read the indictment fully to "understand the scope and the gravity of the crimes charged."
Smith did not go into any detail about the case, but said his office will "will seek a speedy trial in this matter, consistent with the public interest and the rights of the accused," he said. "We very much look forward to presenting our case to a jury of citizens in the Southern District of Florida."
.

Trump literally put top-secret docs on display at Mar-a-Lago
From January through March of 2021, Trump allegedly stored classified documents in boxes on a stage in the Mar-a-Lago ballroom:
Documents were also stored in a bathroom:
The indictment alleges that documents contained information on the "nuclear weapons capabilities of both the United States and foreign countries; United States nuclear programs," as well as other plans regarding the U.S. military's preparedness and possible actions against foreign countries. There were also documents containing intelligence from close U.S. allies, communications with foreign leaders, and various adversaries.
Trump allegedly shared information with people who also lacked proper clearance. In one instance in the fall of 2021 at his New Jersey golf club, he allegedly showed a representative of his political action committee "a classified map related to a military operation and told the representative that he should not be showing it to the representative and that the representative should not get too close."
.

He allegedly told his lawyers to hide the docs in a very Trumpy way
At one point an attorney working with Trump claims he made a "plucking" motion to suggest they should remove damning evidence. "He made a funny motion as though — well okay why don't you take them with you to your hotel room and if there's anything really bad in there, like, you know, pluck it out. And that was the motion that he made. He didn't say that."
Following the FBI subpoena for classified documents, the indictment states that he told one lawyer: "Wouldn't it be better if we just told them we don't have anything here?"
Trump also allegedly repeated to one attorney a false story about Hillary Clinton's lawyer supposedly deleting thousands of her emails, which prosecutors allege was an inducement to Trump's own attorney to destroy documents sought by the government.
.

The Diet Coke valet has been indicted
CNN reports that Trump's aide Walt Nauta has been indicted in the special counsel investigation into Trump's mishandling of classified documents. Nauta was reportedly involved in moving boxes of classified material at Mar-a-Lago prior to the FBI's search of the estate. Nauta, known as the staffer who would bring Diet Cokes to Donald Trump when he was president, has served as his personal aide since he left the White House. Trump confirmed the report in a Truth Social message, saying: They are trying to destroy his life, like the lives of so many others, hoping that he will say bad things about 'Trump.'" The former president added that Nauta is "strong, brave, and a Great Patriot," suggesting that his aide is not cooperating with the investigation.
.

Trump's response: "I'm an innocent man."
In a long, poorly lit Truth Social video Trump called the indictment, "election interference at the highest level," and said repeatedly, "I'm an innocent man. I did nothing wrong, and we'll fight this just like we've been fighting for seven years."
.

Trump was caught on tape.
Since the search at Mar-a-Lago, Trump has maintained that he declassified the documents before leaving office and that he is the victim of yet another witch hunt.
But Trump was reportedly caught on tape in July 2021 acknowledging that he held on to "secret" documents that he hadn't declassified.
"As president, I could have declassified, but now I can't," Trump said, according to a transcript obtained by CNN.
CNN reported that prosecutors had obtained the audio recording last week. Trump was discussing a classified Pentagon document about attacking Iran with during a meeting at his Bedminster, New Jersey resort with two people working on the autobiography of his former chief of staff Mark Meadows. He may have been brandishing the classified document during the meeting, per CNN:
The transcript of the audio recording suggests that Trump is showing the document he's discussing to those in the room. Several sources have told CNN the recording captures the sound of paper rustling, as if Trump was waving the document around, though is not clear if it was the actual Iran document.
"Secret. This is secret information. Look, look at this," Trump says at one point. "This was done by the military and given to me."
.

He will appear in court on Tuesday.
In his Truth Social post, Trump said, "I have been summoned to appear at the Federal Courthouse in Miami on Tuesday, at 3 p.m." This is likely when the indictment will be unsealed and the specifics detailed to both Trump and the public.
.

Seven counts, including conspiracy
While the indictment was filed under seal, CNN and the New York Times report that Trump has been charged with seven counts. Those counts include conspiracy to obstruct and willful retention of documents.
.

Trump has made history again.
Trump's legal peril puts him in unprecedented territory. He exceeded all other presidents by being impeached twice and became the first former chief executive to be criminally charged, first in Manhattan this spring and then by a grand jury in Florida. (Meanwhile, in May, Trump lost a civil suit, brought by E. Jean Carroll, accusing him of sexual abuse and defamation.) More charges may be coming with Smith's probe into Trump's efforts to stay in power still developing and a similar investigation by Georgia prosecutors. Only Richard Nixon came close to being charged when a federal grand jury considered his conduct regarding Watergate, but it did not ultimately go that far.