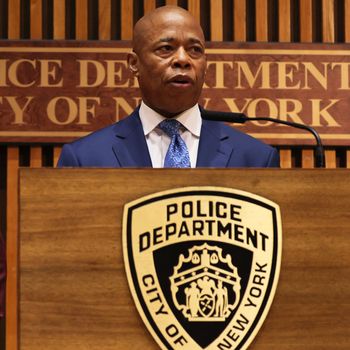 Photo: Michael M. Santiago/Getty Images
Mayor Eric Adams addressed the resignation of Keechant Sewell on Tuesday, praising the outgoing NYPD commissioner for her work and pushing back on reports that her departure was due to micromanagement from City Hall. He bristled at such claims, though he did not give a reason for the commissioner's departure when asked.
The mayor opened an unrelated press conference by thanking Sewell. He recalled going to hospitals alongside her, meeting the family members of slain officers and other victims of crime.
"The commissioner was there. Twenty-four hours, seven days a week of running the largest police department in the country and I was proud that day when I appointed her," Adams said. "She came in with a hammer and she broke the glass ceiling of being the first, not only woman, but one who just led this department from the front."
Days before she issued her resignation, the New York Post reported that Sewell would have to have personnel decisions like internal promotions approved by City Hall, a marked change from past commissioners. Sources also told the Post that the department's first woman commissioner essentially had to defer to men in the administration, including Adams and deputy mayor of public safety Phil Banks, who are both former officers.
When asked about this report, Adams challenged the reporter who posed the question, asking if they heard that from Sewell herself.
"This commissioner was given an amazing opportunity to show her skill set and she did and she did an amazing job. Now, if you want to create some type of narrative on why, then that's up to you. But don't put words in her mouth that she did not tell you. She made the decision that she wanted to do something else, and I respect that," Adams said.
The mayor went even further, suggesting that the local media didn't appreciate Sewell enough in the 18 months she's held the job.
"Everybody's talking about how much you loved her. Did you show her love when she was here? I showed her love. I adored what the commissioner was doing. And the rest of you should ask, what role did you play?" Adams said.
The New York Times reports that only the commissioner's closest aides knew of her plans when she met with the mayor on Monday to deliver the news, suggesting that City Hall was caught off guard by her move. Sewell will remain in her post through the end of June.