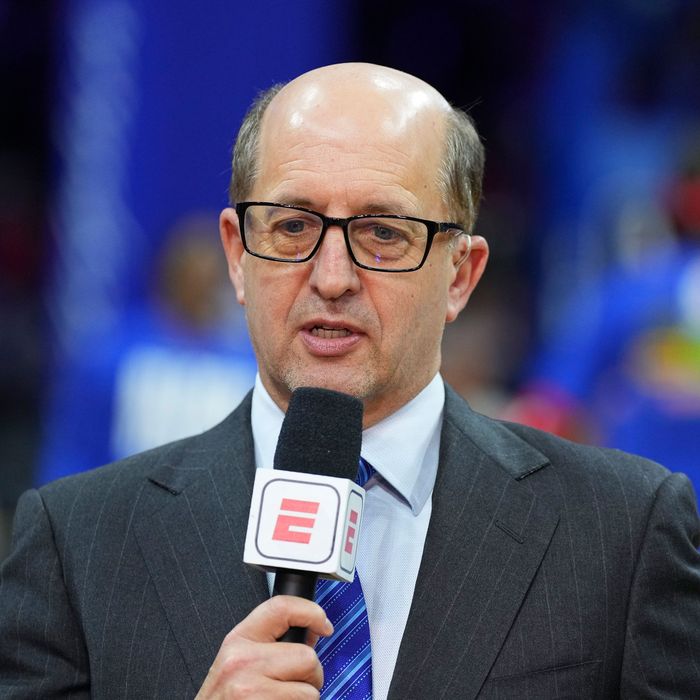 Photo: Mitchell Leff/Getty Images
Expect a new color-commentary guy next year in the NBA playoff season. According to a memo obtained by the Washington Post, ESPN has laid off Jeff Van Gundy among 20 or so other announcers as part of a major cost-cutting measure at its parent company, Disney.
Van Gundy, the coach of the New York Knicks during their hard-hitting late-'90s playoff runs, has been a regular presence on ESPN since 2007. For years, he has been part of the network's NBA Finals team along with Mike Breen and Mark Jackson. For those who only know him by his voice, he's the guy who's usually complaining about the officiating or the way the game has changed. Usually, he's also right.
Other household names for ESPN viewers were let go, including reporter Suzy Kolber, NBA veteran Jalen Rose, and former NFL Pro-Bowlers Keyshawn Johnson and Steve Young. The network also axed its national morning radio show co-hosted by Johnson, Max Kellerman, and Jay Williams, according to the New York Post.
Laying off on-air talent is a major step for ESPN, which "determined it necessary to turn the cost management focus to public-facing commentator salaries, and that process has begun," per a memo obtained by the Washington Post. But Disney has been swinging big with its cost reductions this year: In an earlier round of layoffs, several executives were let go, including the producer who made the successful Michael Jordan docuseries The Last Dance. The moves are all part of the cost reduction plan CEO Bob Iger instituted upon his return to the company after a nearly three-year absence.