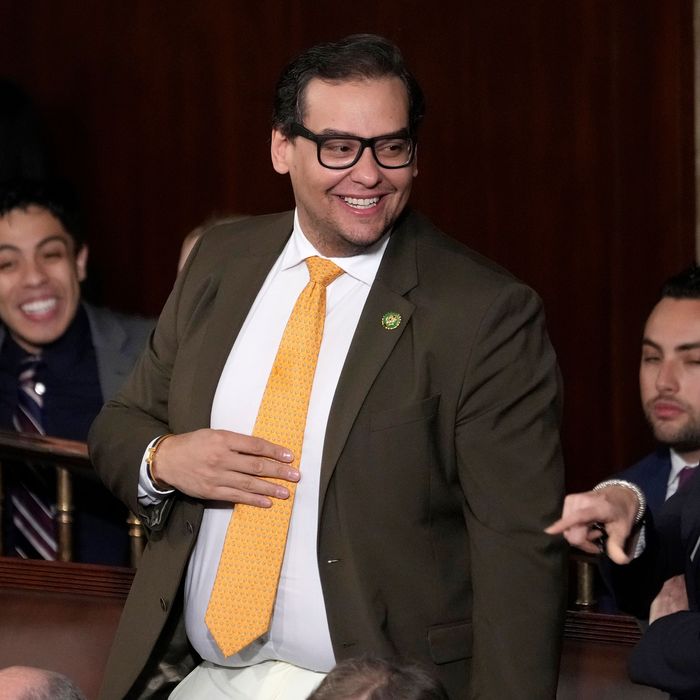 Photo: Drew Angerer/Getty Images
Despite facing 13 federal charges, fabulist Representative George Santos has made it clear that he won't resign and intends to run for reelection in 2024. But he'll have to do so without the support of House Speaker Kevin McCarthy, who had previously been a key ally.
During a Monday interview on Fox & Friends, McCarthy was asked whether he was a part of Santos's reelection campaign. He answered with a laugh.
"No, he shouldn't run for reelection," he said.
McCarthy went further, indicating that the party intends to back another candidate for the seat over Santos. In 2022, Republicans flipped the seat in the Third Congressional District that covers Long Island and part of Queens. "Oh, we're going to keep that seat with another Republican. Yes, we are," McCarthy said.
McCarthy's words suggest a change in the congressional leader's approach to his colleague as Santos's troubles have worsened. When Santos first entered Congress earlier this year, McCarthy allowed him to be seated on two committees despite mounting allegations of falsehood. Santos would later remove himself from those assignments — a move he framed as temporary.
The House Speaker never officially joined the chorus of people, which included several members of the Republican caucus, calling for Santos to resign. Last month, however, McCarthy said he was in favor of the House Ethics Committee conducting its own inquiry into Santos after shutting down a vote to potentially expel him from Congress.
Santos responded to McCarthy's comments on social media, saying that the Speaker's words won't change his political plans.