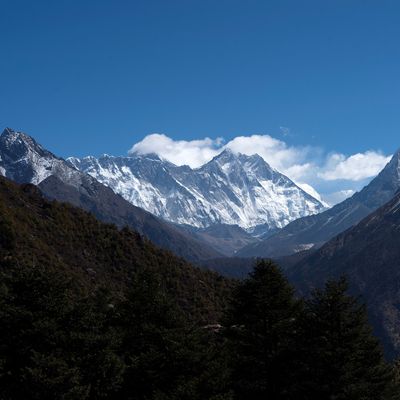 Photo: Prakash Mathema/AFP via Getty Images
Every year, the brief window to summit Mount Everest brings all the elements for high human drama: the prospect of wealthy clients fearing they may not achieve their life goal, the reality of seasoned Sherpas doing the bulk of their work without much credit, the mortal peril with nearly every step. In 2023, the summit season has delivered the story of a remarkable rescue.
On May 18, a 30-year-old guide named Gelje Sherpa was ascending the mountain with a Chinese client when he came upon a 58-year-old Malaysian climber who was shivering and struggling to hang on to a rope. (People in the Nepali Sherpa ethnic group use the surname Sherpa.) The man, who was without a guide, was in what is known as the death zone — the altitude above 26,000 feet where the pressure of oxygen in the air collapses and the extreme temperatures and extreme stresses on the human body can quickly kill. Gelje abandoned his summit attempt to care for the man. After wrapping him in a sleeping bag, he and another guide, Nima Tashi Sherpa, spent the next six hours taking turns strapping him to their backs and carrying him nearly 2,000 feet down the mountain. When they arrived at Camp 3 (23,950 elevation), a helicopter took him to base camp. Gelje told CNN that the rescue was the "hardest in my life."
It was an obviously heroic act in a year with a high number of deaths on the mountain — at least 12 people, eight foreigners and four Nepalis, were killed during this climbing season, and another five people are still missing on the mountain.
"It is almost impossible to rescue climbers at that altitude," an official from the department of tourism told The Guardian. Gelje told CNN that the rescue was the "hardest in my life." But apparently the climber, who is recovering back home in Malaysia, wasn't thrilled. After appearing on Malaysian television, he seemed to have blocked Gelje Sherpa on Instagram. The story quickly rocketed through the Everest community:
Eventually, the climber unblocked the man who saved his life. (The climber did not respond to a request for comment.) In one post, he wrote: "I am alive today because I had the best and dedicated Partners — The 14th Peaks Expedition Co and Global Rescue Inc." The organization appears to be a company he is sponsored by — not the company Gelje owns and operates.
Gelje, for one, took the apparent insults in stride. When the man finally acknowledged the work of the Sherpas in one post, Gelje wrote back: "Thank you … hope you are recovering well.