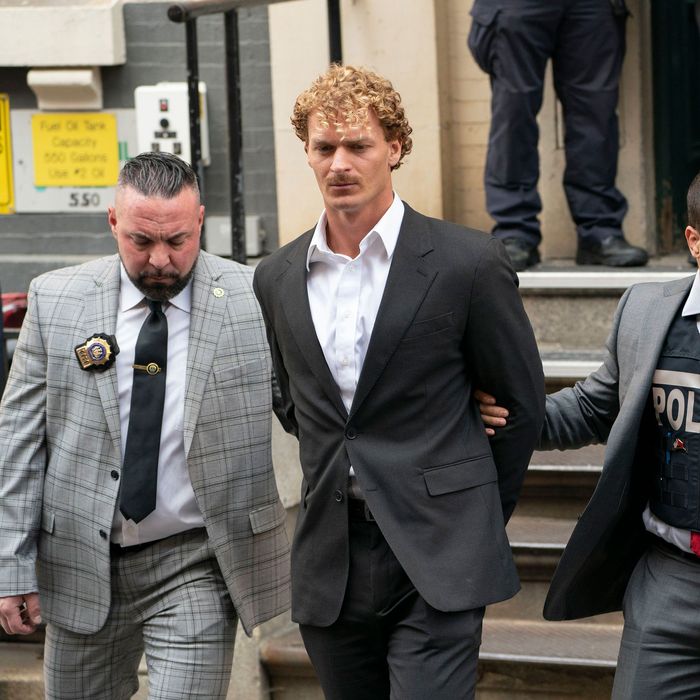 Photo: Barry Williams/New York Daily News/Tribune News Service via Getty Images
A Manhattan grand jury has indicted Daniel Penny in the killing of Jordan Neely aboard a subway train last month. The exact charges against Penny, a 24-year-old former marine, will be revealed once the indictment is unsealed, per the Daily News. Last month, Penny was charged with second-degree manslaughter and turned himself in to authorities before being released on bond.
On May 1, Penny was on an F train with Neely, a 30-year-old man who appeared to be unhoused and was reportedly acting erratically. Penny and other passengers began physically restraining Neely, holding him down on the floor of the subway car. A video taken by a bystander shows Penny's arms locked around Neely's neck in a choke hold for several minutes as Neely struggled to get free. Medical personnel arrived and transported Neely to a nearby hospital, where he was later pronounced dead. Not long after, Neely's death was declared a homicide by the medical examiner's office, which said he'd died as a result of compression of his neck.
Penny was initially questioned by police following Neely's death but released, sparking days of protest across the city, before he was ultimately charged.
In recent days, Penny has defended his actions as self-defense in a series of videos released by his legal team. "I was scared for me, but I looked around and saw women and children. He was yelling in their faces and saying these threats. I couldn't just sit still," he said in one video, per NBC New York.