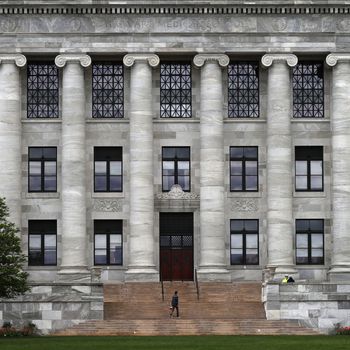 Photo: David L. Ryan/The Boston Globe via Getty Images
Some nefarious things have allegedly been going down at Harvard University, and this time, they have nothing to do with Jeffrey Epstein.
According to federal prosecutors, Harvard Medical School's morgue manager has been selling body parts to the highest bidder — which is generally frowned upon. An indictment released on Wednesday accused Cedric Lodge of stealing the dissected parts of dead people and selling them online from his home in Goffstown, New Hampshire. Lodge allegedly took "heads, brains, skin, bones, and other human remains, without the knowledge or permission of" Harvard Medical School.
One of Lodge's biggest alleged customers was Katrina MacLean, owner of a store called Kat's Creepy Creations in Peabody, Massachusetts. Lodge would allegedly let MacLean into the morgue to examine the cadavers and judge which parts would sell best in her store or to weirdos online. In October 2020, the indictment states that MacLean purchased "two dissected faces for $600" from Lodge, meeting at the morgue in broad daylight for the exchange. Lodge wasn't exactly careful about covering his tracks: One of Lodge's others customers allegedly once sent him $200 on PayPal with a message that read "braiiiins." Lodge, his wife, MacLean, and three others have been charged with conspiracy and interstate transport of stolen goods.
The scheme sounds like something from Harvard Medical School's founding in 1782, when professors relied on body snatchers to rob graves in Boston in order to teach students anatomy. The practice largely ended in 1831, when Massachusetts passed a law allowing for unclaimed bodies of prisoners and the poor to be used as research cadavers. Today, Harvard relies on donors to its Anatomical Gift Program, which was managed by Lodge until he was fired last month.