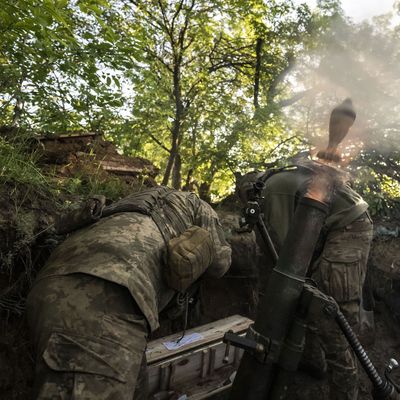 Ukrainian soldiers open fire on Russian positions on the frontline towards the city of Avdiivka, Donetsk Oblast, Ukraine on June 2.
Photo: Muhammed Enes/Anadolu Agency via Getty Images
It appears the long-awaited Ukrainian offensive against Russian forces in southern Ukraine is at last underway. Following months of speculation as to when the big military campaign would start, U.S. officials told the New York Times that Ukrainian forces intensified their attacks on Russian positions at multiple points along the 600-mile front line on Monday, pounding Russians with artillery and conducting ground assaults.
Earlier, the Kremlin claimed it had repelled a major new Ukrainian offensive in the contested province of Donetsk in the country's east. Ukraine has not confirmed whether it had undertaken a new offensive. As the Times notes, the flurry of military activity on Monday could also just be a prologue:
One difficulty in determining the exact start of a counteroffensive, beyond Ukraine's operational security measures, is that the fighting could well begin with feints or diversions that are hard to decipher. …




Buttressing the reports that the counteroffensive may have started, American military analysts said they believed Ukrainian units had begun an initial thrust to determine the position and strength of Russia's forces. Such moves would be a traditional tactic of the kind Americans have been training Ukrainian forces to undertake.
The intensifying fight along the front line follows recent raids over the Russian border by Ukraine-allied Russian fighters and a series of mysterious drone attacks on targets deep inside Russia.
The Economist adds that Ukrainian forces, whether they are launching probing attacks or not, may have already made some gains — amid reports that they have retaken control of some of the suburbs around Bakhmut, which Russian forces captured last month and, according to a Western official, advancing by as many as six kilometers further south near Novodonetske. Per The Economist:
If Ukraine does intend to reinforce its attacks in Donetsk, it would suggest a slightly more easterly axis of advance than many had supposed. Velyka Novosilka lies around 120km north of Berdyansk, a key port on the Sea of Azov, and part of the land bridge between Russia and Crimea. A southward thrust in Donetsk could also threaten Mariupol, the port city captured and razed by Russia last year. Russian defences are slightly thinner in Donetsk than in Zaporizhia. Many of Russia's diminished reserves, particularly those from the VDV airborne forces, have also been dragged north to Bakhmut in recent days, probably opening up gaps elsewhere on the front. Ongoing cross-border raids by Ukraine-backed militia into Russia's Belgorod region, opening up hundreds of kilometres of additional frontlines, have also proved a useful distraction.
Again, the new fighting may just be a Ukrainian effort to create a diversion and/or find the best places to break through the Russian lines ahead of a larger simultaneous assault, as some analysts pointed out on Monday:
There's also no guarantee, despite its past success pushing Russia back and a variety of newly supplied Western armaments, that Ukraine's much-hyped offensive will be decisive. Most analysts agree this war still has virtually no end in sight.