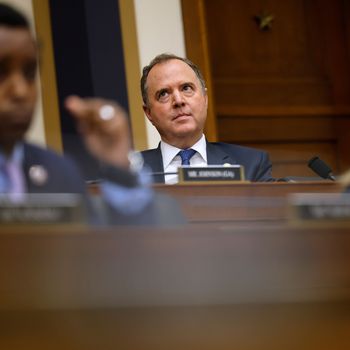 Adam Schiff during a Republican-convened hearing that sought to debunk his Russia-Trump investigations.
Photo: Chip Somodevilla/Getty Images
In the first fully consummated act of retaliation for congressional Democrats' hostile treatment of Donald Trump during his presidency, House Republicans pushed through a resolution formally censuring California congressman Adam Schiff on Wednesday. As chairman of the Intelligence Committee from January 2019 to January 2023, Schiff was an abiding presence in nearly every investigation and impeachment of the former president. The party-line vote was 213–209, with Republican members of the House Ethics Committee, who will now investigate Schiff according to the terms of the censure resolution, voting "present."
The successful censure move was a second bite at this particular apple. It's sponsor, the very Trumpy Florida freshman congresswoman Anna Paulina Luna, originally offered a censure resolution that included a $16 million fine, which the Ethics Committee was instructed to levy if they found wrongdoing by Schiff. The figure was supposed to reflect half the cost of the Intelligence Committee's investigation of Russian-Trump campaign connections under Schiff's direction in 2019. But 20 Republicans, some citing constitutional concerns, objected to the fine and supported a Democratic motion to table the censure resolution last week. So Luna brought it back to the House floor without the fine, and the House GOP leadership cracked the whip to pass it.
The successful censure resolution leaves it to the Ethics Committee to determine the full range of Schiff's "falsehoods, misrepresentations, and abuses of sensitive information." But Luna has made it clear the principal outrage was the Russia-Trump "collusion" investigation, which Republicans claim Trump-appointed special counsel John Durham exposed as a sustained smear of the entirely innocent 45th president (though most non-Republicans considered Durham's probe an abject failure).
Schiff is just the 25th House member ever to be censured. Some hard-core conservatives may view this measure as payback not just for Trump but for the 2021 sanction of House Freedom Caucus stalwart Paul Gosar of Arizona for posting a video in which an anime version of himself murdered an anime version of his House colleague Alexandra Ocasio-Cortez. Like Gosar, Schiff will automatically lose his committee assignments (he was already booted off the Intelligence Committee when Republicans took over the House earlier this year, even as McCarthy restored Gosar's ability to sit on committees).
In the end, the politician most pleased with the censure may actually be none other than Adam Schiff. He already plans to leave the House at the end of his current term as he runs for the U.S. Senate seat of Dianne Feinstein. In a complicated and expensive primary in which he faces progressive House colleagues Barbara Lee and Katie Porter, Schiff is widely perceived as more moderate than your average California Democrat. So even before being censured, Schiff was very much campaigning on the partisan enmity he had aroused as every Republican's least favorite House Democrat. From that perspective, a formal censure is as good as it gets. And Schiff's reaction to the hostile move was certainly anything but defensive or evasive:
The parliamentary theater surrounding the censure vote certainly reinforced Schiff's "bloodied but unbowed" posture: House Democrats surrounded him on the floor, chanting "Adam! Adam!" and then shouting "Shame! Shame!" as McCarthy orchestrated the proceedings. At one point, former Speaker Nancy Pelosi, who has endorsed Schiff's Senate bid, sat next to him in the House chamber. It was exactly the picture Schiff might have painted in his own imagination. So don't expect his censure to tranquilize him in the slightest; if the Ethics Committee decides to intensify his punishment, Schiff will bank some more campaign contributions and smile for the cameras.