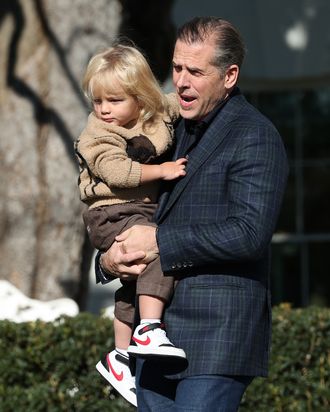 Hunter Biden with his son Beau.
Photo: Win McNamee/Getty Images
As Republican voters rally around a presidential-primary candidate with a whole lot of courtroom time in his future, Democrats have their own, less serious legal complication to deal with going into the 2024 election: Hunter Biden. But this week, it appears Hunter is trying to resolve some of the issues that have dogged him for years before the general election gets going.
On Tuesday, Hunter Biden agreed to settle a child-support dispute with Lunden Roberts, the mother of his daughter who lives in Arkansas and has never been publicly acknowledged by the president. Roberts's lawyer told the New York Post that the two parties agreed to a reduction of Hunter's child-support payment for his 4-year-old daughter. The terms are not public, but the monthly sum will be less than the $20,000 payment Hunter had been responsible for. Last September, Hunter's attorney, Abbe Lowell, filed a motion to reduce his payments because of a "substantial material change" to his income.
Aside from avoiding further ugly tabloid coverage, settling with Roberts allows Hunter Biden to avoid revealing details on his finances just as the House Oversight Committee investigates his paper trail. If the case were to drag on, he'd be forced by the judge to answer questions on his investments, income, and art sales. In an interview with Fox News, committee chairman James Comer said such financial information would have the "potential to be very helpful." Almost immediately after Republicans took the House, Comer launched an inquiry investigating the younger Biden's bank statements and business deals to see if he ever broke the law while taking advantage of his name.
The news of Hunter Biden's paternity settlement largely flew under the radar because hours beforehand, his attorneys agreed to a deal with the Justice Department to wrap up a sprawling two-year investigation into his finances. Biden will avoid prison by pleading guilty to two misdemeanors for willfully failing to pay around $1 million in taxes and entering a diversion program on a felony gun charge.
In a statement to CNN, Biden's attorney Christopher Clark said that his client is taking "responsibility for these mistakes he made during a period of turmoil and addiction in his life" and that he is "continuing his recovery and moving forward." By clearing the docket now, Hunter Biden is limiting the possibility of an October surprise like the one in 2020, when the New York Post published the contents of his laptop in a failed attempt to trace income from his shady lobbying deals to his father.
It's possible that the House Oversight Committee will try to time the conclusion of its inquiry to the late days of the campaign, and Hunter Biden's settlements will not stop GOP presidential contenders from complaining about perceived special treatment between now and November 5, 2024. But settling these matters will put the name Hunter Biden a year out from most voters' minds, barring a seismic revelation from the Oversight probe. Considering the speed of the American news cycle, that's a long time.