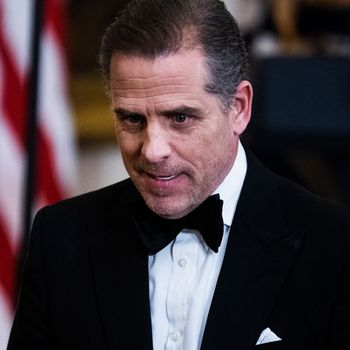 Photo: Tom Williams/CQ-Roll Call, Inc via Getty Images
Hunter Biden, who has been under federal criminal investigation for years, will plead guilty to two misdemeanors against him and accept a diversion program on a felony charge in a deal with the Feds that will help him avoid prison time.
In the tentative agreement unveiled on Tuesday, which still needs sign-off from a federal judge, Biden will plead guilty to willfully failing to pay about $1 million of taxes on income he got from working overseas in 2017 and 2018. And he'll agree to a diversion program on a felony gun charge, which stems from his false claim on a 2018 gun-purchase application that he did not have a drug problem.
The overall deal will likely mean two years of probation. Authorities will drop the felony charge from his record if he completes the diversion program with no issues.
The president's second son has often proved an unwelcome distraction for his father over the past few years. Authorities launched an investigation into Hunter Biden over the tax and gun issues in 2018. And in 2020, a laptop Hunter left at an Apple repair shop in Delaware, which fell into Rudy Giuliani's hands, revealed his prolific drug use and wild sexual escapades as he spiraled in the wake of his brother Beau's death from brain cancer in 2015 and the dissolution of his own marriage. The material bolstered the government's case against him and helped make Hunter into a right-wing obsession. Beyond the dissolute behavior, many conservatives allege that his involvement with the Ukrainian energy firm Burisma is the linchpin of a corrupt plot to funnel money to Joe Biden. No evidence for that claim has emerged, but right-wing commentators were predictably peeved that Hunter has avoided the punishment they were looking for.
In a statement, the White House said, "The President and First Lady love their son and support him as he continues to rebuild his life. We will have no further comment."
Hunter Biden's admission of guilt stands in contrast to former Donald Trump, who maintains his innocence in the classified-documents case heading to trial in Florida. On Truth Social, Trump commented, "Wow! The corrupt Biden DOJ just cleared up hundreds of years of criminal liability by giving Hunter Biden a mere 'traffic ticket.' Our system is BROKEN!"