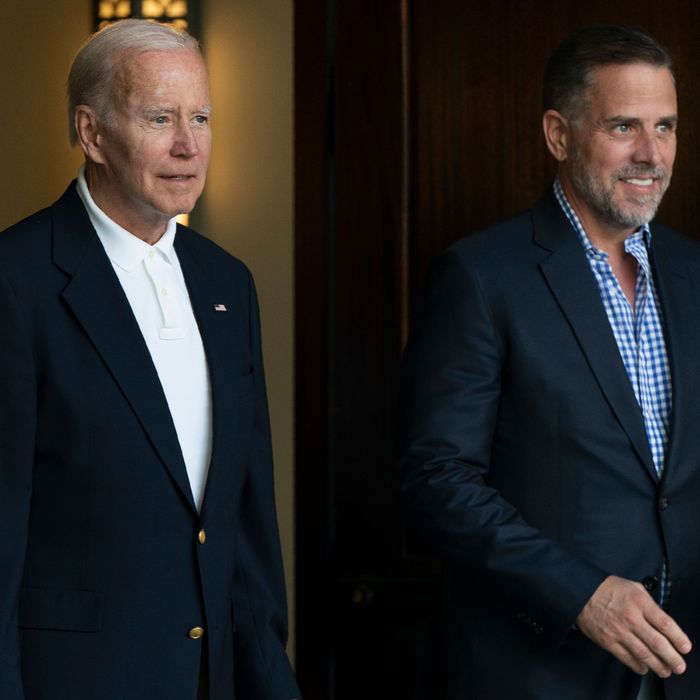 Photo: Manuel Balce Ceneta/AP
Hunter Biden has been making a concentrated effort in the past week to reduce all of his legal exposure ahead of the 2024 election — but he's not in the clear just yet.
Three days after Biden pleaded guilty to two misdemeanor tax charges to close a federal investigation into his finances, the House Ways and Means Committee released the testimony of an Internal Revenue Service whistleblower detailing new allegations of spurious business tactics. In May, IRS agent Gary Shapley appeared before the Republican-led committee and made two potentially damaging allegations concerning political interference of the Biden probe and the president's alleged involvement in a shady business deal.
Shapley is a 14-year veteran of the IRS who oversaw the agency's investigation of Biden's taxes. He is joined in the complaint by another agent, who has not been named publicly, though he described himself as a Democrat to the committee. The pair claim that a prosecutor at the Justice Department interfered with their inquiry and handed over too much information to Biden's legal team. According to Shapley, his team believed there was enough evidence to charge Biden with more substantial crimes than the two misdemeanors for willfully failing to pay around $1 million in taxes. Shapley told the House Ways and Means Committee that the Justice Department "provided preferential treatment, slow-walked the investigation, did nothing to avoid obvious conflicts of interest in this investigation." The Justice Department maintains that the U.S. Attorney tasked with investigating the president's son had complete independence from the attorney general and others.
Shapley also discussed a WhatsApp message he obtained via a search warrant between Biden and Chinese asset manager Henry Zhao. According to Shapley's summary of the message from July 2017, Biden told Zhao while they were negotiating an energy deal that Biden was sitting next to his father and that "we would like to understand why the commitment made has not been fulfilled." He added that if the deal wasn't closed that night, he would "make certain that between the man sitting next to me and every person he knows and my ability to forever hold a grudge that you will regret not following my direction." Shapley added that Biden later received a $100,000 payment from Zhao.
The description of the texts isn't great for either Biden. (The president has claimed he has never been involved in his son's business dealings abroad.) But Shapley did not provide evidence that Joe Biden was actually in the room when Hunter sent that text. (At the time, the younger Biden was doing just about anything to fuel his addiction to crack cocaine and sex.) Shapley did mention another interview with Rob Walker, Hunter's former business partner, who told the IRS that it was a "projection" of Hunter's that his father would ever be involved with one of their deals.