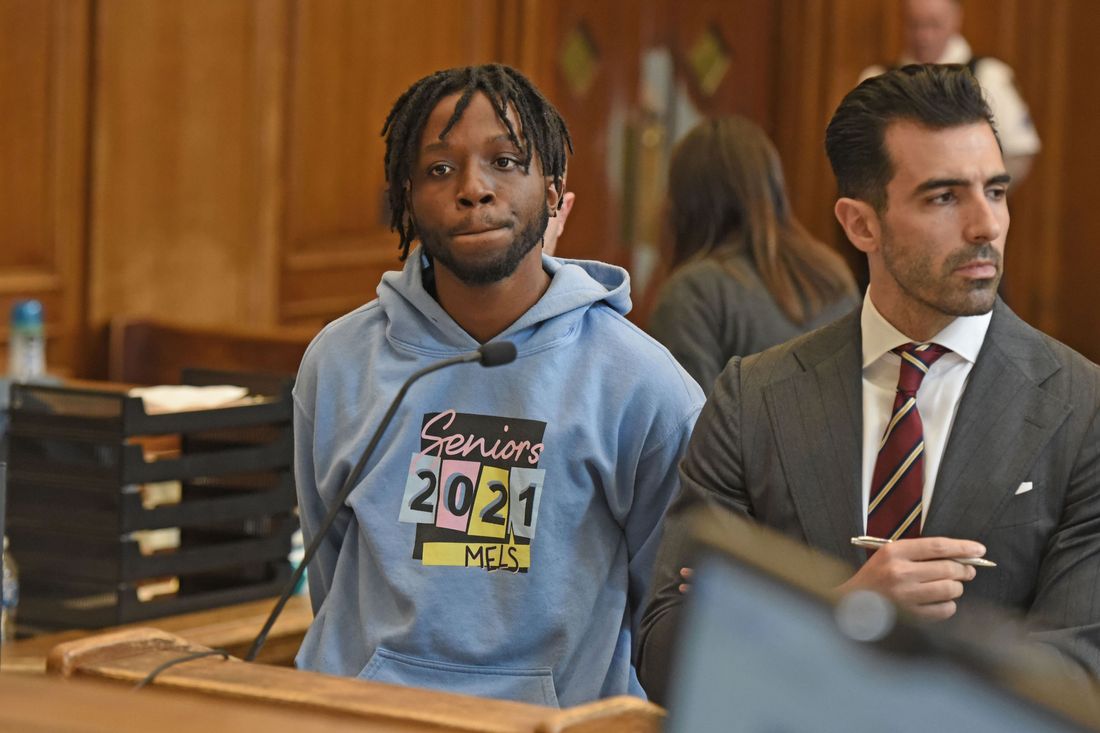 Jordan Williams and Jason Goldman
Photo: Gregory P. Mango
On Tuesday, June 13, Jordan Williams stabbed a 36-year-old man named Devictor Ouedraogo to death on the J train. "It honestly wasn't my instinct to kill," Williams tells me. "My instinct was just to injure." He claims he did it after being punched twice by Ouedraogo, who'd been harassing passengers, and to protect his girlfriend.
"It was like he had no reaction," he says of Ouedraogo, after he had stabbed him. "It was like, man, I've never seen something like that. When I found out what happened to him after the train, I couldn't believe it, 'cause I saw no difference. I almost thought I missed somehow. I'm not even kidding."
Now, Williams, who has no previous criminal record, is charged with manslaughter and criminal possession of a weapon and, if convicted, could get up to 25 years. He has become an eager — almost gleeful — talking point for members of the right about what they see as a city spinning out of control. It's a city full of people on edge.
A grand jury has already begun hearing evidence about what exactly happened on that train (there are videos and witnesses) and will vote soon on an indictment. In the meantime, Williams has raised more than $100,000 for a legal-defense fund that his mother set up, and he's represented by a nattily dressed 33-year-old lawyer named Jason Goldman, who organized and sat in on this interview, Williams's first.
On a Saturday afternoon, four days after the stabbing, we meet on the front step of Williams's single-family home in Hollis, Queens, where he lives with his mother. Williams, who is dressed in black cargo pants and white Air Force Ones, is just 20 years old and looks it. His lawyer is there to reassure him. He tells his story.
He'd been hanging in lower Manhattan with his girlfriend when they decided to take the J train to go visit his friend who lives in Queens. They set out sometime around 6 p.m. and boarded at the Broad Street station, heading north, then toward the Williamsburg Bridge. Fulton Street … Chambers … Bowery … And then, says Williams, before Delancey Street, "it gets really crowded, and this is when the temperature is starting to rise."
In his telling, this was because of the man he was, just minutes later, going to stab. Ouedraogo was behaving aggressively with another passenger, whom he appeared to already know. Williams also says Ouedraogo had the other man "in a choke hold" and that "he was threatening to beat him up, and he was asking everyone on the train, 'Oh, you think I could kick his ass?' He was clearly intoxicated."
This in itself is not an unfamiliar scene on the subway. "I didn't really think anything of it," says Williams. "Then it started to escalate." Williams and his girlfriend were sitting in the two-seater spot at the end of the car. He says Ouedraogo, who had let go of his choke hold on the other passenger, worked his way down toward Williams and, in his telling, was talking menacingly: "There was a bunch of white people on the train, and he was screaming in their faces" about "white power."
Passengers began to flee to the next car — the door was next to Williams and his girlfriend — while the train was in motion. "I want to say about 50 percent of the car's volume went down after that. And now it's really starting to heat up, because now this is when he's in the seating area right next to us, and he's looking like he's up in people's faces, and I'm like, Yo, I think he's about to come up to us. I think it's about to be a problem. But I sat there, and I was like, You know what? He's gonna chill out any minute now, and it's going to be okay. That's what I was hoping at least."
And so they did not leave the car themselves. Williams says Ouedraogo got in the faces of two women sitting on the bench just across from him, "and then he starts leaning toward us, and before he even gets a word out, I'm like, 'Yo, don't even say, don't touch us, get away from us, bro, like please get away from us, do not touch us.'" Williams says Ouedraogo was "talking crazy" and then suddenly "punched me in my face and then he punched me in my neck, and it hurt real bad. It caught me by surprise."
A report in the Daily News describes a video showing how "Williams ran over and started grappling with the ex-con." Asked later if it was Williams who actually made the first move, Goldman says, "Consistent with accounts from a handful of witnesses, we vehemently deny that Jordan shoved the deceased first."
Another apparent discrepancy: Press reports say that Ouedraogo began making sexual remarks to Williams's girlfriend. One says he approached her and asked, "Want to fuck?" But Williams denies that happened. "No," he says, "that's not true." Though he does allow, "I can't even recall everything he was screaming."
What happened next is not in dispute, however. "After he punches me," says Williams, "I did reach in my bag, and you guys know, I mean — not my bag! My pocket! Excuse me, sorry for getting that wrong — in my pocket, and …" He lowers his voice and looks down at his hands, clasped together and resting on his knee. He suddenly seems very young. "And, I mean, I stabbed him."
The lawyer pipes up from behind his Persol shades: "You defended yourself." Williams nods and repeats, "I defended myself."
I ask what it felt like to stab someone, and the lawyer interrupts: "I don't think he had time to process putting it into him." It proved deadly. "I didn't even know where I hit him," exclaims Williams. "I'm telling you, man, I'm so unprofessional with this. I had no idea what was going on. I knew I was swinging, but I'm telling you, man, when I was in the 90th Precinct my first night I was arrested, they told me that he died. I had no idea. I was like, 'What? How?!' I started crying. I couldn't believe it."
Williams says that after he stuck the knife in, his girlfriend leaped up to splash her cup of juice in Ouedraogo's face; he began swinging at her, knocking out one of her earrings. All the while, the train rumbled over the Williamsburg Bridge. Once the doors opened at the Marcy Street stop, Ouedraogo stumbled off. It was there, on the platform, that police found him, bleeding out. He was taken to NewYork-Presbyterian Brooklyn Methodist hospital, where he died.
Williams and his girlfriend (she declined to be interviewed) continued riding until they reached Chauncey Street, a stop familiar to Williams because, he says, that's where his mother attends church. He called her. "I didn't know what else to do, and literally from the time you're young, when in doubt, who do you call?" She didn't pick up, and soon the cops picked him up. Williams spent Tuesday and Wednesday at the 90th Precinct. On Thursday afternoon, he was arraigned on the two charges.
Assistant District Attorney David Ingle had tried to get bail set at $100,000, but Brooklyn judge Sherveal Mimes waved it off. "I think you have every reason to fight this case with the support of your family," she told Williams. Williams's father, James, tells me he was surprised by this because he says it's rare to "see a young Black man or a minority ever get zero dollars bail in a case where somebody else has passed, and that is something that the judge trusted — our family structure, his upbringing."
Judge Mimes had told Williams, "I think you have your whole life ahead of you." But on his second day out, he's only just beginning to comprehend how profoundly his life changed the moment he took another. He says he hasn't been sleeping, was just fired from his job at FedEx, and is sure he won't be getting the job at Target in Forest Hills for which he had just applied. "I've been trying to stay off the net," he says. Reporters have been calling members of his family and turning up outside his house. The New York Post has christened him "the J Train Stabber" and writes almost every day about the "J Slay."
"I'm not violent. I'm not like that," he says. He starts to cry as he tells me the only thing he's ever tried to prove before this week is how good he is at basketball, "and nobody has tried to ask me about that yet. Who I really am is in the shadows. This fantasy image of me is the only thing y'all are looking at. I'm sorry."
"Look," Goldman says, "I don't have to be the first one to tell you — it's in the paper, it's high profile." The lawyer stands beside his client, arms akimbo. Sunlight catches his bulky Cartier Santos watch as he tries to console Williams about the reporters who've been "harassing" him: "I told them to 'F off,' essentially." But these cases are always fought, on some level, in the court of public opinion — the tabloids, Twitter, talk radio. The donor comments on Williams's GiveSendGo say it all. The top donation is $5,000 from the "Tate brothers": "Praying for you, hero."
"We need heroes like you and Daniel Penny in these dark times," reads one from a person who donated $50.
Goldman argues this is "the outlier case that shouldn't even make it past a grand jury," but if it does go to trial, he knows he will need the media. It has come weeks after Daniel Penny choked Jordan Neely to death on the F train. The same day Penny was being indicted by a Manhattan grand jury, Williams was being arraigned in Brooklyn. The two subway killings are now being caromed off each other, perhaps too enthusiastically, as a kind of parable about a city in anarchy, where ordinarily law-abiding New Yorkers must now arm themselves to ride the train. And there has already been a new slashing on the J train since. (On Tuesday, June 19, exactly one week after Williams stabbed Ouedraogo, at the same spot where it happened, a man walked through the J train hawking pink bejeweled pepper spray and tasers: "You knowwwhuuutttt happened here recently …")
It's illegal to carry a knife on the subway. Williams is one of an apparently increasingly large number of people caught with one. He claims he only began walking around with his knife a week or so before this incident. He says that, two Sundays before he encountered Ouedraogo, he and his girlfriend were again riding the J train when someone pulled a knife on him. "Same thing, coming from Broad Street," he recalls, telling me how he'd made eye contact with a transgender passenger who was, herself, apparently also on edge.
"She was sitting there, riding the same side of the train too … sitting over there," he says, "and then she had just gotten upset, and she was like, 'Oh,
n- - - - -s always wanna be looking at me all up in my face' — sorry for the language — 'n- - - - -s always wanna be up in my face, they always be watching me. I really oughta come over there and fuck y'all up right now.' And then, I'm not gonna lie, I laughed. Because — I couldn't — I laughed. I just was like, 'Literally are you serious, everyone looks at everyone, but okay.' So I laughed, and she actually got up so quick and came over and sat across from us … leaning up near us, talking, 'I'll beat the shit out of both of y'all right now,' and then, I'm like, I was starting to understand, Okay, she's not playing." This person was bigger than he is, but he still responded, "'You're not going to do none of that,' and that's when she jumped up and smacked the cap I was wearing off my head and she held a knife so quick — pulled it out right there in front of my eye" — he whips his hand up right up in my face so I get the picture — "right there in front of my eye."
"I was literally watching my back every single train car I got on after that," he says, and he started carrying the knife. "Because, honestly, I was scared."
Williams says he "can't recall" where he got the knife. What kind of knife was it, exactly? Switchblade? "I didn't know much about it. I just got the first one I could find. It wasn't really anything in particular. Nothing well thought out." He glances at Goldman, who says, "Tiny little pocket." But it's hard to kill with a "tiny little pocket" knife. Ingle, the prosecutor, has described Williams's weapon as a "folding knife." Goldman allows that it is a "folding knife."
Goldman has an answer about the lumping together of his client and Penny. "Without knowing all the facts pertaining to Penny," he says, "I can say this: The deranged individual Jordan had a split-second encounter with had assaulted others, his girlfriend, and him, all before Jordan reacted. The deceased was so dangerous and chaotic that other passengers were literally moving between train cars while it was traveling over the bridge in order to get away." (Jordan Neely never assaulted anyone during the incident when he was killed.) Williams doesn't seem to recognize his own situation in Penny's, either. "I heard of it, obviously, but I don't have much thought to give on that."
As for the man he killed, Williams says, "Above everything else, that's a brother. We're both Black. You know what I mean, so the fact that it's somebody who's supposed to be on my side, on my team, that's somebody that had to, by my own hands …"