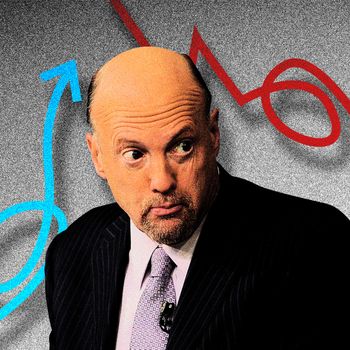 Is Jim Cramer a reverse Midas?
Photo-Illustration: Intelligencer; Photo: Getty
This article was featured in One Great Story, New York's reading recommendation newsletter. Sign up here to get it nightly.
It's no contest who the biggest star is on CNBC. Of all the hard-core reporters operating out of the business-news network's Englewood Cliffs, New Jersey, studios, none has the super-watt personal brand of Jim Cramer. Financial pundits have readers and admirers — but very few have die-hard fans. Cramer is the exception, as anyone who tunes in to his nightly stock-picking show, Mad Money, can hear during its call-in period. The show opens with an in-depth segment about a given company or theme, but the call-in portion is the heart of Mad Money. Regular people all around the country get very excited at the opportunity to ask for his opinion on their favorite stock. Off the top of his head, Cramer tells them whether it's a buy or a sell — always one or the other, never a "pass" or a "hold." It seems safe to assume that a lot of those callers (and plenty of his other viewers) will log in to their brokerage accounts and do so.
On Twitter, however, Cramer has recently developed a very different reputation. Market obsessives who spend their days on that platform, as well as finance-obsessed redditors, have put CNBC's biggest star through the MemeWorld fun house, casting him as the opposite of a guru — Wall Street's perfect inverse indicator. Whenever he makes a high-profile prediction about a given company's stock going up, a collective chuckle ripples across Financial Twitter (FinTwit, for those who spend way too much time on it). A thousand memes bloom suggesting the company's shares will soon crash and burn. On wonky, boisterous FinTwit — peopled by business reporters, economists, investors, and knowledgeable gawkers — he is a reverse Midas, a harbinger of money set ablaze. If Cramer loves it, run away. If he hates it, double down.
While the Cramer-as-inverse-indicator meme has taken off, at at least two accounts have sprung up on Twitter, together topping 250,000 followers, that are specifically dedicated to clowning his takes by urging people to do the exact opposite.
The joke got even more real in March with the launch of an exchange-traded fund — basically, an investment vehicle that trades like a common stock — called the Inverse Cramer Tracker. True believers and Cramer haters can now bet as much of their 401(k)s on the wisdom of the meme as they dare.
The Inverse Cramer ETF — ticker symbol SJIM — is the creation of Matthew Tuttle, CEO of Tuttle Capital Management, who sees the CNBC star as just another kind of signal in a bigger market. "I've been trading and involved in the markets since the early '80s. I've loved markets since then. One of the things I've always noticed is the consensus tends to be wrong," he said. "Then I came across Jim Cramer and noticed that he seems to be the consensus on steroids. The reason for that is he has no choice but to swing at every pitch. That's his job on Mad Money, the show he's hosted since 2005. If I call him up and say, 'What do you think about whatever?' most of the time he hits buy buy buy, sell sell sell." A challenging situation if you're Cramer — but to Tuttle, an opportunity of sorts.
How much truth there is to the joke is an open question. First, it's worth stipulating that anyone who makes a lot of predictions about financial markets will very often be wrong. That's part of the nature of markets. Still, Cramer has made some particularly notable, high-profile bad calls that helped inspire and propagate the meme. A small selection of his all-time whiffs includes telling viewers to buy Silicon Valley Bank just weeks before it crashed, the time he compared Sam Bankman-Fried to the banker J.P. Morgan, and the time he told ex–Theranos CEO Elizabeth Holmes — who reported to federal prison for fraud in May — that it was "reasonable to compare you to Steve Jobs."
Then there's what FinTwit saw when Cramer recently made a bullish call on the stock price of software giant Adobe:
It doesn't end there. Here's a packaging of his unfortunate series of calls about online auto seller Carvana:
And his upside-down predictions about red-hot chipmaker Nvidia:
The audience for this is niche, but it's influential. CEOs of some of the world's richest companies — at least the terminally online kind, like Elon Musk and Binance kingpin Changpeng Zhao — have bought into the idea that Cramer is a beacon of wrongness.
Cramer has undoubtedly risen to his perch because he's savvy enough to make sense of complex things to a general audience. And like a lot that's on Twitter, the truth about Cramer's wrongness is overblown. In March, soon after the Inverse Cramer ETF launched, Wall Street Journal columnist Spencer Jakab pointed out that the host actually did better than a lot of stock-picking pros. And that's because, well, he is a stock-picking pro. Cramer is a Harvard-trained lawyer turned Goldman Sachs trader turned hedge-fund manager. (He was also a longtime columnist for this magazine.) Mad Money gives viewers the kind of chaotic shoutfest people think of when they envision a Wall Street trading floor — here's a hyped-up guy yelling "Booyah!" while manically buying and selling stocks. (He's also the co-host of Squawk on the Street, which is more of a news show.) For a while, his show's tagline was "In Cramer We Trust." Though there are undeniable stakes whenever he makes his calls, if it didn't work as entertainment, he wouldn't have been doing it this long.
In the business of Jim Cramer, there is the man and the character. Where one ends and the other begins isn't really clear. In one sense, he is CNBC's Mickey Mouse, probably the cable channel's most recognizable piece of IP. That comes in handy when it wants to upsell to its most loyal viewers. The channel's investing club, in which Cramer talks more about his picks, costs nearly $400 a year. The CNBC Pro subscription has a slightly more affordable $300 annual fee. Then there are all of Cramer's books (including Jim Cramer's Mad Money: Watch TV, Get Rich) and a $20 "United States of Cramerica" shirt. When I reached out to talk to Cramer, two PR people for CNBC called me back wanting to know who else I had spoken to and what my personal feelings for him were. They were trying to "suss out" what the story was about. After I explained the thrust of it, I never heard back.
Cramer has been blamed for a lot that's wrong in the world, whether or not he was actually responsible. In 2009, Jon Stewart cast him as one of the villains of the financial crisis that had wrecked the economy. It was thrilling television at the time, the "feud of the century." Stewart homed in not only on Cramer's wrongness — e.g., telling people to buy Bear Stearns stock shortly before the Wall Street bank went bust — but also the responsibility of the network, and of the business press in general, in largely missing the biggest crash since the Great Depression. Cramer was a stand-in for every reporter who had messed up at the time, and he was brutalized for it. (A CNBC spokesman told me that he wasn't aware of the Stewart interview and, anyway, that it was "ancient history.") "I understand that you want to make finance entertaining," Stewart said, "but it's not a fucking game."
The difference between then and now is that finance definitely is a game for a lot of people lately. Robinhood became notorious for gamifying its user interface, going so far as to include graphics of confetti thrown up in the air after making a trade — a feature it later removed. During the height of meme-stock madness in early 2021, Cramer was pilloried by the trolls at the Reddit forum r/WallStreetBets for his supposedly outmoded belief that the numbers in the markets are supposed to mean something. "People begin to think, Are prices real?" Cramer yelled — and the answer seemed to be: duh, no. (In the end, Cramer was actually right.)
Jokes are great, but it turns out that making money off them in any kind of sustained or predictable way is very hard. So far, the Inverse Cramer ETF hasn't been an exception. It has attracted less than $5 million — not much in the $5.4 trillion ETF market. Then again, a fund that takes the opposite tack, the Long Cramer Tracker, has brought in even less: under $500,000.
Weirdly, you would be underwater in both of them if you invested on day one, and both are doing worse than the broader market. "You're kind of at the whims both of Cramer and the guy who constructed the ETF," said Ryan Jackson, an analyst at Morningstar, which tracks these funds. Case in point: The Short Cramer ETF missed the collapse of Silicon Valley Bank — one of Cramer's calls that had predated the ETF's creation.
Stunt ETFs like the Inverse Cramer have been around for a few years. There's one that tracks investments by Nancy Pelosi and other lawmakers and another that tracks what the apes at r/WallStreetBets are doing. "If people are investing responsibly, it's not the most harmful thing in the world," Jackson said about the joke investments. "I'm kind of a proponent of a little funny-money account. Use it to make bets like this, keep engaged in the news, maybe really personal hot takes. In a good way, it can scratch the gambling itch and protect the money you need to actually grow."
Dig into the details of how they work, and investors are essentially giving Tuttle wide latitude to invest how he wants as long as it has something to do with what Cramer talks about.
Cramer, for his part, has grudgingly acknowledged the memes and ETFs while defending his record.
Participating in the Inverse Cramer ETF isn't free, of course: It has an expense ratio of 1.2 percent, meaning that for every $1,000 you put in, you're paying $12 a year. "For an ETF, that is exceptionally expensive," Jackson said. (Fidelity sells ETFs with no expense ratios, and other large fund companies charge pennies.) Still, for some investors, the cost of not having to sift through all of Cramer's picks may be worth it. "We've got to watch Mad Money every day," Tuttle said. "I've got to watch Squawk every day. It's painful. I tape Mad Money so I can fast-forward through a lot of it. I don't have to sit there at six and watch till seven. I'd probably shoot myself."