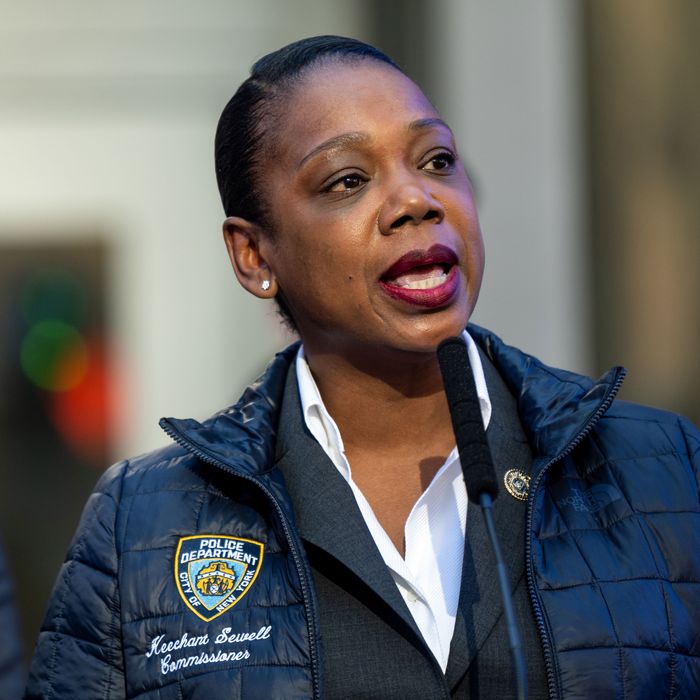 Photo: Alexi Rosenfeld/WireImage
NYPD Commissioner Keechant Sewell announced Monday, in a surprise, that she will be resigning from her role after less than two years on the job. In an email to the department, Sewell did not give a reason for her resignation, but said she made the decision to step down.
"While my time here will come to a close, I will never step away from my advocacy and support for the NYPD, and I will always be a champion for the people of New York City," Sewell wrote, according to NBC New York.
Sewell was appointed to the position by Mayor Eric Adams in 2021, making her the first woman to lead the nation's largest police department in its history. She beat out several other prominent candidates including Philadelphia's police commissioner Danielle Outlaw and Carmen Best, who previously led Seattle's police department.
Sewell's resignation comes just days after recent reporting from the New York Post suggested that the mayor's office was micromanaging the department Police sources told the Post that personnel decisions such as promoting detectives now or transfers had to be approved by the Adams administration. "You have the first female police commissioner and she's surrounded by males who have her in check," one source said, referring to Adams and Deputy Mayor for Public Safety Phil Banks, who are both former officers.
The outgoing commissioner is also said to have differed with Adams when it came to disciplining Jeffrey Maddrey, the NYPD's chief of department, the highest uniformed officer. Maddrey was accused by the Civilian Complaint Review Board of abusing his authority by meddling in the arrest of a former officer who was alleged to have chased three boys while carrying a gun, as first reported by the City. Sewell suggested that Maddrey be punished with a loss of vacation days, per the Post. Adams, by contrast, has publicly praised Maddrey when asked about the accusations. The matter is set to head to a departmental hearing.
In a statement, Adams thanked Sewell for her "steadfast leadership."
"The commissioner worked nearly 24 hours a day, seven days a week for a year and a half, and we are all grateful for her service. New Yorkers owe her a debt of gratitude," Adams said.