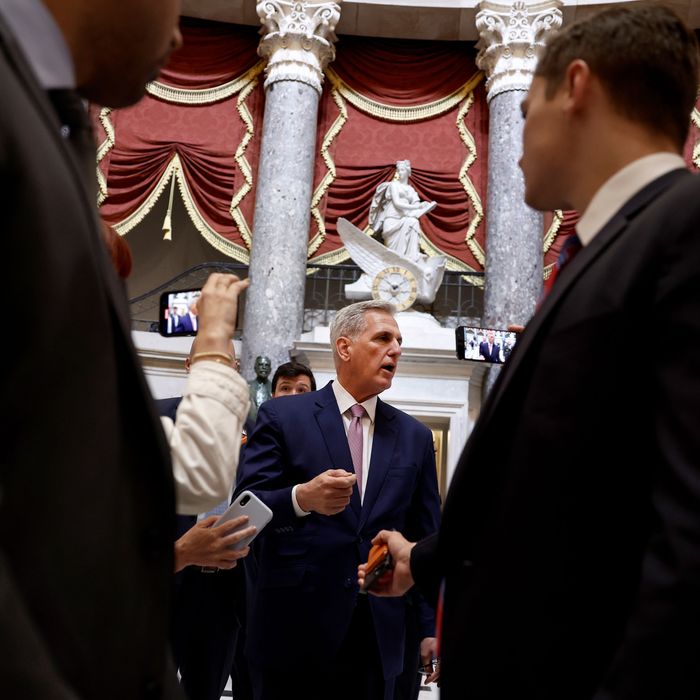 Photo: Anna Moneymaker/Getty Images
Last week was a personal triumph for Kevin McCarthy. He had pressured President Joe Biden into making concessions on government spending and rallied a fractured GOP behind him to raise the debt limit. By the end, two-thirds of the Republicans conference had signed on, leaving the right wing of his caucus nothing to do but complain.
Or so it seemed.
On Tuesday, a dozen hard-right Republicans rebelled against the speaker and effectively seized control of the House by means of a rules vote. Traditionally a party-line affair, passing a rule is a necessary step to bring legislation to vote before the full House. Last week, these Republicans voted to stop the debt-limit deal from advancing, but Democrats broke ranks and pushed it forward. This time, those Republicans voted to block a rule to allow the House to vote on a pro-gas-stove bill, and Democrats stayed on their side of the aisle. It was the first time such a rule had been blocked since 2002.
This defection didn't occur because those Republicans love electric stoves, but to punish McCarthy for what they believe is a betrayal. They were furious that McCarthy had bucked them and their demands for deep spending cuts in order to get Democratic support. The result was that the business of the House ground to a halt, with rebels such as Matt Gaetz and Lauren Boebert tweeting, "We hold the floor." After all, without these hard-right Republicans, McCarthy had no majority, and things weren't going to get any easier in the future. "We have a short majority," said Kelly Armstrong, an ally of McCarthy's, of the speaker's four-vote margin. "We're about to very possibly lose two members in the very near future" — a reference to both the pending resignation of Chris Stewart from Utah, to take care of his ailing wife, and the indictment of New York's George Santos.
With no resolution in sight, Republicans canceled the rest of the votes slated for Tuesday and then on Wednesday canceled votes for the rest of the week. Still, McCarthy was dismissive of the rebels' concerns. Sounding like the parent of a toddler throwing a temper tantrum, he insisted with a smile, "Some of these members, they don't know what to ask for. There's numerous different things they're frustrated about. So we'll listen to them and we'll solve this."
The problem, though, is that the members do know what to ask for. They want constraints on McCarthy's ability to make future bipartisan deals, which they thought they got when the agreement was brokered to elect McCarthy speaker. "There was an agreement in January and it was violated in the debt ceiling bill," Ken Buck told reporters. It turns out they were mistaken. "The Indians who sold Manhattan got a better deal," as Gaetz put it to Steve Bannon on his podcast.
Yet McCarthy had already signaled a concession when he said he would be fine if the House passed spending bills below the caps agreed to in the debt-limit deal. The question is how many of these concessions will be enough for the rebels to stop blocking the floor of the House and allow Congress to return to normal — or at least, to as normal as things can get in 2023. With a government-spending fight lined up for the fall, the rebels need to make sure that McCarthy is once again constrained by the right wing of his conference and unable to make another deal with Democratic leader Hakeem Jeffries.
At that point, there may be another standoff, which McCarthy seems fine with the prospect of. When asked about "the paralysis" on Capitol Hill, he was zen: "It's just a couple of days. There's no deadline here. It's just like the same question you gave me when the speaker race was on. I won't give up, I'll get through it, and we'll listen to them and we'll reach a solution." McCarthy added, "This job is not an easy job. I don't seek it because it's easy. I like the challenge."