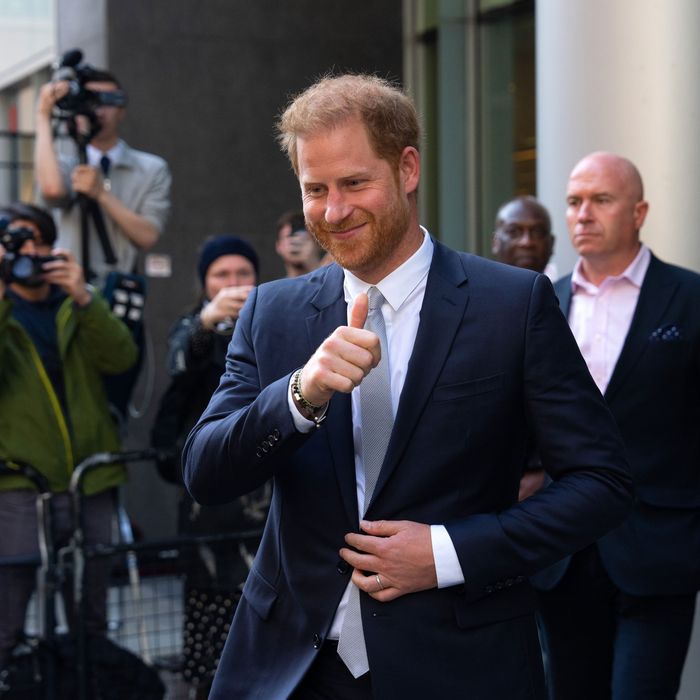 Photo: Carl Court/Getty Images
It has been a rough few weeks for Prince Harry and Meghan Markle. First, Spotify announced that it was ending its partnership with the royal couple after they produced just one podcast, Markle's Archetypes. Then Spotify executive and podcaster Bill Simmons publicly branded them "fucking grifters," saying on his show, "I have got to get drunk one night and tell the story of the Zoom I had with Harry to try and help him with a podcast idea. It's one of my best stories." Next, the Duchess was accused of faking some of the interviews on her 12-episode podcast by editing herself into conversations that were actually conducted by staffers (for what it's worth, Bravo's Andy Cohen told Us Weekly that the rumor is "insane" and that Markle had actually interviewed him for the show).
Now, we're learning more about Harry's rejected podcast pitches, which were instantly dismissed as "bizarre" and "obviously a bad idea" by the press. Bloomberg's Ashley Carman reported on Thursday:
Harry spoke with multiple producers and production houses, these people said, to discuss possible shows. Along the way, Harry listened to various ideas from others but mostly stuck by his own — including one about childhood trauma. The concept: Harry would interview a procession of controversial guests, such as Vladimir Putin, Mark Zuckerberg and Donald Trump, about their early formative years and how those experiences resulted in the adults they are today.




Harry also had an idea, the people said, for a show centered on fatherhood. Another one would have tackled major societal conversations episode by episode, ranging from climate change to religion. For the latter, Harry hoped to have Pope Francis on as a guest.
At first glance, yes, these ideas are all fairly absurd. Carman notes that the "practicality of these ideas struck some people in the Harry-podcast cosmos as questionable at best." It's hard to imagine an authoritarian foreign leader like Putin opening up about his childhood on a U.S.-based podcast.
But I think people are judging Harry a bit too harshly. First, the man has admitted that he has no marketable skills aside from trashing his famous family and publicly processing his trauma. As he wrote in his memoir, Spare, a lifetime of serving as a working royal left him "otherwise unemployable":
I'd never asked to be financially dependent on Pa. I'd been forced into this surreal state, this unending Truman Show in which I almost never carried money, never owned a car, never carried a house key, never once ordered anything online, never received a single box from Amazon, almost never traveled on the Underground. (Once, at Eton, on a theater trip.) Sponge, the papers called me. But there's a big difference between being a sponge and being prohibited from learning independence. After decades of being rigorously and systematically infantilized, I was now abruptly abandoned, and mocked for being immature? For not standing on my own two feet?
Second, you can't deny that people would listen to Harry chat about new terms he learned in therapy with controversial figures. Would he actually get Putin or Trump? Unlikely. Should he give alleged war criminals and insurrectionists the Oprah treatment? Probably not. But there was a time when getting the British monarch's child to write a best-selling tell-all memoir seemed like an impractical idea. As the saying goes, shoot for the moon, and even if you miss, you'll end up in the stars — or, in this case, chatting with famous, but far less problematic pals such as Elton John, George Clooney, and "Lego Batman."
Harry may still get to try his hand at podcasting. WME, Markle's talent agency, told The Wall Street Journal that she "is continuing to develop more content for the Archetypes audience on another platform." Another source said they are looking for homes for other Archewell Audio content. Hopefully, the prince's pitches will get a second look. At the very least, they're more interesting than a podcast in which Markle dissects "the B-word" while refusing to say "bitch" herself.